Woman Won't Let Husband's Mistress Visit His Grave, People Have Mixed Feelings
A woman contacted her husband's mistress after he passed away and sparked a viral debate about the way she handled the conversation.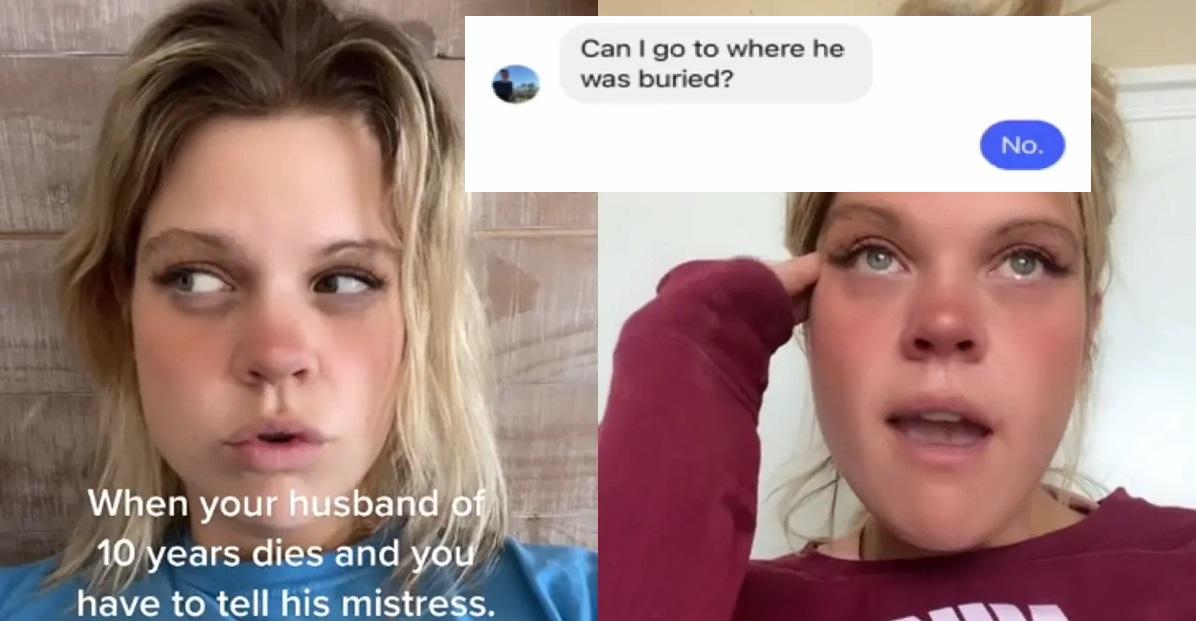 There's been a lot of research into the subject of monogamy and whether or not some people can truly be dedicated to a single romantic partner. It's a controversial subject because nobody likes to realize that they've been cheated on, and even folks in open relationships admit that they begin to feel insecure/jealous at the sight or thought of them being intimate with someone else.
Article continues below advertisement
And it can be really difficult for folks who are married to learn that their partner has a "side piece," especially when the person who is cheating on you is otherwise caring, kind, and considerate in other aspects of the relationship or if you've been with them for a long time and share a strong emotional bond.
So it must've come as a huge shock to TikToker Birdgette Davis, who posts under the handle @bridgettedavis08, when she learned that her husband was cheating on her.
After her husband passed away she learned that the woman he was seeing that she thought he broke things off with was his mistress and the two were "peas in a pod" as "the other woman" indicated.
Article continues below advertisement
Bridgette contacted her deceased husband's mistress to let her know that he had passed via text. She shared a screenshot of their conversation. Here's how it went down:
Her: F--- I can't believe this. I can't, I'm losing it. I can't do this again. He promised me. Can I go to where he was buried?"
Bridgette: No.
Article continues below advertisement
She uploaded a video of her face to Patsy Cline's "Crazy" with the caption: "There's a lot to unpack here." A text overlay in the video reads: "When your husband of 10 years dies and you have to tell his mistress."
Article continues below advertisement
The video went viral, garnering over 1.7 million views (as of this writing.) Some commenters thought that Bridgette's response was a bit harsh considering the fact that the woman clearly has feelings for her husband.
Article continues below advertisement
Others wanted to know if "the other woman" knew he was married, which she clarified that she did in follow-up text message conversations that Bridgette screenshot and shared on TikTok.
Article continues below advertisement
While several people questioned why she would even tell the woman and not inform her of the location of his grave, Bridgette said in another TikTok that she believed her husband's mistress "had the right to know" and that she didn't "hold anything against her."
Article continues below advertisement
She said that her husband was diagnosed as being Bipolar 2 and in 2017 when she first saw messages on his phone that lead her to believe he was cheating, he left the house and later revealed to her he planned on shooting himself but decided against it because he "wanted to get better."
Article continues below advertisement
Two weeks later she found more "questionable" things on his phone which prompted another discussion and while she said she wanted to "kick him out" of the house, she opted not to given his history of mental illness; she didn't want him taking his own life.
He then lied to her and said he was going to work but instead took a plane to Mexico and depleted his family's entire bank account and savings and then used his company's credit card for charges.
Article continues below advertisement
He told Bridgette that if she was going to divorce him to tell him so that he could kill himself in Mexico. She worked with his parents to bring him back stateside under the condition he checked into a mental health treatment center, which he did. She then went off into the dissolution of their relationship and how his mental health issues had taken over.
Towards the end of his life, Bridgette said that his mother said he was sleeping for 36 hours at a time. A few days later a police officer showed up at her house to inform her that her husband had passed away.
Bridgette said that friends and family members went to visit her and her daughters to see them in person, bringing food and emotional support.
Article continues below advertisement
She said that she was resolved to spend as much time as possible with her daughters so they could heal together as a family. She said that she wasn't in a rush to get her husband's phone back from his parents because she knew she was going to see things that she didn't know about, something she said she appreciated from them.
Article continues below advertisement
Bridgette's uploading a slew of TikTok videos going into the situation, and has yet to upload one delineating why she ultimately decided to message his mistress about his passing.