"Karen" Throws Fit at Panda Express Over $3 Drink in Viral TikTok
A woman was appalled that she was being charged $3 for a fountain drink at a Panda Express restaurant and is now going viral for her outburst.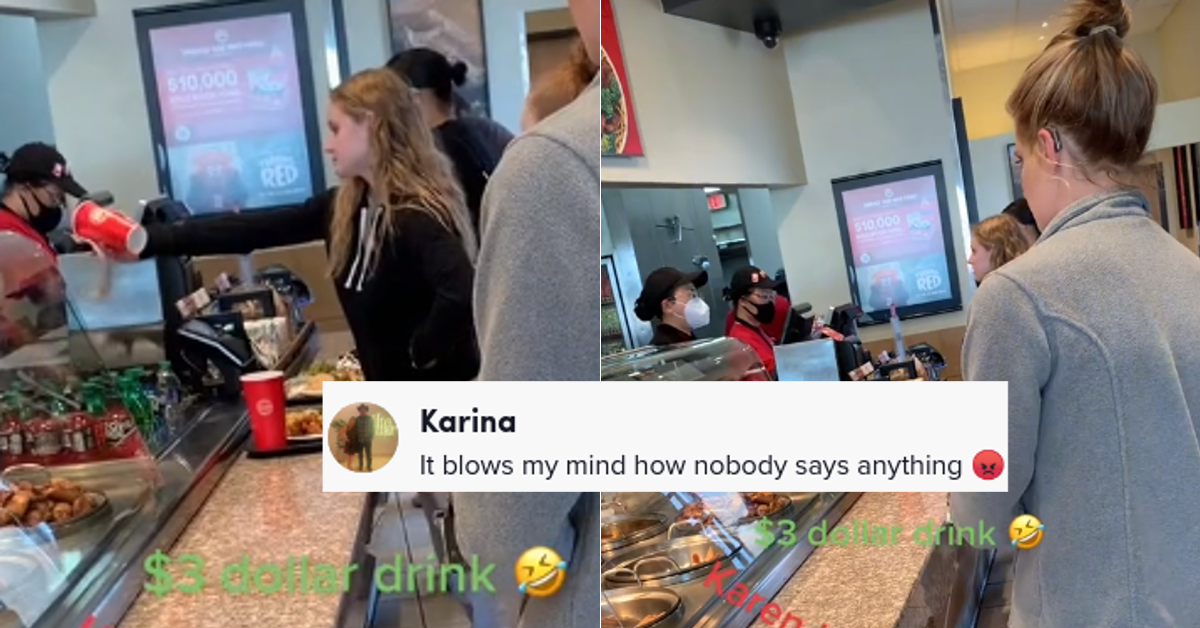 The term Karen has particularly flourished on the internet over the last few years, which is unfortunate when you think about it. Because that means there are throngs of people who are regrettably acting like Karens that folks are recording. Someone is upset that Starbucks required all customers wear masks during the height of the COVID-19 pandemic? Well, maybe a coffee shop isn't the place you should be pointing out that the CDC flip-flopped on wearing face masks.
Article continues below advertisement
Or maybe you're angry because a Burger King manager won't give you the discount that you wanted in the exact way that you wanted it? Whatever the reason for someone being a Karen about a certain situation, you can rest assured that there will be someone recording your behavior, that is, if you aren't recording it yourself to document just how persecuted you are.
Well, yet another Karen encounter has gone viral on social media, this time at a Panda Express. TikToker @elizabethnichol76 uploaded footage of a woman who was outraged that the popular fast-food chain would sell a fountain soda for $3. She proceeds to launch into a series of shouts and gesticulations to express just how displeased she is with the price of the beverage.
Article continues below advertisement
Several commenters mentioned that the woman probably feels emboldened to act the way that she does because she hasn't been called out on her behavior previously.
Article continues below advertisement

There were others who commented that had other customers piped up and told her to stop behaving in this matter, or at the very least defended the employee behind the counter from being spoken to in that way, then maybe she wouldn't have acted out as severely as she did.
Article continues below advertisement

Which then brought up a conversation on the nature of "observers" vs active participation in pressurized IRL situations. Many TikTokers wondered why so many people sit idly by and record terrible things happening without doing something about it.
Article continues below advertisement

Another aspect of the video that many found troubling was that the Karen in question mentioned she was pregnant. Tons of commenters remarked that it was scary to think she would soon be raising a child, given the public meltdown she had over a cardboard cup.
Article continues below advertisement

"Pregnancy should not be an excuse for acting this way," @heyavel wrote.
"And she's about to be raising a kid? Yikes," @callie_cat8 wrote.
Article continues below advertisement

Some were also shocked that the employees at the Panda Express didn't give the woman a piece of their minds. @hardcoresamoan wrote, "The asian shops in New Zealand would have poured the drink over her head."
Article continues below advertisement

But it did seem that the majority of comments circled back to the fact that no one stood up to defend the employees or to tell the Karen that she was acting out of line.
What do you think? Is it better not to say anything to insane people like this? Should someone have confronted her or try to de-escalate the situation by diffusing it with humor and/or charm? Have you come to a worker's aid after a customer was acting out of pocket?