Starbucks Barista Quits After Manager Denies Leave for Mental Health
A Starbucks barista says that they quit working for the chain after being denied a leave of absence they requested for a mental health break.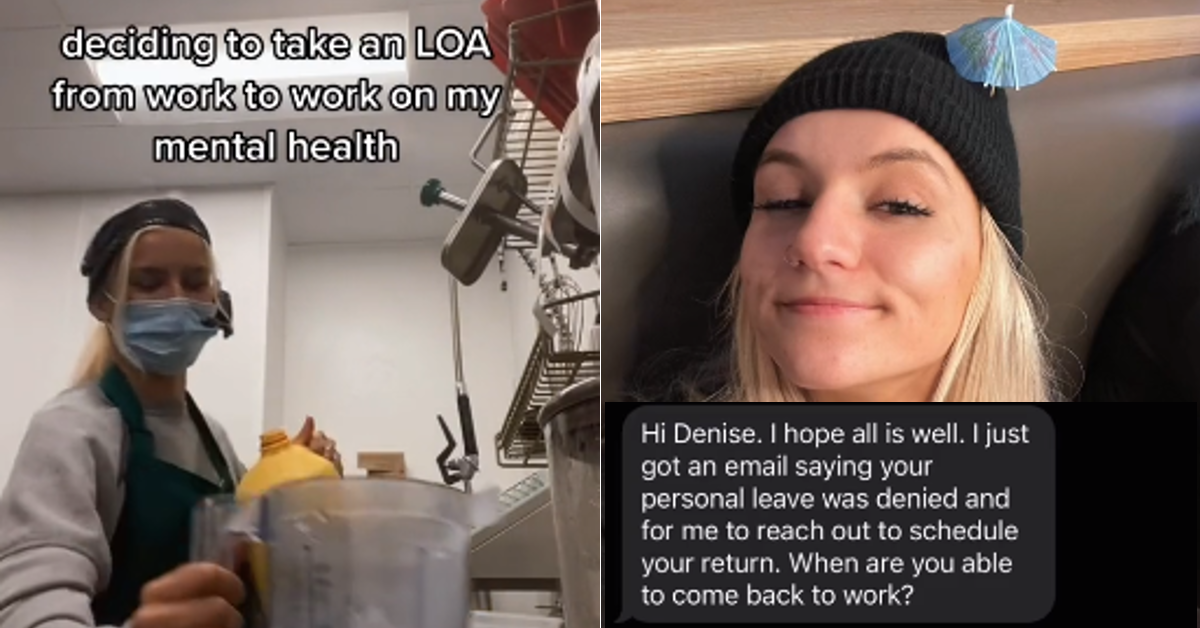 Article continues below advertisement
Of course, there are multiple reasons for this. Some could chalk it up to a general byproduct of laissez-faire capitalism where a sustained increase of profits matters more than the immediate health of one's employees.
Others could chalk it up to businesses simply not being up to speed enough in updating their corporate policies to reflect ever-evolving data of employee efficacy.
One Starbucks barista is making headlines after quitting her job due to corporate's decision to not approve her leave of absence. It went viral on TikTok and sparked quite the conversation.
Article continues below advertisement
TikToker @denisestephaniee (Denise) posted a video of her working at Starbucks with a text overlay that reads: "deciding to take an LOA from work to work on my mental health."
Article continues below advertisement

The clip then cuts to a text conversation between Denise and her manager where she was informed that Starbucks declined her request for a leave of absence. They then followed up asking when she was able to return to work.
Article continues below advertisement

The TikTok video then cuts in and out from several clips of CJ from Grand Theft Auto: San Andreas in order to convey the emotions she was feeling during the process of deciding she would no longer work at Starbucks.
Denise oscillated between "toughing it out" and making money at the job she actually enjoyed, or taking a break for her mental health.
Article continues below advertisement

She then shows blurred-out screenshots from texts with someone else, presumably a friend asking if she should go back to working for the coffee chain. The individual on the other line responds simply: "no."
Article continues below advertisement

Denise then decides to message her manager, thanking them for the opportunity of working at Starbucks (even though she was conflicted about it) and that she valued her time there and all of the folks she worked with. She went on to state that a combination of personal factors lead her to exclude herself "from the working environment."
Article continues below advertisement

And while Denise worried about how she'd earn money after quitting her Starbucks job, she ultimately joked that the best way to get cash would be to just get it from "ur dad," implying that she'd get herself a sugar daddy.
Article continues below advertisement

Many TikTokers who commented on the video remarked that they experienced similar issues with Starbucks when they tried taking a leave of absence. And when you're dealing with a corporation as massive as Starbucks (and others) it isn't uncommon for many aspects of business operations to be conducted by other agencies/companies.
Article continues below advertisement
From payroll, to insurance, to even claims for leaves of absences, there are tons of humans rights and staffing issues that are "farmed out" to external companies and in the case of Starbucks, the franchise used Sedgwick to handle employee scheduling.

Article continues below advertisement
The company isn't exactly beloved, according to folks in the comments section. Some even went so far as to say that while they loved working at Starbucks, it was having to deal with Sedgwick that really rubbed them the wrong way.
There were users on the platform that blamed Sedgwick for getting fired (their time off was approved for a family emergency then revoked and then they were let go). Others stated that they will not work for a company if they find out Sedgwick is handling HR and staffing queries/issues.
Article continues below advertisement

What do you think? Have you worked for Starbucks or a company that employs Sedgwick for handling HR issues and had a bad experience? What about the way Denise handled her exit from the location, or is that only for her to decide?