TikToker Orders "Most Hated" Starbucks Drink, Surprised When Barista Happily Makes It
A TikToker uploaded a video dedicated to a Barista who didn't make them feel guilty for ordering a London Fog Latte.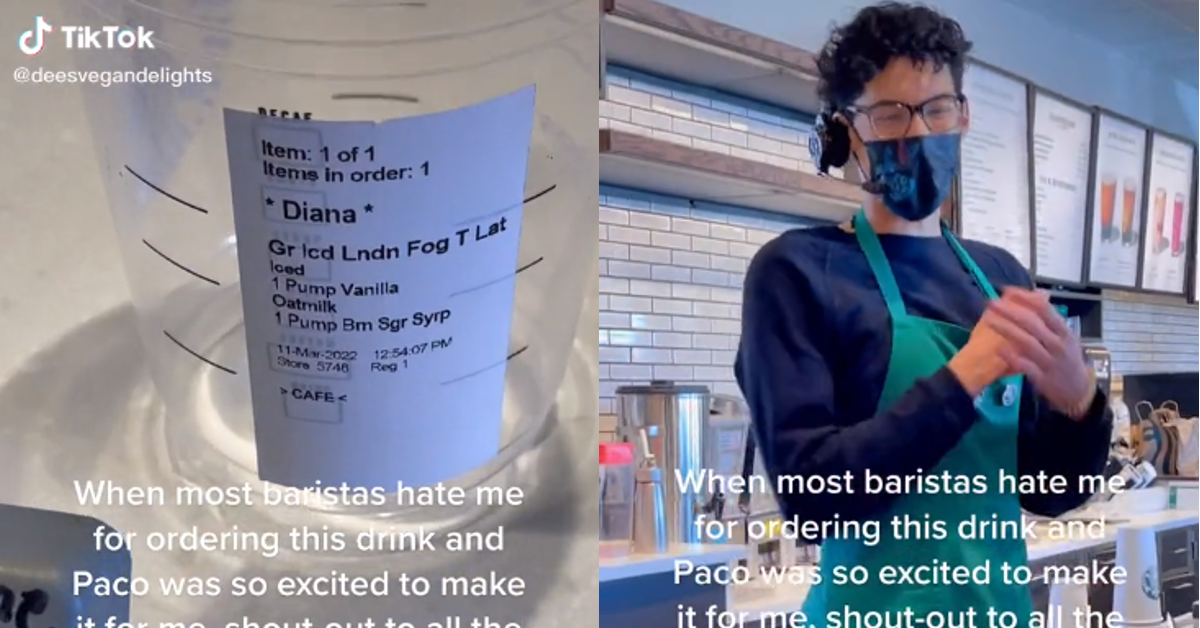 When you work in the foodservice industry and customers are coming in fast and furious, you tend to rely on muscle memory a lot to fulfill orders. So when somebody comes in with an unorthodox order, it's difficult to go into "auto-pilot" and it can mess up your groove. And while there are plenty of restaurants/eateries that pride themselves on giving customers whatever they want, there are some that make it known they take that mantra very, very seriously.
Article continues below advertisement
Like Starbucks. The international coffee chain became a billion-dollar enterprise from its distinctive aesthetic, hip branding, stay-in-and-work atmosphere, and willingness to let customers make their beverage any which way that they want.
Seriously, even if Baristas make TikToks and social media posts complaining about some of the most ridiculous things that have ever been ordered, even drinks that don't fit in single cups, corporate wants its employees to honor those requests.
But that doesn't mean that Baristas will be exactly thrilled whenever they have to craft up your favorite coffee concoction just because you order it. And according to this TikToker there's one drink in particular that they love to order, but always end up feeling bad when they do, solely because they seem to think Baristas are upset upon hearing the request.
The London Fog Latte. If you aren't familiar with the beverage, here's how it's made:
Article continues below advertisement
While one doesn't need to wear a coat from an English designer to enjoy the drink which would understandably distress any barista because those jackets look like the kind either a serial flasher or two kids stacked on top of one another pretending to be an adult would rock, the reason why Baristas apparently don't like to make it is due to the amount of time it takes to create.
Article continues below advertisement
The tea needs to be steeped for a specific amount of time before it's finally poured into the cup and combined with milk. Meaning that whoever's making the London Fog latte will more than likely have to tend to a bunch of different orders while it's still being made.

Article continues below advertisement
Couple that with impatient customers who are wondering just where in the heck their London Fog is and you have a recipe not only for deliciousness but a potentially stressful and annoying workplace situation.
But this TikToker praised a Barista for not making her feel that way at all.

Article continues below advertisement
Dianna Aramburo, who posts under the handle @deesvegandelights wrote in the caption of a now-viral TikTok: "This was refreshing to not get completely hated on for ordering this drink l, it's not my fault that I like it."

Article continues below advertisement
The text overlay in the clip applauded a Barista who prepared the beverage for her: "When most baristas hate me for ordering this drink and Paco was so excited to make it for me, shout-out to all the sweet baristas."

Article continues below advertisement
So what's exactly in a London Fog Latte? Starbucks describes it as a "bright, citrusy spark of Italian bergamot blends with subtle hints of lavender, vanilla syrup, and steamed milk for this frothy reinvention of classic Earl Grey tea."

Article continues below advertisement
In the clip we see Paco steeping the tea for four minutes before finally pour it into an ice shaker with oak milk. Dianna wrote in the comments section: "It was so refreshing to have a barista that didn't make me feel bad for ordering this drink. I know it takes plenty of time to steep but he was kind."

Article continues below advertisement
In the comments section, several users offered up their opinions of Baristas making "inconvenient" drinks and the reactions that they've had to have to prepare them. Some customers of the chain were befuddled by the fact that there were baristas who'd cop an attitude over having to make a drink, calling out the "self-importance" of some employees.

And then there were those who said that they, like Paco, would be more than happy to make the beverage but others added that drive-thru orders of the drink could complicate matters as those who purchased it would probably have to go out to the side to have it brought to their car.
What do you think? Do baristas have the right to complain? Or should they make the beverage that the customer wants?