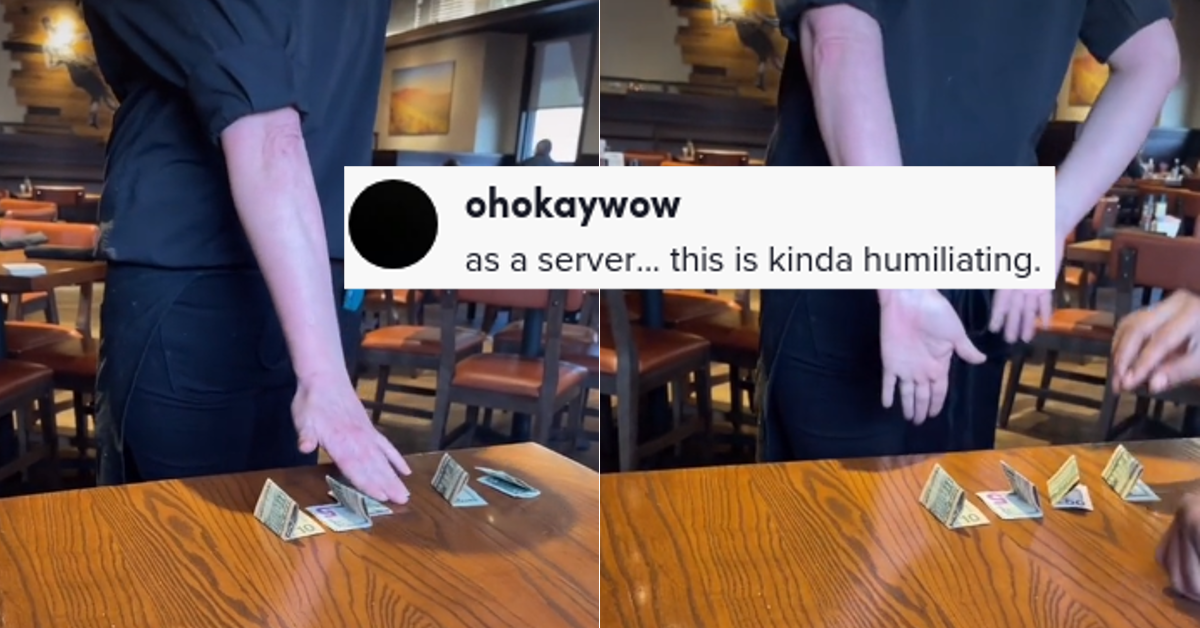 TikToker Makes Server to Play "Roulette" for Tip, Sparks Viral Debate
Article continues below advertisement
And while one could easily understand corporate rules and upper management calls as the reason for why pay isn't up to par or why certain policies are implemented in the workplace, when a customer chooses to make your life a living hell, then that's a different story entirely.
At that point, it feels more like a personal attack, because someone is going out of their way in order to make your job more difficult.
Or in the case of this TikTok clip, a customer who thinks they're just "having fun" by making you play a game in order to receive your gratuity.
That's what happened in the following clip, where a server was asked to turn their back and, without looking, reach behind them to grab a random tip that was on the table behind them.
Article continues below advertisement
The TikToker places several bill piles on the table and asks the server to reach behind them to get their tip. The server complies and after grabbing a pile of money they see how much they received and say: "Really, are you serious?" seemingly impressed at the amount of money they received.
Article continues below advertisement

"You can keep it," the customer at the table says.
"You can keep it and you can keep the change. We're gonna bless you today," the diner continues, adding more money to the table.
Article continues below advertisement

The server thanks the couple again and then adds, "Happy International Women's Day."
A caption for the TikTok reads: "Blessed a nice lady today," and while the server in question genuinely seemed happy at the size of the tip, there were many folks in the comments section who didn't seem to appreciate the manner in which the gratuity was given to the server.
Article continues below advertisement

Some wondered why they would put them through a game to decide how much money they would receive if they truly wanted to "bless" the server; why not just hand them the $50 and go about their day?
Article continues below advertisement

Furthermore, there were folks who questioned the need for some individuals with social media accounts to record their acts of kindness, with many arguing that by doing so, it effectively negates the intention of the act of generosity.
Article continues below advertisement

By posting about one's magnanimity for clout, many argued, is exploitative, especially when one encourages individuals who are beholden to tips in order to make a livable wage, to play a game for that money.
Article continues below advertisement

What do you think? Was it grimy for the customers at the table to ask the server to look "gamble" for her money as if they were playing a game of three-card monte? Or is the only thing that matters is a server got a grip of money for their work?