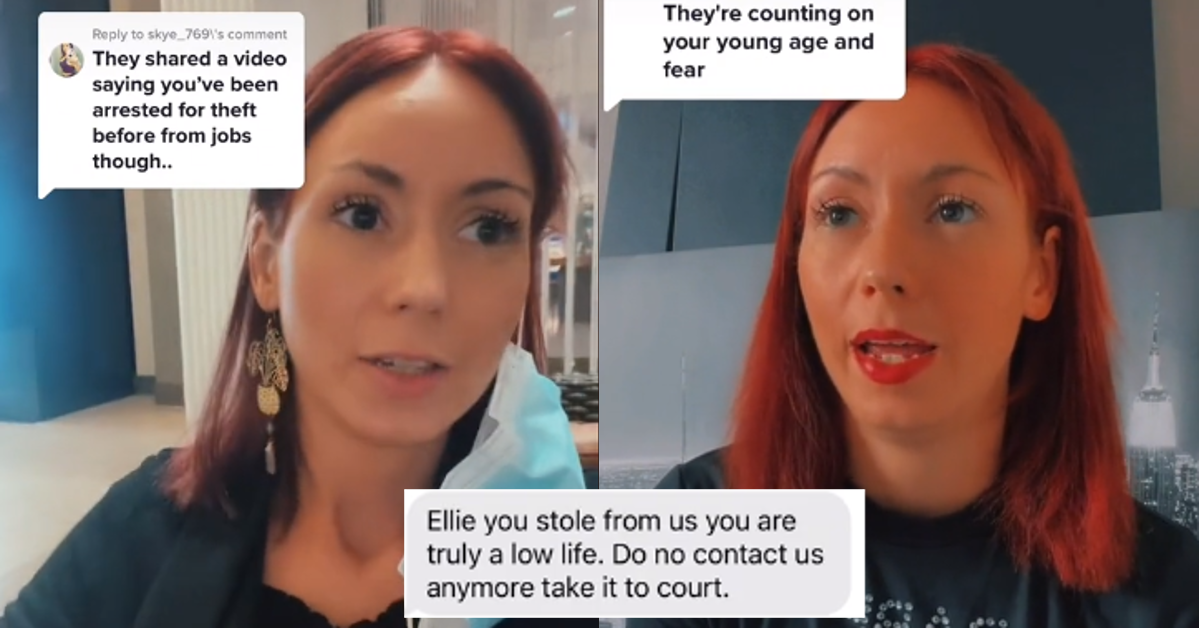 TikToker Claims Job Accused Her of Stealing Just to Get Out of Paying Her
Article continues below advertisement
To make matters worse, there are many jobs that aren't matching salaries to adjust for rises in inflation or the overblown costs of necessary items and goods, like food and gasoline.
But a TikToker by the name of Mia is facing a different problem entirely: simply getting paid by her employer for services rendered.
The woman who posts under username @meohmyohmia said that a place she worked at in the past is refusing to give her her final paycheck even though she put in her hours.
What's more is that their reasoning behind it is something Mia calls dubious at best, and at its worst, completely fabricated just so they could save themselves a few bucks.
Article continues below advertisement
In a now-viral TikTok, she stated that her employer had wrongfully accused her of stealing a day before payday. In a text overlay she writes: "My old job decided a day before payday that they didn't want to pay me and accused me of stealing from them."
Article continues below advertisement
She continued, "They told me that they would rewatch the footage and when they did they said they were going to pay me. I asked them to show me proof but they just blocked me. I did not steal from them and they are keeping my entire paycheck. Wage theft is real and it has affected me in so many ways."
Article continues below advertisement
In the TikTok video Mia can be heard talking on the phone with an individual who accuses her of stealing and harassing the store she once worked at. "Please don't withhold my pay from me. I worked hard," Mia cries into the phone.
Article continues below advertisement
Mia posted other clips pertaining to the incident on her TikTok account, in one of them, she shows what appears to be a text message from a representative of the store. It reads: "Tony says there is inventory missing and he is rewinding the cameras back a few days to see if it was during your shift. We are not accusing you of anything however we have to take the proper protocol."
Article continues below advertisement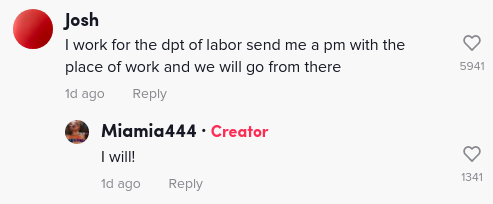 The text continues, "I can not discuss the details of the investigation. If there is no liability found on your end we will send your pay if there is liability your pay will be deducted for the amount of missing inventory. After we complete the investigation we will contact you."
Article continues below advertisement
Mia says that her former company never followed up regarding proof of her theft and ultimately blocked her number when she texted about getting paid. A purported text from the employer does indicate that they were on board to give her her final paycheck, before ultimately doubling down and stating that she stole from them, calling her a "low life."
Article continues below advertisement
The text went on to tell Mia to take the matter to court.
So why is there seemingly so much bad blood between Mia and her former employer? It seems to stem from the fact that she informed them she would be quitting as they would not pay her an hourly wage and had she decided to stay on with the company, which she revealed to be Temple Custom Jewelers in San Diego, Cali., she would've been effectively working for half of her wage.
Article continues below advertisement
Temple responded by posting a video that highlights a small claims case against from a former employer (along with four restraining orders), something that Mia says is completely unrelated to her dispute with Temple. Furthermore, Mia went on to say that if the business truly had proof of her stealing, then they would've just posted the video of her lifting product from the store.