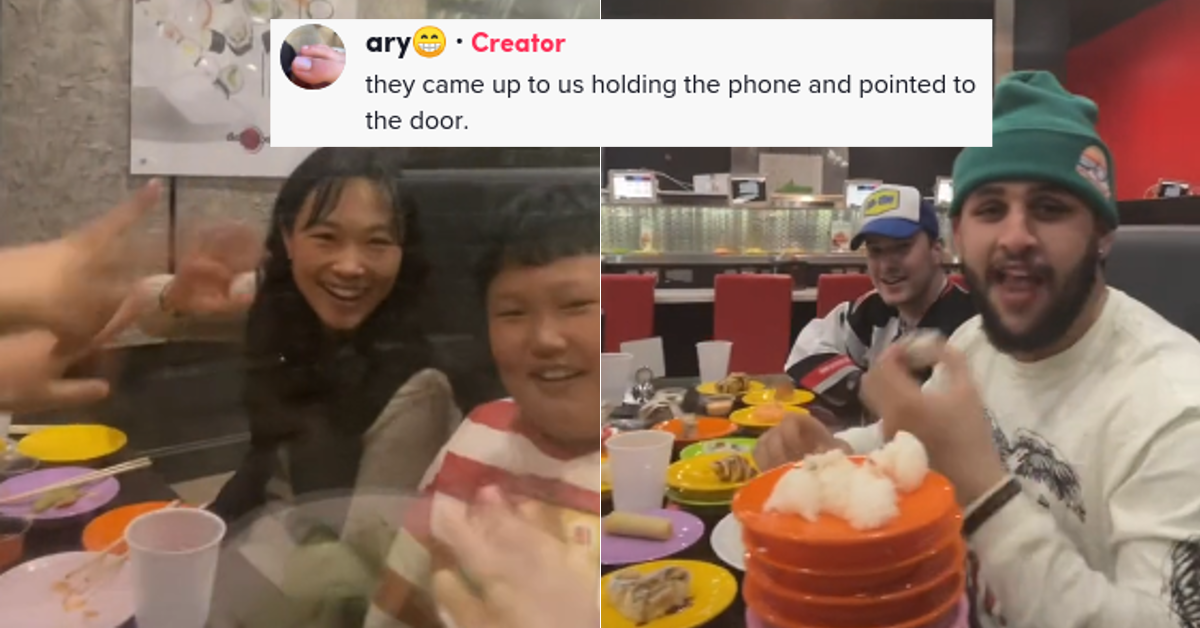 TikToker Thrown Out of Sushi Restaurant for Putting Phone on Conveyor Belt
One of the dirtiest items that we come into contact with day in, day out, are our smartphones. It makes sense: they go everywhere with us, heck, even the bathroom. There's probably a good chance you're reading this right now as you're taking a fat dump.
In fact, reports indicate there's a whopping 25,127 bacteria per square inch on our smartphones.
Article continues below advertisement
And while it probably doesn't bother us too much to put our own phones to our faces while we're on hold with an airline that screwed us over, or finally making that painfully inconvenient call we've been avoiding all week, when it's another person's phone, that little fact can make the act of calling feel a bit gross.
And it's even grosser to think that someone's smartphone can be in close proximity of our food. This is probably why a Sushi restaurant decided to throw out this TikToker who was looking for their next great piece of content that involved placing their device inside of a conveyor belt filled with plates of raw fish and cold rice.
Article continues below advertisement
Ary, who posts under the username @toiletdestroyer101 posted a clip of her phone making the rounds on a Sushi conveyor belt with the caption: "pov you got kicked out of the sushi place."
Article continues below advertisement

Some diners spotted the phone and began making faces and gestures at the device while others didn't spot it at all and went about their meal, simply eating their sushi.
Article continues below advertisement

Ary wrote in a comment that employees at the restaurant brought the phone to Ary's table and escorted her and her party out of the door. Many commenters stated that the restaurant did the right thing in kicking her out.
Article continues below advertisement

User @an0nymous_user666 writes: "for all the people asking why the worker were mad, it's because this is a violation of so many health codes and an invasion of peoples privacy.."
Article continues below advertisement

Another penned, "They have to sanitize the belt and remove all sushi when this happens. We had groups come in all the time. We had to put warnings on every table."
@Albasol0_0 wrote: "phones have lots of bacteria on it and can contaminate the food, making the restaurant liable that's why they're mad y'all."
Article continues below advertisement

However there were some users who found the TikTok clip endearing. Grant Khanbalinov said, "For some reason this warmed my heart," while others were just impressed by the "journey" that the phone took through the restaurant. We amble past diners and through the kitchen where workers were preparing Sushi and talking among themselves and back out into the dining room.
Article continues below advertisement

On the second pass through the kitchen, however, we see an employee nab the phone, which was probably moments before they discovered who placed it on the conveyor belt and ultimately decided to ask Ary to leave the premises.
What do you think? Would you be miffed to learn that someone put their smartphone near the food you're eating? Or do you think it's just a harmless way for someone to get some content for their TikTok account?