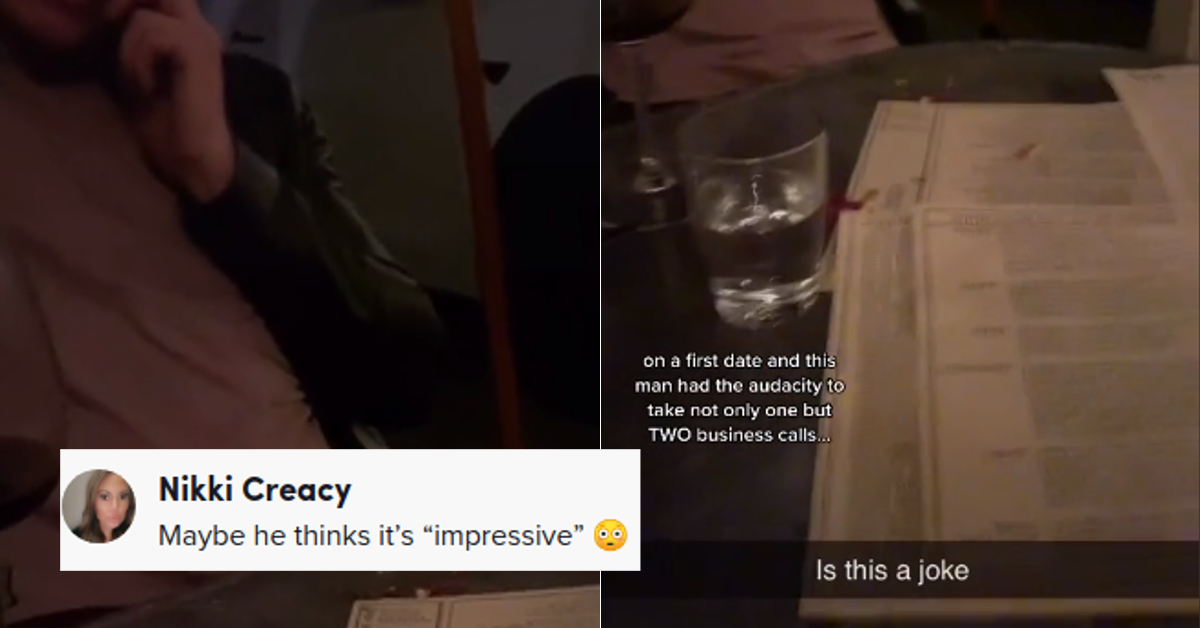 TikToker Slams First Date for Taking 2 Work Calls During Dinner, Some Say He Wasn't Wrong
A TikTok user started a chain reaction of horrible first date stories after sharing that a man she met up with took 2 work calls when they met.
First dates can be extremely nerve-wracking experiences. Even the most self-confident or jaded of people can find themselves getting very, very nervous whenever romance is on the line. Maybe we start to obsess over what we're going to wear, or how we're going to sound, what topics we want to discuss vs what topics we definitely want to avoid.
Article continues below advertisement
For many folks, that first date is almost an audition of sorts: this is the best part of my personality and I hope that you like it and maybe the best parts of both our personalities can maybe flourish together.
And if you aren't an over-thinker and have truly embraced the "let's just vibe, brah" lifestyle there are some first date protocols and common courtesies you're probably aware of.
Like not spending insane amounts of time on your phone when you're in the presence of another person. While this is more or less the case whenever you go out to eat or spend time folks, it's definitely a bad look when you're going on a first date and keep getting pulled away from a conversation with that person you're supposed to be getting to know to either text or talk on your phone.
This is what happened to this Kelcey Bligh, who posts on TikTok under the handle @kelceybligh.
Article continues below advertisement
"On a first date and this man had the audacity to take not only one but TWO business calls..." she wrote in a text overlay. In an additional caption in the video, Kelcey writes: "Is this a joke."
Article continues below advertisement

There were many people who were shocked at the date's decision to take work calls in the middle of their first outing together. One called the move "insufferable" while others simply stated that they would have left if that happened to them.
Article continues below advertisement

There were other TikTokers who speculated that he wasn't taking genuine work calls at all, and the only reason he decided to do so was to impress her about his #riseandgrind lifestyle.
Article continues below advertisement

However, there were some people who defended the woman's first date, stating that if she was looking for a potential partner who has money, then she shouldn't be alarmed by the fact that he doesn't have a lot of time to go around. They followed up by stating that most people with free time on their hands usually don't have a lot of money. Decisions, decisions.
Article continues below advertisement

And then there were others who said that she was blowing the two phone calls out of proportion, stating that while first impressions and first dates are important, that "work is work."
Article continues below advertisement

In the comments section of the video Kelcey stated that the phone calls were long enough to give her time to go to the bathroom, catch up with friends, and then return to the table, only to see him still with someone on the other line.
Article continues below advertisement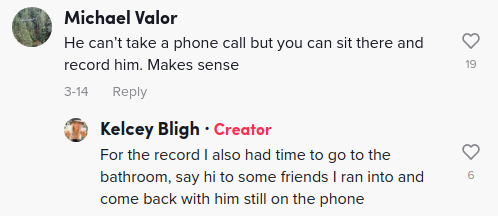 Kelcey added that he didn't further elaborate on the phone calls nor did he apologize for taking them while they were at the table.
What do you think? Was this just a case of bad timing and the man needed to take the phone calls because he had business to take care of? Or do you think that it's in poor taste to answer the phone while someone is out with you on a date, especially a first one?