Customer Service Workers Share the Customer Complaints That 'Broke' Them
Turns out people act absolutely ridiculous if you tell them something they don't want to hear!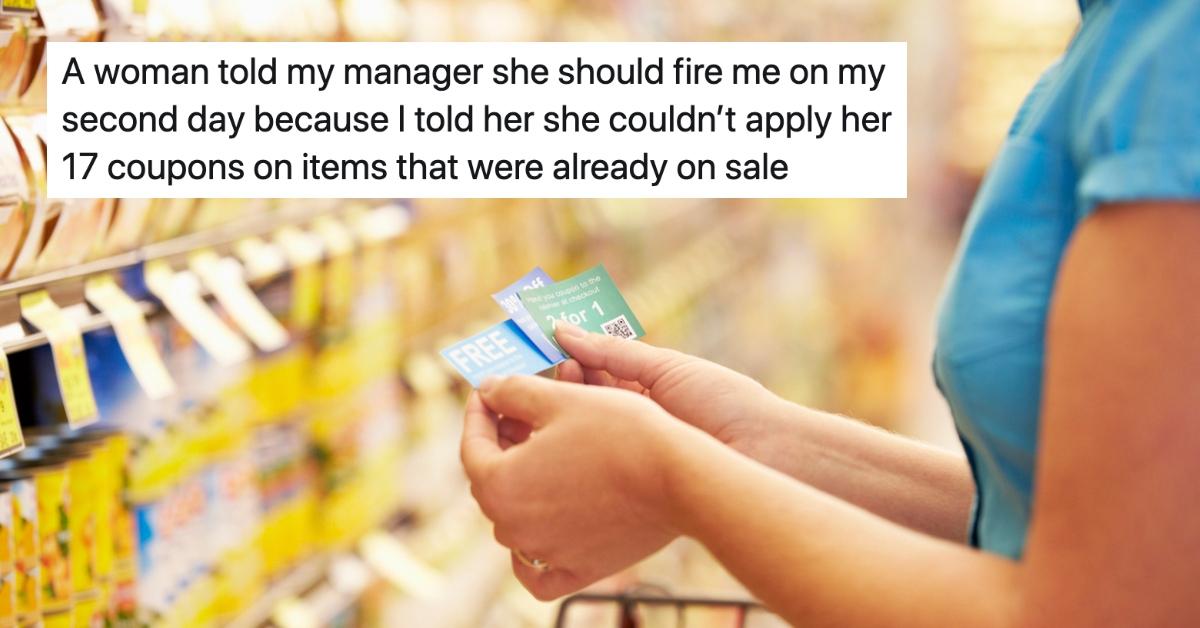 Only the people who've had experience working in customer service truly understand what a minefield it can be. Sure, most people are reasonable and understanding. But every once in a while, you interact with a truly irrational human being, someone whose behavior can only be described by the phrase "brain worms." And of course, those are the encounters that customer service workers remember most vividly.
Article continues below advertisement
Twitter user @Keally22, who goes by Kels, a former customer service worker herself, asked people who've had similar jobs to share the customer complaints that "broke" them, the interactions that they simply couldn't believe were happening even as they were literally happening in front of them. And oh man, these will boil the blood of any normal, reasonable person.
Kels started off the thread with a couple of stories of her own. This one is off-the-charts. This "Karen" complained that she could see other people from their table on a very busy Mother's Day. Has she...ever eaten at a restaurant before? That's how restaurants literally always work. But this wasn't the only story Kels had from her time in the customer-service trenches.
Article continues below advertisement
This one was so long she needed to use the Notes app to write it all out. Basically, this horrible woman would simply not believe that Kels gave her the right sauce on her pizza, and she made her remake the pizza three times even though Kels got it right the first time. Customer service workers are truly saints. This is why regular, normal people should be extra nice whenever you encounter someone just trying to do their job.
Article continues below advertisement
Article continues below advertisement
Don't you just love getting yelled at for doing your job correctly? Customer service workers, especially restaurant workers, put up with so much irrational behavior from seemingly normal people. It's like they get into a situation where they feel superior because someone is taking their order and they lose all sense of decency...not to mention logic.
The man literally said he didn't want the extra serving of beef and then made a fuss when he didn't get it! Like I said, "brain worms."
Article continues below advertisement
Article continues below advertisement
I absolutely love stories like the milkshake one. In a response to this tweet, someone else shared that when they worked at an ice cream shop, a woman complained that she wasn't given "the good ice cream they keep in the back."
She demanded they remake her shake. So the person took the shake into the back, stood in the freezer for a couple of minutes, and then walked back out with the same exact shake. The woman took it and sipped it smugly before walking off. People love to believe they've gotten some sort of special treatment, whether it be an extra-cold milkshake (which, what?!?!) or the "good, secret ice cream" from the "back," which I guarantee you is not a thing.
Article continues below advertisement
It's almost better when they walk away thinking they've somehow won when you've really just revealed what horrible people they are. The only problem then is that their alternate reality has been validated and they'll probably go through the rest of their life thinking they'll always get the good stuff if they just complain enough.
Article continues below advertisement
How? How did this man make money by complaining? This shouldn't be allowed to happen. Oo, this one made me irrationally angry.
Article continues below advertisement
Sometimes you just want to grab people and say, "Listen to the words that are coming out of your mouth. They are ridiculous. You sound like an absolute fool." That's what I would have liked to do to the cookie mom and to the group of women with the vegan baby. Hoo boy.
Article continues below advertisement
Of course, now that we're in the middle of a global pandemic, these sorts of interactions have a new layer of horror associated with them. Several people shared the downright dangerous interactions they've had with customers who wouldn't abide by the regulations their workplaces had established due to COVID-19.
These aren't just annoying or baffling. These are super scary. Now more than ever, customer service workers are being forced to handle much more than they're getting paid to handle. But at all times, these poor people have to put up with so much. Be nice to your customer service workers. You have no idea who else they're dealing with during their day.