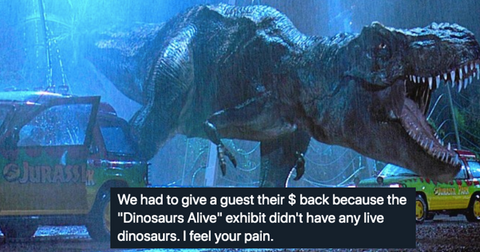 Customer Service Professionals Share the Most Insane Complaints They've Gotten
By Robin Zlotnick

Feb. 18 2020, Published 3:23 p.m. ET
The internet is full of a lot of trash that makes me fear for the future of the human race. But perhaps nothing is as terrifying as this thread of insane complaints that people who deal with customers have had to handle. Some full-grown adults don't know, for example, that dinosaurs are extinct or that leprechauns aren't real.
Article continues below advertisement
One woman shared her experience fielding the complaint from a woman who came to the museum expecting to see a live sabertooth cat, and others who have similar stories quickly chimed in. Fair warning: Reading these will make you completely convinced that humans, as a race, are on our last legs.