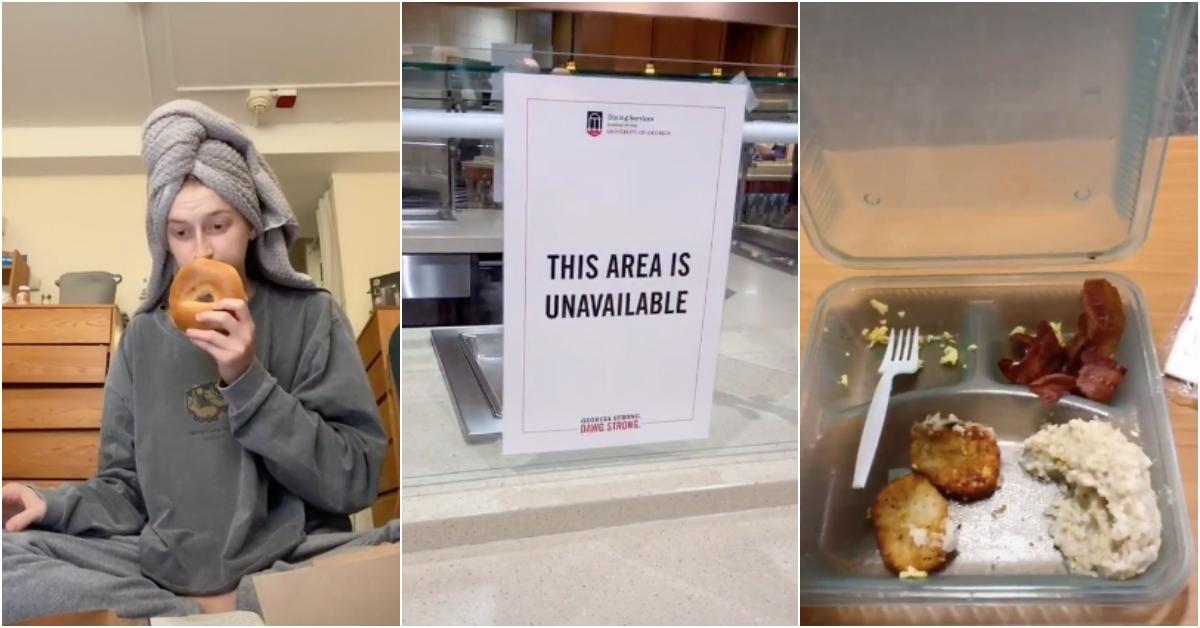 College Students Are Calling out Terrible Dining Situations Due to COVID-19
Even while COVID-19 outbreaks have been happening at schools and colleges around the United States, students have been returning to campuses to begin their 2020-2021 school year. Some campuses require students from out of state to quarantine for two weeks when they arrive and delivering all meals to their dorm rooms.
Article continues below advertisement
Others, like the University of Georgia, are offering limited and streamlined options in their dining hall that are, unfortunately, inadequate for many students who have paid $2,000 for a meal plan.
Article continues below advertisement
According to In the Know, UGA's meal plan usually includes unlimited access to five different dining halls as well as other pop-ups and on-campus food trucks. But because of the pandemic, food choices, quality, and portion sizes have greatly diminished.
And several students have taken to TikTok to expose the problems. In the above video, student Katie Toler has to wait in long lines in a mostly empty dining hall for what looks like some chewy bacon and gluey oatmeal. "I love paying for glorified middle school cafeteria food," she captions the video, which has over 223,000 views.
Article continues below advertisement
In a similar video also posted from UGA, William O'Bannon shows that he waited in an extremely long line for a plain hamburger and some French fries. His video has 1.2 million views on TikTok.
Article continues below advertisement
"Whenever you're on social media, you kinda hope that at least something you post will go viral for the right reasons," he said. "So when it actually happened, I felt like I was actually being heard, and maybe the university would actually listen and change their policies."
Many on social media were comparing these sad meals to those given out at the notorious, failed music festival, Fyre Fest, which went viral at the time for being not only inadequate but also kind of gross. At the very least, the school should not be charging students at the same rate for a severely limited food plan.
Article continues below advertisement
UGA is not the only school that has drawn criticism for its disastrous meal planning amidst the pandemic. NYU students who come in from out of state are required to quarantine for two weeks when they arrive. That means they can't leave their dorm room at all.
To facilitate the quarantine, the school has been delivering meals to its students' dorm rooms. Or maybe I should say "meals." The food has been interesting...gross...weird...and at times inappropriate (vegetarians receiving steak salads! those with gluten allergies getting sandwiches!).
Article continues below advertisement
After student Nautica Nolden posted this video, the strange watermelon salad with chicken took on a viral life of its own. But even this weird salad was better than what she was receiving before...which was nothing.
Article continues below advertisement
"For the first day, I didn't get any meals, and I was really confused on why," she told NBC News. "When I told them that I wasn't getting everything, they realized they might be giving it to the wrong room."
Another student, Madison Veldman, reports that she's gotten her meals at odd hours — breakfast at 11:15 a.m., lunch at 4:30 p.m., and dinner at 9 p.m., and that they're only given three bottles of water a day. In her viral TikTok video, she also talked about having to do a "smell test" because some of the food she's gotten has been less than fresh.
Article continues below advertisement
In one video posted by NYU student Cristina Díaz on August 22, she unboxes her breakfast and claims that they are "finally stepping it up." The breakfast box included a box of Dunkin' munchkins, a chocolate croissant, an apple, a bagel, lox, cream cheese, capers and onions, Greek yogurt, and hardboiled eggs, which, Cristina says, "look very slimy, but they tried, I guess."