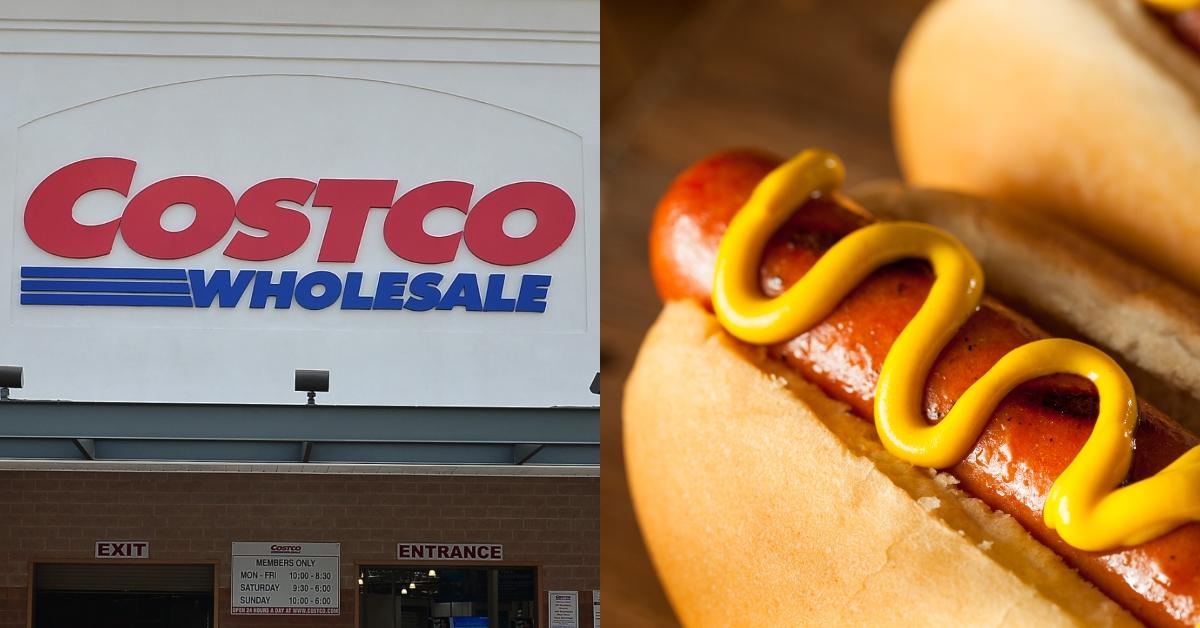 Here's the Incredible Reason Costco Hot Dogs Only Cost $1.50
Costco hot dogs are the meat tubes of legend. The giant dogs have always come with a soda and only cost $1.50. You'd think that the price would have gone up as the years have gone by. But that hasn't been the case.
Article continues below advertisement
And many just recently learned why. The $1.50 Costco hot dog / soda combo had a champion in Costco founder and former CEO Jim Sinegal. An article on Mental Floss explains that Sinegal said he would "kill" anyone who tried to raise the price of the hot dog. And Twitter user @weirdcities recently made this awesome fact go viral.
Article continues below advertisement
"Absolutely losing my mind over this," they tweeted, along with a couple screenshots from the article. The tweet shares the opening paragraph of the article, which reads:
"When Costco president W. Craig Jelinek once complained to Costco co-founder and former CEO Jim Sinegal that their monolithic warehouse business was losing money on their famously cheap $1.50 hot dog and soda package, Sinegal listened, nodded, and then did his best to make his take on the situation perfectly clear.
Article continues below advertisement
"'If you raise [the price of] the effing hot dog, I will kill you,' Sinegal said. 'Figure it out.'" Evidently, Jelinek thought Sinegal was serious, because he has never raised the price of the hot dog.
It's been the same price since the warehouse chain opened in 1984. In case you're not counting, that's 36 years that you've been able to get a hot dog and a soda at Costco for $1.50. That's quite a deal. There's pretty much no other place where you can get a meal for less than $2 anymore.
Article continues below advertisement
Twitter users loved this unwavering dedication to the $1.50 Costco hot dog from the company's co-founder. The article explains that the way they keep prices so low is by calculating the cost to them and weighing that with the value the hot dogs afford them.
Article continues below advertisement
Would people pay more than $1.50 for a hot dog in 2020? I'm sure they would. But the goodwill and foot traffic generated by keeping the prices so low is actually more valuable to the company.
"Customers coming in to shop at Costco are amused, satisfied, and fueled by the hot dog meal. If they get it just before leaving the store, they're left with a lasting impression of being treated well. That's worth more than keeping up with inflation," the article explains.
Article continues below advertisement
But the other thing they've done is figure out how to keep production costs low. When Hebrew National upped their prices, Costco simply moved to in-house hot dog production. Now, they have two hot dog plants, one in Los Angeles and one in Chicago. That, my friend, is what we call dedication to the cause (the cause being the preservation of the $1.50 hot dog...doesn't get much nobler than that).
Article continues below advertisement
Costco sells more than 100 million hot dogs every year, which is apparently "more than every MLB stadium combined." It makes sense. You've got thousands of people stocking up on bulk goodies every weekend; they need a salty, meaty, and refreshing treat to snack on along the way.
Everyone I know who has a Costco membership is extremely loyal to the retail club store. Part of the reason for this is undoubtedly that they care about their customers enough to keep their hot dog prices not just low, but 1984 low.