Couple Forgets to Turn off Ice Machine, Return Home After 4 Months to Find Frozen Cavern
A couple away from their home for 4 months reveals what happens when you forget to disable your refrigerator's ice machine...and it keeps making ice.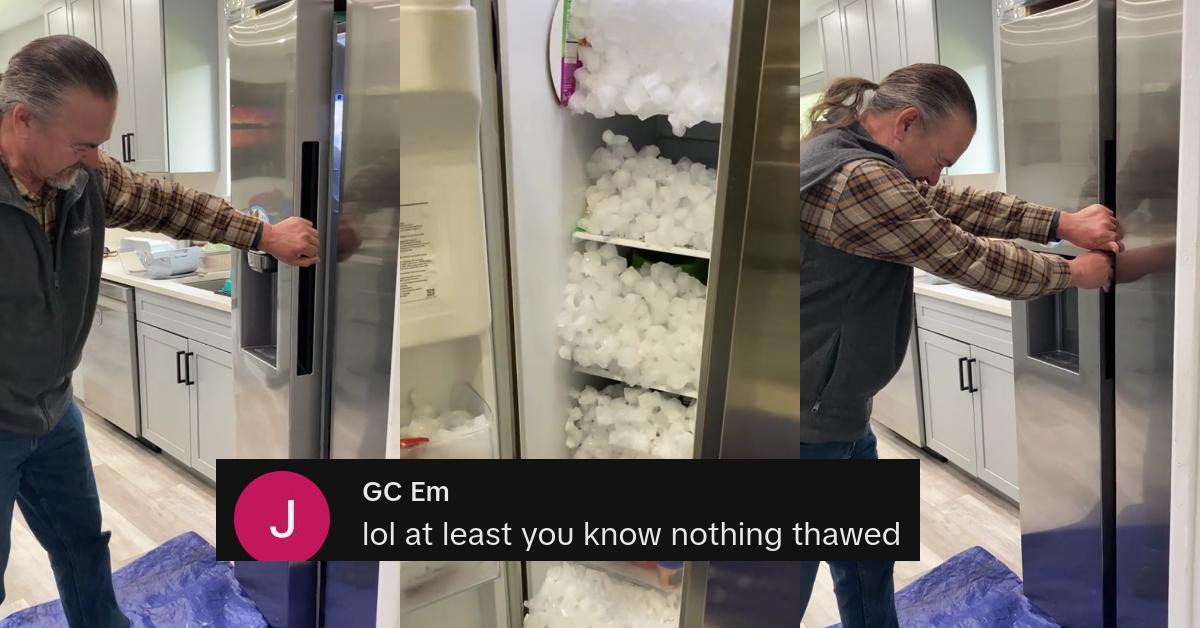 If you own a home, then you'll know that there are always some little forms of upkeep/precautions you have to take before going on vacation or leaving the house uninhabited for a while.
Article continues below advertisement
Like if you're going away for a spell during winter break, you may not have to heat your home to be an agreeable temperature for a person actually staying inside the home, but you've got to keep it warm enough so that the pipes don't burst in the event of a gelid winter freeze.
And if you've got a refrigerator that makes ice, you may want to remember to turn that thing off before leaving your home for a while, or else you might find yourself in a similar situation to TikToker Sara Hayward's (@twoticketstosaradise) parents.
Article continues below advertisement
In a viral clip that's garnered over 10.5 million views, Sara shared a recording of her dad struggling to pry open their refrigerator's door upon returning back home after a 4-month absence. She writes in a caption for the video: "My parents got back home from traveling for 4 months and sent me this. Apparently, you have to turn off the ice maker and not just take it out of the door!"
Article continues below advertisement
Sara's mom could be heard speaking at the top of the video, which shows her husband standing before the fridge, a blue tarp on the ground and both of his hands gripping the side of the freezer door in an attempt to swing it open.

Article continues below advertisement
"Okay, so, after four months, we thought the ice maker would have stopped, but we think it kept going, so let's see what happens."
Freezers are usually outfitted with sensors that signal whether or not ice production should be suspended or continued.
According to this help page on Kitchen Aid's website, oftentimes a dirty or blocked sensor will send a false "full" signal to the freezer's ice machine, which will stop any more cubes from being delivered to the tray. It seems like the opposite problem happened with Sara and her significant other's fridge, however.
Article continues below advertisement

Crews Appliance Repair indicates online that one common reason a freezer may produce ice nonstop could have to do with "a broken, damaged or detached arm," in the ice tray. If the arm functioning problem signals to the freezer to stop making ice, well, then ending up in the same predicament as Sara and her husband isn't necessarily a foregone conclusion.
Article continues below advertisement
Back to Sara's parents' video: after Dad tugs at the door for a bit, finally extricating it from its icy seal, the tumbling of what sounds like hundreds, if not thousands of ice cubes falling to the ground can be heard. He hesitates on opening the door any further: "oh my gosh," Sara's mom can be heard saying off camera before erupting into laughter.

Article continues below advertisement
Dad continues to pull open the door, as ginormous blocks of ice begin falling to the floor. Upon fully opening the freezer, Sara's mom shows off how everything in their freezer is caked with large, glued-together colonies of ice stuck to various areas of the appliance's interior.
"Okay that's a little bit of ice," Sara's mom says as her and her husband share a laugh and he works to extricate the frigid formations from the refrigerator.
Article continues below advertisement

Commenters who saw the video had a variety of different reactions to seeing the abundance of ice. One person quipped that Sara and her husband are the owners of the only Samsung refrigerator that reliably produces ice: "the one Samsung fridge with a working ice maker"
Article continues below advertisement
Which seemed to be a sentiment echoed by someone else who said: "My ice maker makes about 9 cubes a calendar year"
Another joked that the fridge was simply looking out for them: "Fridge: 'they've been gone a while- they're going to need ice when they get back'"

There was one person who said that a simple maneuver would've seen the couple avoiding the ice disaster entirely: "Should've left the tray in. Would have stopped making ice when tray was full"