Man Resigns From Job After Getting PTO Denied, Sparks Debate
A post is going viral on Reddit after an employee said they resigned from their position when their manager denied a PTO request.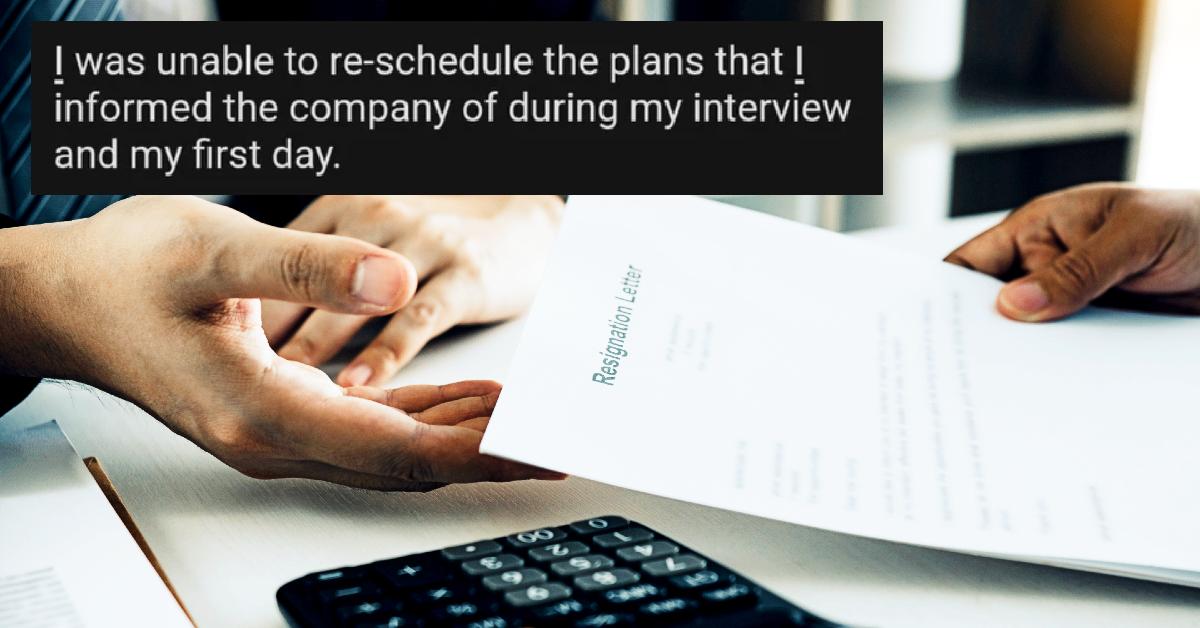 A Redditor went viral for posting the resignation letter they sent to management following a denied paid-time-off request, which they said they informed their employers of during their initial interview and on their first day of work.
According to the Limonjyan Law Group, the only paid time off employers cannot decline are those covered by FMLA or CFRA.
Article continues below advertisement
The group does go on to say, "However, if you request sick time, vacation time, or PTO, the employer can legally deny your request for time off," which aren't covered under these government-protected policies.
In the case of Reddit user @rainbowbadger50, it appears their employer denied their paid time off under false pretenses.
They uploaded a screenshot of the message they sent to their employers to Reddit's AntiWork sub with the following description: "Employer ignores my notice of unavailability time windows I informed them of during my interview and on my first day for my trip overseas up until 5 days before my trip/a whole month after employing me."
Article continues below advertisement
Their message read as follows: "Resignation notice - Effective immediately. I was unable to re-schedule the plans that I informed the company of during my interview and my first day. I've spent over $2,000 on said plans and months of planning. I have 2 siblings I haven't met who are expecting to meet me."
Article continues below advertisement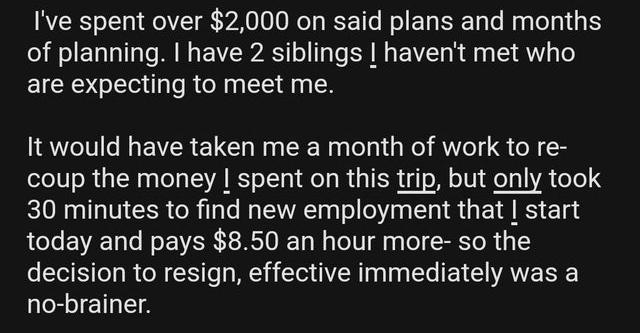 "It would have taken me a month of work to recoup the money I spent on this trip, but only took 30 minutes to find new employment that I start today and pays $8.50 an hour more- so the decision to resign, effective immediately was a no-brainer."
Article continues below advertisement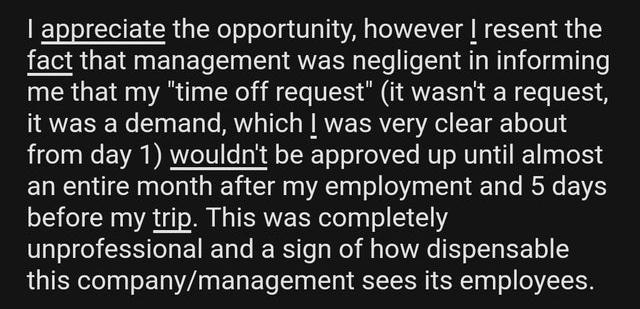 They continued, "I appreciate the opportunity, however I resent the fact that management was negligent in informing me that my 'time off request' (it wasn't a request, it was a demand) wouldn't be approved up until almost an entire month after my employment and 5 days before my trip."
Article continues below advertisement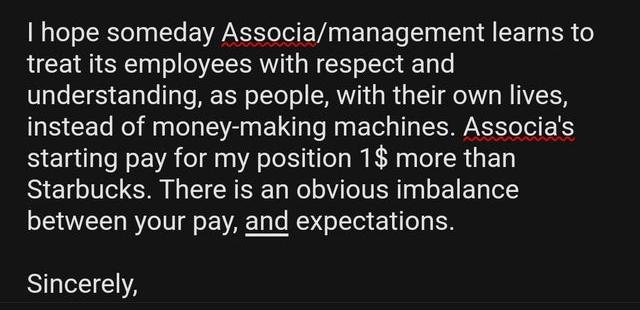 "This was completely unprofessional and a sign of how dispensable this company/management sees its employees. I hope someday Associa/management learns to treat its employees with respect and understanding, as people, with their own lives, instead of money-making machines."
Article continues below advertisement

The Redditor then went on to criticize the starting salary the company offers its workers, which @rainbowbadger50 says wasn't very good, "Associa's starting pay for my position is $1 more than Starbucks. There is an obvious imbalance between your pay, and expectations."
Article continues below advertisement

Associa is described as a company that provides "HOA and property management services." The business states that its mission is "to bring positive impact and meaningful value to every community." It's unclear which chapter/location that the Redditor is referring to in their viral post, as Associa has offices all across America and in other countries.
Article continues below advertisement

Users applauded @rainbowbadger50 in the comments section of their blog, stating that their employer had no right to deny their paid time off the way that they did: "I wish I could upvote this more than once. Since you stated it in the f------ interview, it wasn't either a request or a demand. It was an explicit condition of your working there. They agreed to it by extending the offer."
Article continues below advertisement

What do you think? Should @rainbowbadger50 have gotten the paid-time off approved in writing at the top of their interview? Or did everything ultimately work out in their favor anyway since they were able to get a job that paid more as a result of Associa declining their PTO request only five days before they were supposed to take it?
Article continues below advertisement
Update: Associa reached out to Distractify with a statement. The company claims the Redditor had "inaccuracies" in their statement and that they were not a regular employee: "Associa has become aware of a situation in which an employee reportedly resigned after having their Paid Time Off (PTO) request denied. We regret any inconvenience this individual may have experienced as a result. In this instance, while the individual in question did work for Associa, they were employed through a third-party temporary staffing agency."
"All benefits and PTO requests related to the individual in question were processed solely through this agency and are dictated by their employment policies and procedures. In this regard, Associa is unaware of any prior travel plans which the employee may have conveyed to the staffing agency prior to starting the on-boarding process. Associa does employ contractors for certain positions through third-party staffing firms. Regardless of employment status, we go out of our way to make them feel welcome and part of our team at every opportunity. Associa is proud to emphasize a healthy work-life balance for all our employees. This is demonstrated by our broad suite of employee benefits, which include PTO, paid time for community service and wellness hours. As a result, many of our contractors elect to join Associa in a full-time capacity."