Cracker Barrel Is Getting Roasted for This "Abomination of a Pot Pie" a Woman Was Served
After a video of Cracker Barrel's chicken pot pie fail spread like wildfire on social media, folks are convinced it must be a joke.
It's understood that there are subtle differences between homemade food and restaurant-crafted dishes. For example, some people prefer to give their jerk chicken a slightly charred finish to embrace the traditional Jamaican dish. On the flip side, some restaurants struggle with knowing the difference between a slightly charred piece of meat and burnt chicken.
Article continues below advertisement
That said, most of us have come to expect that eating out comes with the risk of not getting exactly what you would want. So, when one woman on TikTok decided to dine at a Cracker Barrel and eat a chicken pot pie, the dish she was served was quite the opposite of what one would expect. In other words, it was a hilarious fail. Here's the scoop.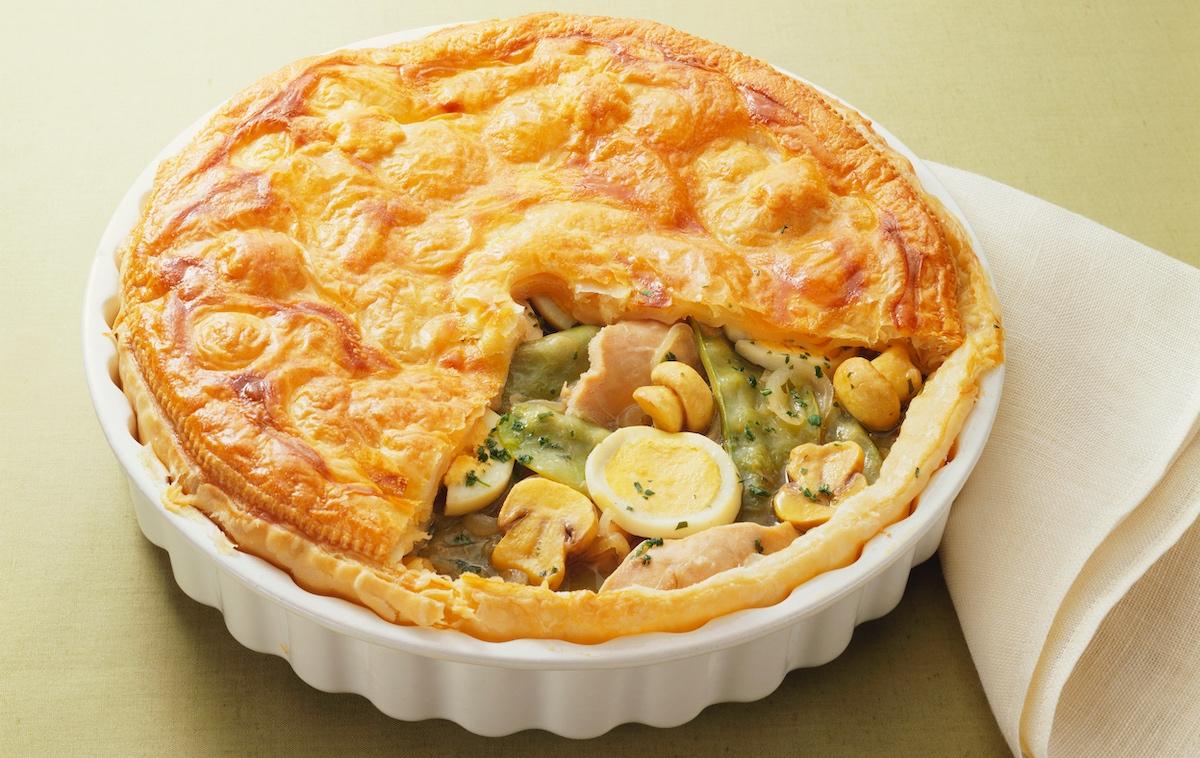 Article continues below advertisement
A Cracker Barrel chicken pot pie fail on TikTok has left folks shocked.
Yes, there is a wrong way to make a chicken pot pie. In an Aug. 4, 2023 Tiktok video, creator Arianna (@ari__faith) shared a video of her friend's chicken pot pie at Cracker Barrel.
"When Cracker Barrel improvises their chicken pot pie," the video caption reads.
As the video starts, Arianna is at a table with her friend Cindy who just had her meal placed in front of her.
"Cindy, what did you order?" Arianna asked.
Article continues below advertisement
"It was supposed to be a chicken pot pie," Cindy laughed as she looked at the square-shaped crust on top of her bowl.
"Isn't the crust supposed to be sealed in the bowl?" Arianna asked.
Article continues below advertisement
"I thought so," Cindy said as she picked up the crust to reveal the chicken pot pie filling in the bowl.
Cindy and Arianna shared a hearty laugh as Cindy placed the crust back on top of the bowl.
Article continues below advertisement
TikTok users find Cindy's chicken pot pie to be hilarious, while others applaud the innovation.
As mentioned above, we all expect a chicken pot pie to have a crust baked on top of the filling so you can use an eating utensil to dig in the meal. However, Cindy's pot pie crust looked more like a giant cracker or flatbread that can be used to dip into the filling. So of course, TikTok users had a field day about the presentation.
"My boyfriend asked if it was a giant saltine," one user shared.
"Mine wasn't attached either, I was confused," another person said.
Article continues below advertisement
"What in the world?" one user asked.
Interestingly, some folks shared that they would actually prefer their chicken pot pie this way since it prevents the crust from being soggy.
Article continues below advertisement
"Nah that's great. The crust is the best part. Now I can eat it separately or dip it," one person shared.
"That's perfect though! I can crumble it up and it's all crunchy instead of it being soggy," another user shared.
So where do you stand on the chicken pot pie-gate? Do you prefer the traditional chicken pot pie with the crust baked on top of the filling or do you like the idea of the crust baked separately?
It's safe to say Cracker Barrel may see a boom in business over the next few months.