Instacart Customer Demands Milk Stays at 40 Degrees, Delivery Driver Immediately Cancels Order
A delivery driver shared a request from an overly-demanding customer, who expected their milk to stay 40 degrees or below during a 30-40 minute drive.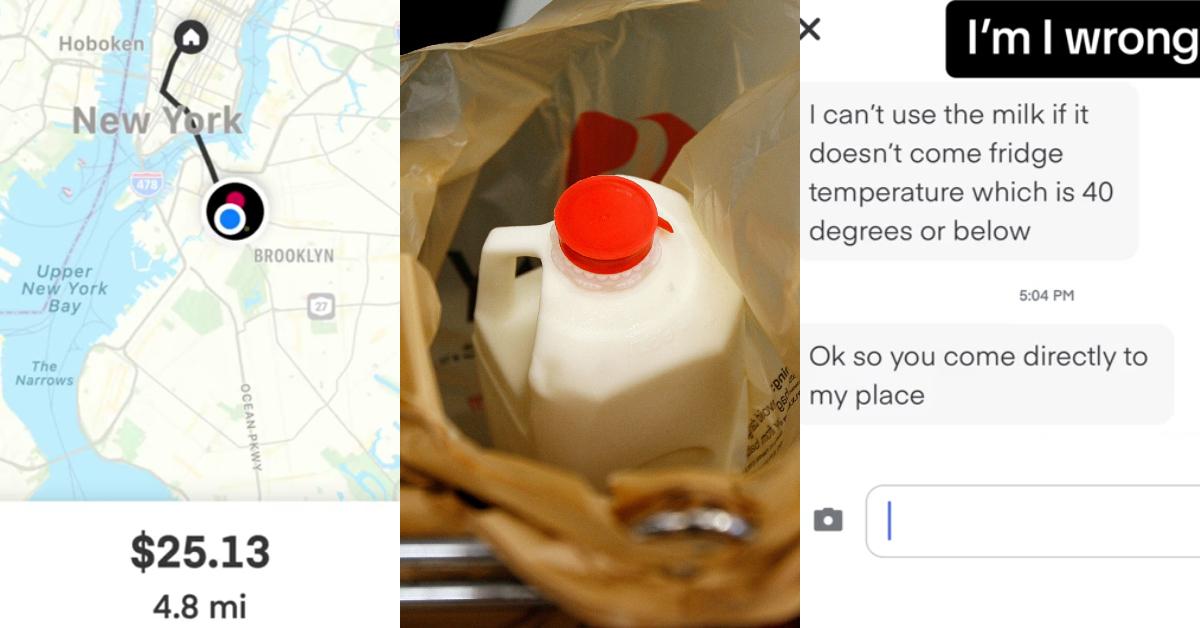 Article continues below advertisement
And one delivery driver who regularly posts about their trials and tribulations fulfilling orders on apps like DoorDash, UberEats, and Instacart shared an unrealistic customer request in a trending TikTok clip.
Article continues below advertisement
Brandon Espinoza (@dasher._.nyc) shared a message from an Instacart customer who made a very specific request on one of the items in their order. Among some of the items they requested be delivered to them was a container of milk.
Milk's a staple of many people's grocery lists, so that's not that big of a deal. However, the customer demanded that Brandon ensure the milk's temperature doesn't go above 40 degrees Fahrenheit en route to its final destination, something that caused the delivery driver to reach out to Instacart's customer support and immediately cancel the order after accepting it.
Article continues below advertisement
Brandon says in the video: "So let's take a look at this order: $25, 4.8 miles, 5 units. I took this order because it was kinda slow yesterday so I was like you know what it's whatever. Let's do it."
Article continues below advertisement
Upon accepting the order, the delivery driver says that the customer reached out to them via the app's direct messaging feature with a particular request pertaining to the temperature of the milk that they ordered.
They wrote: "I can't use the milk if it doesn't come fridge temperature which is 40 degrees or below. Ok so you come directly to my place."
Article continues below advertisement
Brandon goes on to say in the clip that there is no way he can honor the customer's request, and with that stipulation, he might as well just cancel the delivery entirely.

Article continues below advertisement
"Oh if the milk is not 40 degrees or below I'm gonna have to put off the milk and you know me that's automatic cancel because, how am I supposed to keep your milk at 40 degrees or below, even with insulated bags, on a 30-40 minute drive, I can't guarantee that your milk will arrive at that temperature."
The delivery driver goes on to say that completing orders with requests like the aforementioned one is ultimately more trouble than it's worth, as they could receive poor marks from the recipient that could adversely affect their ability to secure future orders or refund the order, leaving them with no payout for their troubles.
Article continues below advertisement
"And then risk a bad rating, yet worse they could refund everything or claim missing order or something. I'm gonna get deactivated for this so I hit up Instacart support and I immediately canceled this order."

Article continues below advertisement
Let's indulge the customer for a second: in order for the dasher to be able to honor the customer's request, they would need to have a refrigerator in their vehicle.
So unless they're rolling around in an RV or customized van decked out with one of these refrigerators, or are rocking one of these handy-dandy fridges designed to work with 12-volt car adapter units, there's really no shot at the customer's milk to be kept at 40-degrees.
Article continues below advertisement

Several viewers who saw Brandon's post shared in his disbelief at the customer's demand, while others said it's almost always a bad sign whenever a customer, right at the beginning of the order, starts sharing potential problems: "You're not in the wrong. I've learned real quick that people that message bs like that will never be satisfied."