Tiktok Has the Best Videos of Cute Dogs on the Internet Now
Check out some of the cutest and funniest dog videos posted to TikTok for a daily boost of serotonin through your screen.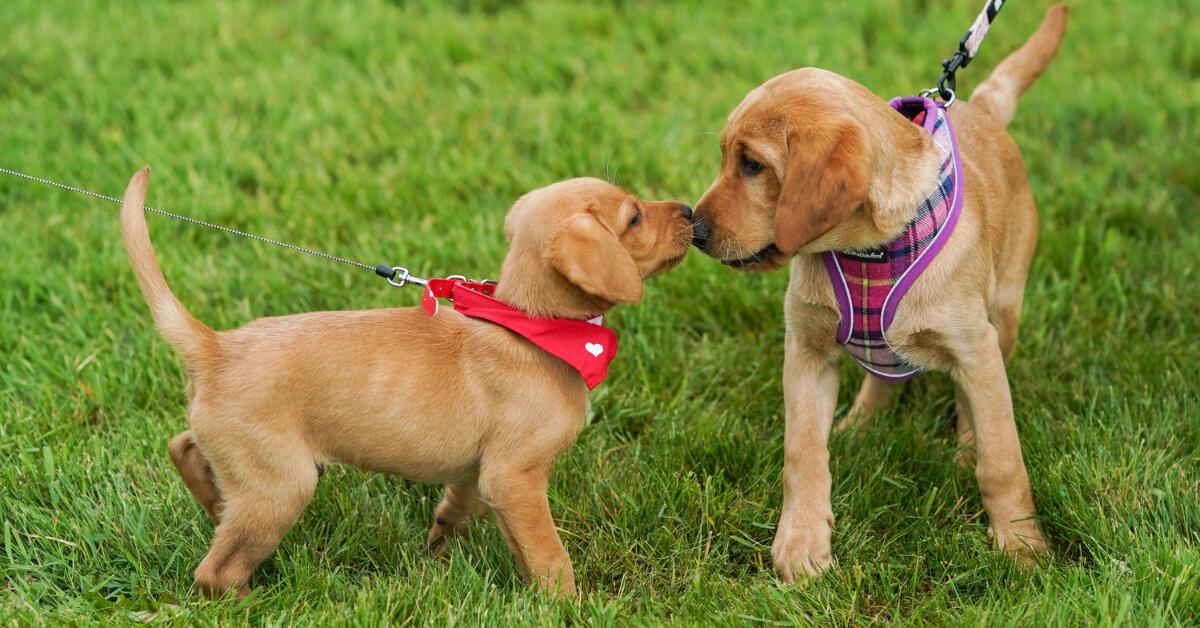 If there's one thing that the internet is good for, it's delivering an unending stream of videos focusing on the world's cutest and funniest dogs. Platforms like TikTok have allowed creators the world over to share the best moments that they've enjoyed with their canine friends, and these videos pack all of the serotonin that a person could ever need for a day into just a few seconds of viewing material.
With that being said, let's check out some of the cutest and funniest dog videos on TikTok!
Article continues below advertisement
TikTok is chock-full of cute and funny dog videos.
Amidst the trending recipes, dance routines, and comedy sketch videos that occupy most people's TikTok feeds, there are millions of videos of everyone's favorite furry companion being shared too. These clips range from hilarious to jaw-dropping to downright "aw"-enducing. Here are some of the best ones that we were able to track down.
Just a little dance number.
This adorable pooch decided to shake its hindquarters to a bouncing beat. Luckily, the owner was there to capture this pure moment in all of its glory.
The most perfectly timed grab ever.
Who doesn't love capturing the perfect moment on video? Well, this TikTok showcases an adorable poodle running right into its owner's fingers, the perfect spot to hold all of its fluffiness!
Article continues below advertisement
A new doggy 'do.
Us humans love getting our hair done, so why should we exclude our pups from the fun of it all? In this TikTok, a pooch gets a little more than they bargained for with a poof for a new hairdo.
Article continues below advertisement
The calming sounds of...squeaking?
Everyone who has ever owned or been around a puppy knows they tend to have a lot of energy. Thankfully, this owner found out the best way to pacify their pooch is through the sound of squeaking. For our viewing pleasure, the dog makes the most adorable little face when it hears the noise!
Article continues below advertisement
Sometimes siblings tease each other!
Who would've thought having two bloodhounds would be like having young twins? In this video, one pup can be seen tapping the other on the rear and getting its sibling all riled up, much to the delight of those watching.
Article continues below advertisement
The ultimate sign of trust.
Our dogs put a lot of trust in us every day, but this video shows just how far that can go. In the adorable clip, the golden retriever can be seen literally trust falling into the loving arms of its owner in bed.
Article continues below advertisement
What would you do if your dog gave you this look?
We like to think we're the only object of affection in our dog's eyes, but sometimes that star can turn sour. In this TikTok, we see an owner trying to express love to their pup, only to be given a strong stern from the four-legged friend that can only be translated as "what do you think you're doing?"
Article continues below advertisement
Making new friends.
Who doesn't love a new friend? Well, this adorable little pup seems overjoyed to make the acquaintance of a bigger dog, going as far as waving at it!
Article continues below advertisement
It's not a phase, mom!
Humans aren't the only ones who can experience teenage angst! This video perfectly embodies the early 2000s rager in all of us (and our pets).
Article continues below advertisement
The best present is a pup!
Ending on a lighthearted note, it would be hard to unwrap this little bundle of joy under a tree and not smile! Although, we'd advise going for a nicely ventilated dog carrier if you're serious about gifting a pup.
Article continues below advertisement
With new adorable dog videos being added to the platform daily, it's an almost never-ending stream of laughs and heartwarming moments for dog lovers on TikTok. Head on over to #dog on the platform now to check out the millions of other users who have shared clips of their companions.