Are Amazon Snake Cats on TikTok Actually Real?
Are Amazon snake cats on TikTok actually real or fake? Here's what to know about the hybrid animal that has everyone doing a double take online.
The Amazon jungle (not the online superstore and streaming service) is a vast and amazing place, home to exotic and dangerous animals ranging from boa constrictors, to crocodiles. Large felines such as the jaguar also claim the South American jungle as their fascinating address.
But is there really such thing a an Amazon snake cat?
Article continues below advertisement
Hey, anything is possible, but the gorgeous species of hybrid animal that has TikTok and Twitter buzzing begs the question: Is it real? Here's what to know about the Amazon snake cat.
Are Amazon snake cats on TikTok real or fake?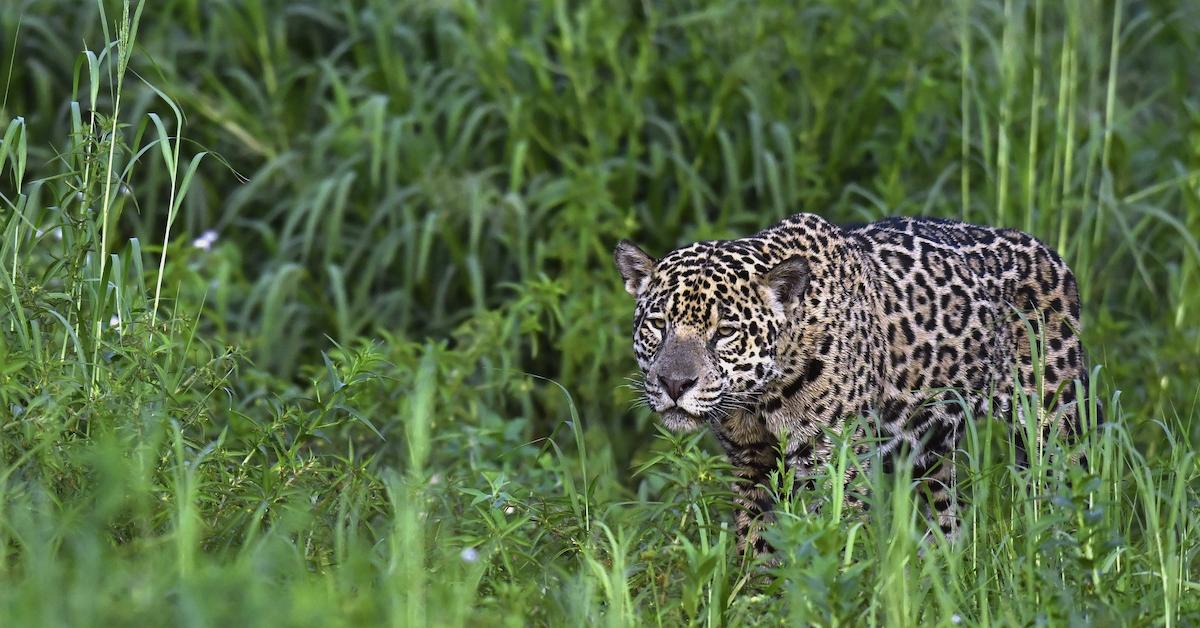 On March 14, 2023, a Twitter user posted a now-viral image of a stunning creature we've never seen before. The user called the animal the "serpens catus," and called it "the rarest species of feline on Earth."
Indeed, the majestic cat featured markings that looked more like an exotic snake than a fuzzy house cat.
Article continues below advertisement
"These animals live in hard to reach regions of the Amazon rainforest," the Twitter post went on to explain, adding, "and therefore they are relatively poorly studied."
Finally, the user claimed, "The first images capturing the snake cat appeared only in the 2020," and that the animal weighs "4 stone," which would be the equivalent of 56 pounds.
Article continues below advertisement
Predictably, folks on Twitter had a lot to say about the post, with commenters debating whether the Amazon snake cat could possibly be real. The comments to the post were as interesting to peruse as was inspecting the original photo.
Article continues below advertisement
Meanwhile, the topic quickly made its way over to TikTok, where creators engaged in their own debate over the veracity of the Amazon snake cat, making videos that unpacked if the animal is real or fake.
Article continues below advertisement
The Amazon snake cat is confirmed as a fake animal on TikTok.
Spoiler alert: Indeed, there is no such thing as an Amazon snake cat, something TikTok was all too happy to confirm. But commenters on this social sharing platform echoed what some Twitter users said when they enthused they still wanted one of the fake snake-cat hybrids.
To be fair, as one TikTok user pointed out in the comments of a video on the subject, "People act like we have discovered absolutely everything in the universe and like nature doesn't naturally create new things we don't know about."
We have chills, too!
Article continues below advertisement
It's also worth noting that cats and snakes do share certain traits in common; namely, hissing when they feel threatened.
But could a snake and a cat actually reproduce to create a new breed? The closest real-life cat snake we could find is called, well, the cat snake, and is a rear-fanged species that features eyes similar to a feline's, per Britannica.
Article continues below advertisement
They are found throughout Europe, Asia, and Africa and dine on lizards, when they aren't haunting our dreams.
Before we retire the topic, it's worth considering the video above, in which a cat and a snake feel one another out. The result seems to suggest that the two species want nothing to do with one another in reality.
And so, it seems the Amazon cat snake is just another hoax designed by social media to get us talking and thinking — and maybe wondering what kinds of undiscovered species might be out there, either deep in the jungles or seas of this vast world, or in the minds of creators with access to social media and photo editing software.