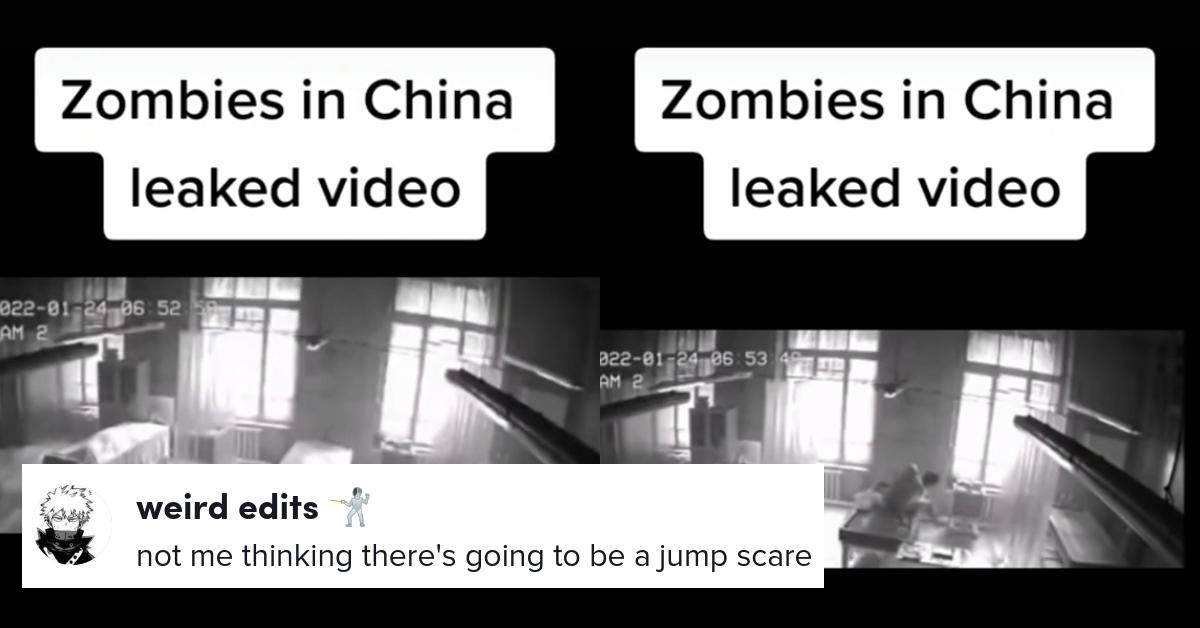 "Zombie Outbreak" Trends on TikTok in China, and It's Scary How Many People Want to Believe It's Real
Even before The Walking Dead became a TV phenomenon, there were an alarming number of people who seemed a little too excited at the possibility of a zombie outbreak. Maybe it's because they hoped they would have the chance to live a lawless existence and mow down a bunch of undead creatures threatening them and their loved ones. Or maybe it's because the pressures of functioning in society as it currently stands is too great of a burden to bear. Or perhaps it's a combination of both.
No matter what the reason, folks gobble up stories about zombies, with the latest being a hoax that went viral on TikTok.
Article continues below advertisement
The "Zombies in China" hoax went TikTok viral.
The clip in question seems like something straight out of a low-budget horror movie that uses a specific tone for maximum scare value. The video that started it all shows infrared security camera footage of a morgue. The TikTok begins with two bodies on metal embalming tables covered with white sheets.
Article continues below advertisement
The room is empty and, for a few seconds, it appears like there's nothing going on in the clip. Then, the sheet on the right embalming table begins to stir. It soon becomes evident that the body beneath the cloth is moving and what appears to be a naked man groggily gets up from off of the table.
The man eventually staggers to his feet, gesticulating like he's auditioning for a spot in the follow-up to "Thriller." Then the video ends.
Social media reactions to the footage varied. Some thought the clip was a hoax from the get-go, while others expressed genuine concern.
Article continues below advertisement
However, there was also an overwhelmingly positive/excited response to the news. There were some folks, albeit many of them jokingly, who appeared to be amped at the prospect of a zombie apocalypse that could potentially reshape our global society as we know it.
Article continues below advertisement
So how did a rumor that a Zombie outbreak is spreading in China even get started?
It's not difficult to imagine why the viral clip, which is probably staged (although, as of this writing, no one has come forward and said as such) has captivated people's attention. In the past, there have been plenty of other zombie hoaxes that have gone viral, like the 2014 "Ebola patient rises from the dead" story that garnered global attention.
The image in question was a slightly doctored screengrab from the film World War Z, and if it wasn't a piece of guerilla marketing from a firm trying to get people to watch the movie, then folks who work in the field better start taking notes.
Article continues below advertisement
And then there are zombie conspiracy theorists who point to naturally occurring cases of the "zombie virus" phenomenon in nature to back up their claims that an apocalypse isn't entirely out of the realm of possibility.
There's a fungus which ants are susceptible too that controls all of their movements to aid in the propagation of spreading fungus, which ultimately culminates in the ants' deaths. There are also cases of "zombie spiders" along with viruses that can come back from the dead, and a plant bacteria that alters the makeup of the foliage it contaminates as well.
Article continues below advertisement
There has never been, however, any credible claims that human zombies actually exist. Unless, of course, someone worked to create a virus or fungus that affected our species the same way it affects some insects.
And of course, because the origin of COVID-19 has been tied to China, throngs of people still mentally recovering from the aftermath of government-implemented measures to curb the spread of the disease were quick to speculate and believe that a zombie outbreak wasn't out of the question.