The Walking Dead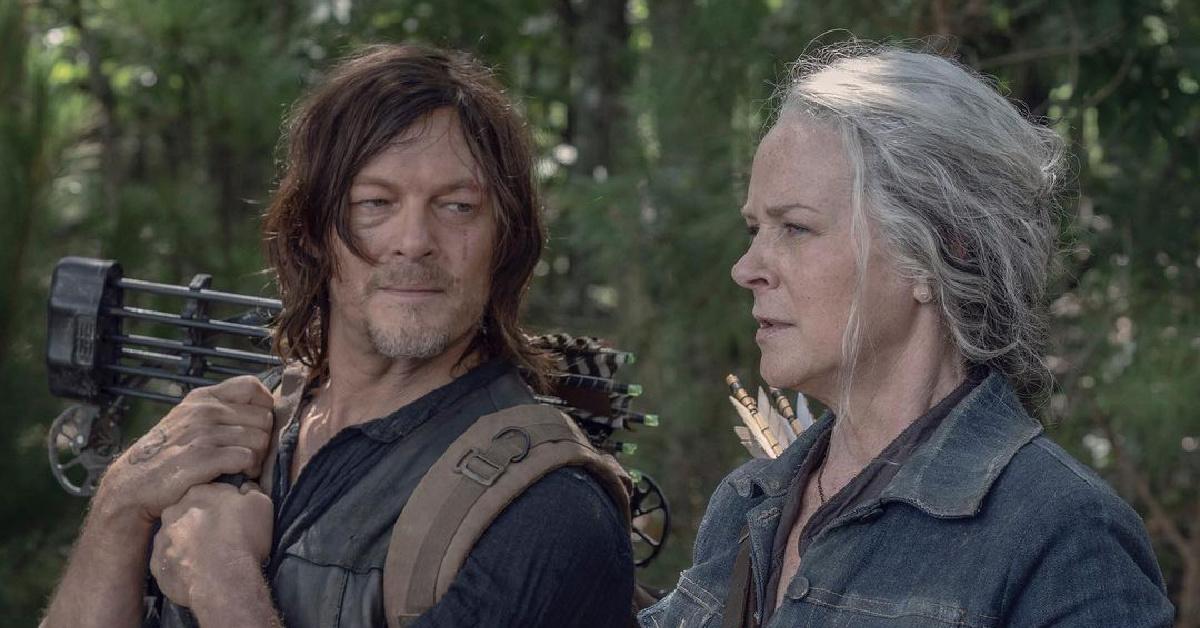 Everyone thinks they'd probably survive a zombie apocalypse, but the AMC series The Walking Dead proves that most of us definitely wouldn't have what it takes to stay alive after the undead come for us. Based on the comic book series of the same name, The Walking Dead (along with its spinoffs) serves up an unflinching look at just how far some people will go in an effort to survive the worst situations possible. It also provides invaluable lessons about not getting too attached to characters in TV shows, 'cause chances are they're probably going to die at some point. And it's not going to be pretty.
Meet the cast of The Walking Dead:
The Walking Dead boasts a huge ensemble cast, but here's a list of some of the main players over the shows 11 seasons:
Who dies in The Walking Dead? (Spoiler alert!)
It wouldn't be a zombie apocalypse series without some people succumbing to the zombies. Of course, some of the series deaths are caused by humans, too. Here's a list of some of the major deaths in the series (so far):
Shane Walsh — Stabbed to death by former BFF Rick Grimes in Season 2. He then turns into a zombie and Carl shoots him.
Lori Walsh — Dies during an emergency C-section while Judith is being delivered. Carl shoots her to prevent her being reanimated.
Merle Dixon — Killed by The Governor in Season 3. Daryl kills the zombie version of Merle by stabbing him in the head.
Andrea — Kills herself in the finale of Season 3 after she is bitten by zombie-Milton.
Hershel Greene — Decapitated by The Governor in Season 4.
The Governor — Stabbed by Michonne's sword and shot in the head by Lilly Chambler in Season 4.
Beth Greene — Shot in the head (accidentally) by Dawn during a hostage exchange in Season 5.
Tyreese Williams — Dies after being bitten by two walkers. Michonne attempts to amputate his arm to prevent the infection from spreading, but he dies from blood loss.
Abraham Ford — Killed by Negan (and his baseball bat, Lucille) in the Season 6 finale.
Glenn Rhee — Killed by Negan (and his baseball bat, Lucille) in Season 7.
Carl Grimes — Kills himself in Season 8 after getting bitten while trying to protect Siddiq.
Gregory — Hanged by Daryl in Season 9 premiere for attempting to assassinate Maggie.
Paul "Jesus" Rovia — Killed by a Whisperer in Season 9. Aaron stabs him in the head to prevent reanimation.
Siddiq — Strangled by the Whisperer Dante in Season 10. Rosita stabs him in the head after he is reanimated.
There are several The Walking Dead spinoff shows as well.
Season 11 of The Walking Dead is confirmed to be the final season of the show, but fans of the franchise still have a lot to look forward to thanks to several spinoff series that have been announced (or, in the case of Fear the Walking Dead, have already been on TV for several years now).
The Walking Dead: The World Beyond is a YA story that follows a group of teenagers who are living through the apocalypse. The first season consisted of 10 episodes, and the upcoming second season will feature another 10 episodes. Season 2 is set to air in 2021.
Another (still-unnamed) spinoff is set to premiere in 2023. This one will focus on fan-favorite characters Daryl and Carol. There is also going to be an anthology series called Tales of the Walking Dead, but we don't yet know when that will be happening.
AMC has also announced plans for three The Walking Dead movies, although production on them was delayed during the COVID-19 pandemic. There's still no official release date for those, but the first one might be coming to theaters in 2022 (or maybe late 2021 if we're really lucky).
Here's where to watch The Walking Dead and Fear the Walking Dead:
You can stream the first nine seasons of The Walking Dead on Netflix. Season 10 of the show is available on AMC Plus. Season 11 is set to premiere on AMC on August 22, 2021.
Fear the Walking Dead is available to stream on Hulu. New episodes air Sunday nights on AMC.
Latest The Walking Dead News and Updates