It's been 10 seasons since fans first met Carol (Melissa McBride) on The Walking Dead. They watched her grow from a suffering wife to a warrior queen. She's seen violence, she's seen death, and she loses more and more people that she loves every season. And maybe Carol has finally had enough. Is Carol leaving The Walking Dead? It appears the badass matriarch is ready to stop fighting.
Is Carol leaving The Walking Dead? Season 10 may be setting up her exit.
Last season, Carol lost her son, Henry (Matt Lintz) to the Whisperers and her relationship with Ezekiel (Khary Payton) crumbled. After so much loss, Carol seems to be left heartbroken this season. In the Season 10 premiere, Carol is reunited with Daryl (Norman Reedus) and they begin fantasizing about what it would be like to run away.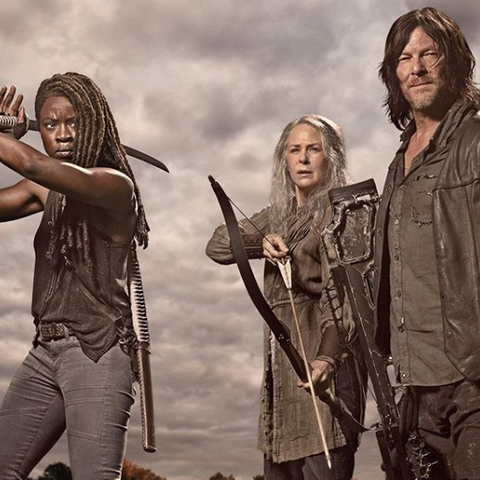 They dream about going to see New Mexico and finding out what the rest of the world is like beyond what they've come to know. It's clear that both of them want to go, but Daryl convinces Carol to stay, at least for the time being.
With Carol being ready to run away, fans have been concerned that The Walking Dead is trying to write her off the show. Carol and Daryl are the only remaining characters from Season 1. If either of the characters were to leave this season, it would be a big blow to The Walking Dead fan base, who are already struggling to accept that Michonne (Danai Gurira), who has been on the show since season 3, is expected to leave this season, although fans are unsure of when.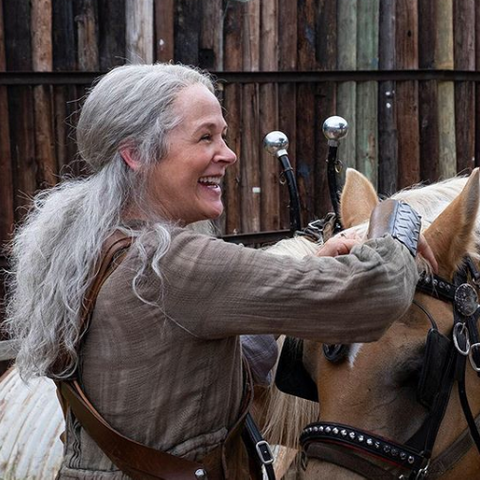 It's unlikely that Carol is going to leave early this season, if she is departing the show. Season 10 has already shown that Carol is not over the death of her son and tensions with her son's murderer, Alpha (Samantha Morton), are continuing to rise. We can probably expect that Carol will remain on the show until the conclusion of the Whisperer War. After all, Carol and Daryl were the ones to start the war, as they made the decision to cross the border that Alpha put up.
Executive producer Greg Nicotero has also given some hints that Carol will be a major player later this season. Speaking to TVLine, Greg said that, knowing her history, a smackdown between Carol and Alpha is pretty likely. He also claimed that Carol has "definitely got a vendetta."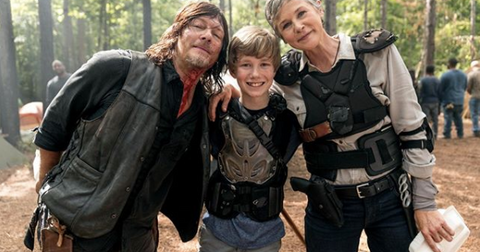 When and how is Carol going to leave The Walking Dead?
If she is leaving, Carol is most likely at least staying until the end of the season to see Alpha dead. And we hope that she'll get her happy ending and see her and Daryl running away together like she wants to do. One thing is for certain: we can expect that Melissa is going to fight for her character get a proper sendoff.
Carol was actually once on the chopping block with the writers, since she was killed off a long time ago in the comics series the show is based on. In earlier seasons, Melissa was frustrated that her character was constantly overwhelmed by grief and she wanted to see her grow and fight back. So when she heard that her character may be killed before she goes get the chance to grow, she had to speak out.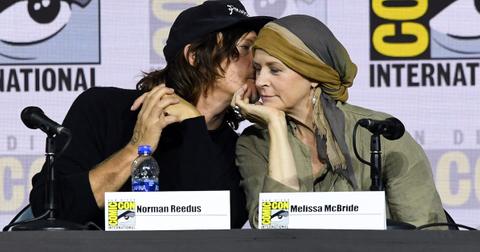 Melissa recalled thinking, "There was that time where they were gonna kill her. I asked to speak to somebody to tell them what I thought of Carol, because nobody had asked me at that point. I'm like, 'Here's who she is to me, just at least let me tell you that much and if you still want to kill her, fine' — but it was important for me to speak for her." Her speaking out may have saved the character from being killed off seasons ago.
With Melissa speaking for her character, we can trust that we'll see Carol leave The Walking Dead in a fitting way.
In the meantime, we can still watch Carol every Sunday at 9 PM on AMC.