Dad Makes a New, Embarrassing Sign Every Time He Meets His Daughter at the Airport
This is the pinnacle of dad jokes. He holds up a different, hilarious sign every time his daughter gets off the plane.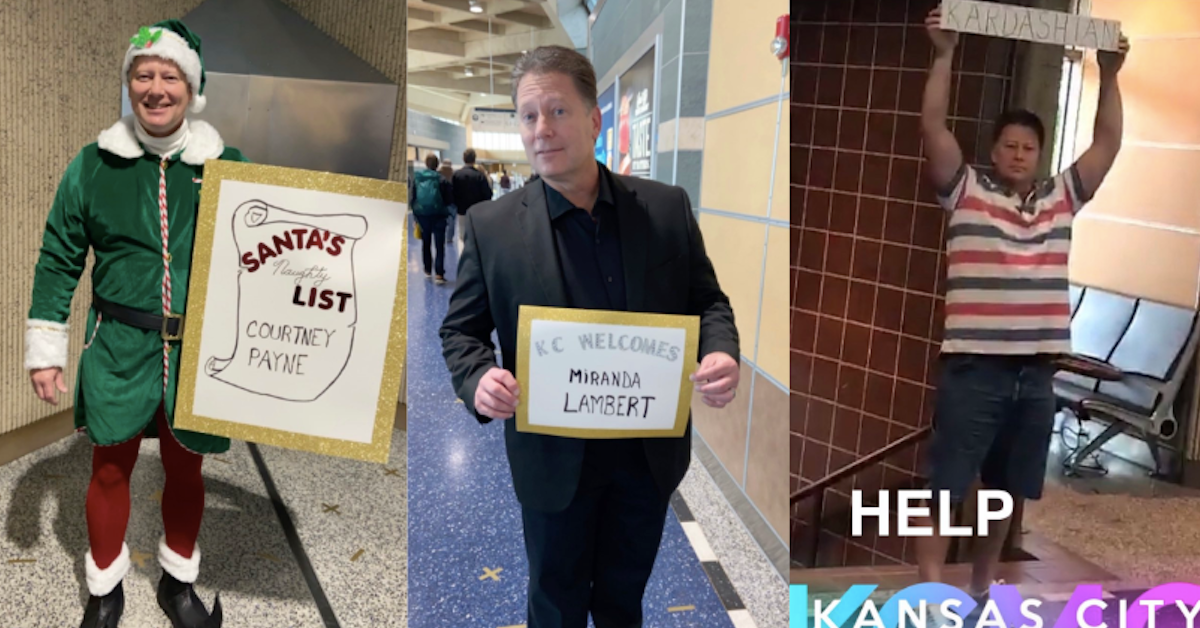 Dads are the greatest. The silly, embarrassing jokes that make you want to curl up in a ball but that you can't help laughing at? They're called "dad jokes" for a reason. Dads invented them. And only dads can get away with performing them. It's their superpower.
Article continues below advertisement
Grad student Courtney Payne is well acquainted with them, as her dad seems to be a giant, walking dad joke. He is full of hilarious bits, one being that every time he picks Courtney up from the airport, he stands there at the gate holding a new, embarrassing sign.
Article continues below advertisement
Courtney and her dad have gone totally viral because she decided to share these priceless pictures with the internet. According to Fox4KC, Courtney's dad, who lives in Kansas City, Missouri, started doing this in 2018 when Courtney moved to Portland for grad school. Every time she landed at the KCI airport, he was there with a different, hilarious sign.
Courtney obviously thinks her dad's bit is hilarious. "My reaction would have been different in middle school," she said, "but I'm just glad to have loving, caring parents." Let's take a closer look at some of these signs.
Article continues below advertisement
The funniest thing about this one is the thought of a Kardashian getting picked up by a guy in jorts and a striped polo tee holding a handwritten sign. Too funny. This is the first time he showed up at the airport with a surprising sign, and it definitely wouldn't be the last. Courtney told People magazine that her dad's "always been a comedian."
Article continues below advertisement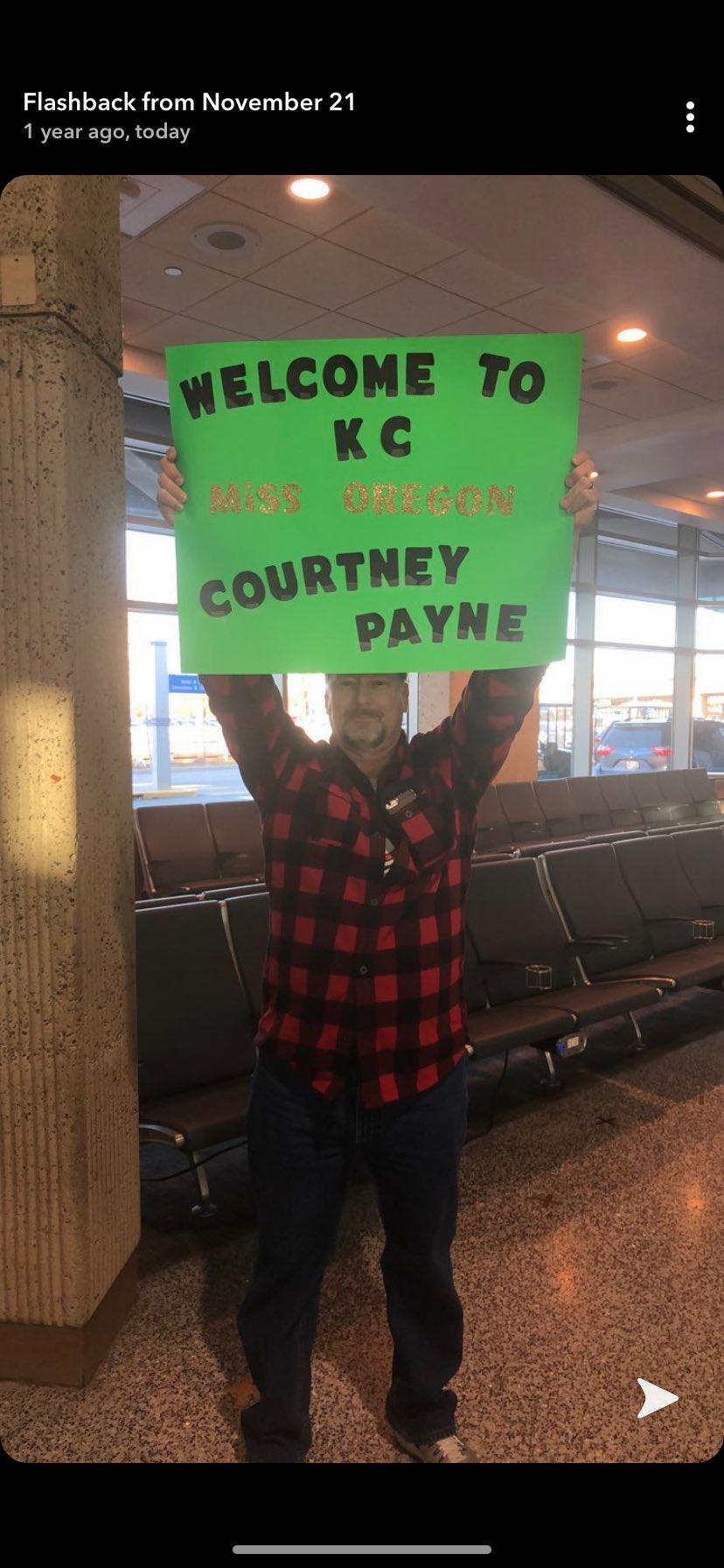 Courtney's Dad, Doug, told People that when he did this Miss Oregon sign, it "wasn't a lie because she is a miss and from Oregon." What a guy. Just a real, perfect dad. But he didn't stop there. The next time Courtney came home, Dad was there, this time dressed to the nines and holding a sign that said, "KC welcomes Miranda Lambert." This guy's creativity is off the charts.
Article continues below advertisement
So random. So funny. But perhaps the kicker is what happened this year. Not to be outdone by his previous efforts, Doug showed up to the airport to pick Courtney up in a full Christmas elf costume, with a sign that said, "Santa's Naughty List" and then had Courtney's name. Guys, we're talking bright red tights and giant pointy elf shoes (that I'm pretty sure he constructed himself). It was amazing.
Article continues below advertisement
Doug told People, "The last idea was around Christmas time and I thought, 'What can I dress up as?' So I came up with the elf idea and made up the naughty list with her name on it. Some people at the airport, when they first saw me as an elf, they probably thought I was a deranged individual. But once they saw the sign and realized what I was doing, they became more approachable. ... It put a smile on their face and they were glad I did it."
Article continues below advertisement
Someone else had a smile on her face when she saw him: Courtney. She walked off the plane and the second she saw him, she lost it. She was just in total disbelief at how far he had gone. He, as we say in the biz, committed hard to the bit. Oh, don't worry. There's video of the whole thing.
Article continues below advertisement
Those jingle bells you hear in the beginning of the video are from Courtney's mom, who was standing there right next to her husband, cheering and "making a big scene" when Courtney got off the plane. Courtney said people were approaching her parents and asking "if they were meeting their 8-year-old daughter." No idea if they spilled the beans that they were actually waiting for a 24-year-old grad student.
She never expected her tweet and all the pictures of her dad's antics to go as viral as they did. Her original tweet now has 5,500 retweets and over 61,000 likes. What is Doug going to do with this newfound fame? Well, he's not going to stop the dad jokes, that's for sure. This hilarious bit is a tradition now. If you encourage dad jokes, they only get more elaborate. Next time, he's probably going to show up in a horse-drawn carriage.