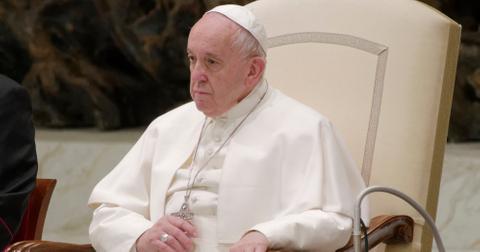 The "Dance of the Pope" Video Is Just Another Chain Message Hoax
By Sara Belcher

Updated
Remember the day of chain emails and text messages? Those empty stories of a mother and her son coming to haunt you if you did not pass on the message to at least 10 of your friends?
Well, while you'd think we've all grown up enough to know that these messages aren't real, it seems people are still falling for them.
A popular chain message hoax has resurfaced on WhatsApp claiming a video called the "Dance of the Pope" is going around that will hack your phone. But before you go bothering everyone in your contacts with this warning, know that it's not real.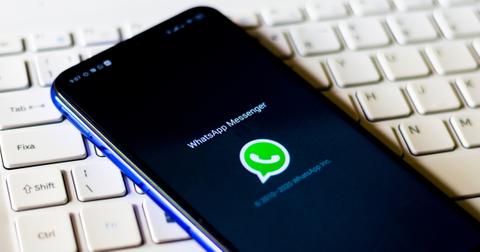 The Dance of the Pope message originally circulated on WhatsApp in 2015.
The Dance of the Pope video hoax was originally spread around WhatsApp in 2015. The message warns the recipient that there will be a message sent around with the Dance of the Pope video which the message claims is a "virus" that will infect your phone.
According to Snopes, while the exact wording of the message varies, the message is generally the same.
"Hello All, i received this URGENT warning- To NOT accept a video called the dance of the Pope," the text reads, according to the myth-debunking outlet. "It is a virus that formats your mobile. Beware is very dangerous. You have fun with your list already, people open it thinking that it is a joke. They are spreading it today on the radio. Pass it on to those who can [sic]."
Snopes confirmed it was a myth in 2015 when it first began to spread. While the message consistently promises there's a video coming your way, no such video exists. The only thing "spreading" is the false message, and the content on your device is safe.
It's also been called the "Martinelli video."
Recently, the message has been changed slightly, though the same idea as the Dance of the Pope video remains. There is another message going around on WhatsApp, claiming that there is a video — this time dubbed the "Martinelli" video — that will infect your phone if you open it.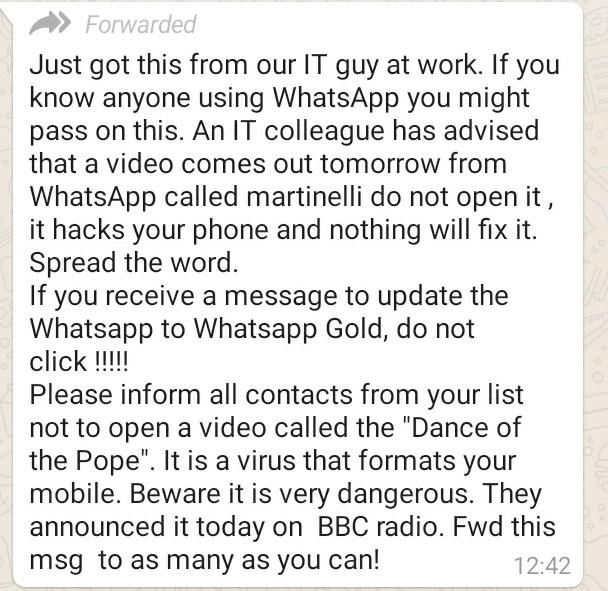 This message also has a warning about upgrading to WhatsApp Gold, which is an actual hoax going around. There have previously been rumors that the messaging app will update to a paid version, called WhatsApp Gold, that will provide new features for users.
No such thing exists, and WhatsApp remains a free app for download.
According to The Independent, the new message looks something like this:
"If you know anyone using WhatsApp you might pass on this. An IT colleague has advised that a video comes out tomorrow from WhatsApp called martinelli do not open it, it hacks your phone and nothing will fix it. Spread the word."
"If you receive a message to update the Whatsapp to Whatsapp Gold, do not click !!!!!"
"Now said on the news this virus is difficult and severe [sic]."
Again, it's not real. While it would definitely be funny to receive a video of the Pope dancing, no such video exists — and even if it did, it wouldn't infect your phone.