Road Rager Stops at Red Light to Confront Driver, Gets Hit With Instant Karma
A car's dashcam happened to capture an irate, tights-wearing road rager awkwardly skip to a commuter's car for a fight. But he was soon hit with karma.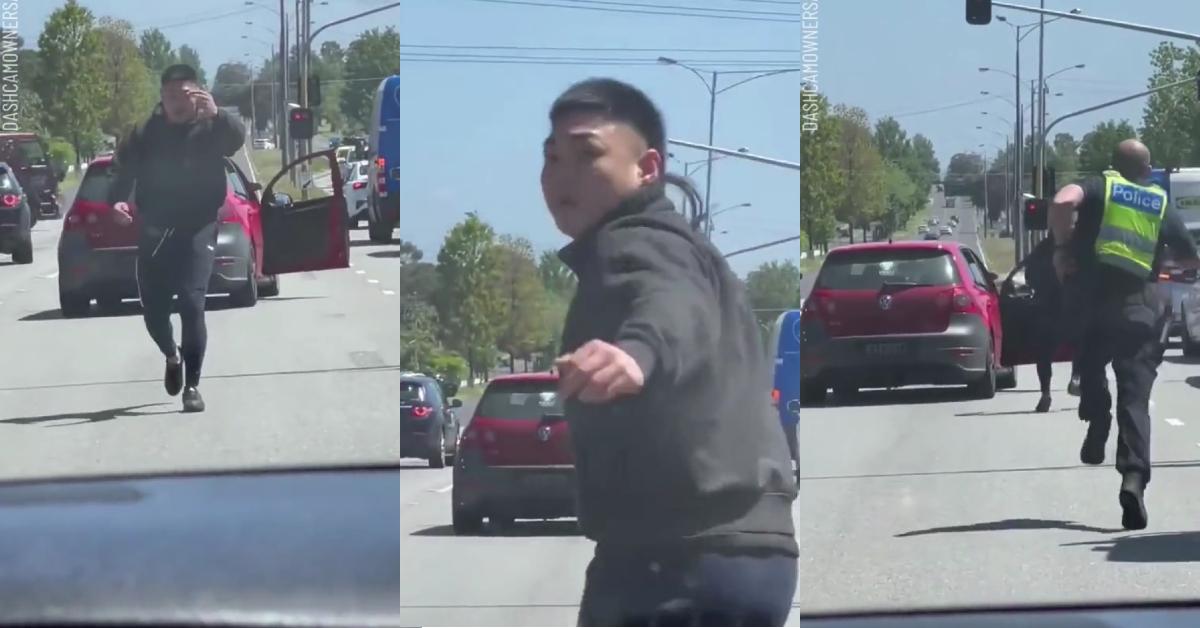 A road rage incident that saw a dose of instant karma is cracking up TikTok for multiple reasons. Australian news network @10newsfirst uploaded footage of an absolutely furious man who, while wearing tights, literally skipped to a driver he was trying to intimidate.
Article continues below advertisement
While the encounter initially began as what appeared to be the beginning of a bizarre scene straight out of a comedy, it quickly turned into a potentially scary situation, however, thanks to what appeared to be a fortunate happenstance of officers who were in the right place at the right time, the road rager's onslaught didn't last long.
Thankfully, the entire incident was caught on camera and uploaded online.
"Instant karma caught on camera," a text overlay reads in the video, which begins with a red Volkswagen Golf rocking black, seemingly spray-painted bumpers stopping in front of a driver whose dashcam is recording.
Article continues below advertisement
A man wearing tights hops out of the vehicle and begins skipping towards the car, angrily beckoning with his left two fingers in what looks like an attempt to urge the driver to come out and confront him.
Article continues below advertisement
He begins screaming at the driver and slamming the side window of his car, but his bout of road rage only lasts a few seconds before the irate commuter begins booking it back to the Golf.
It doesn't take long to see what adjusted his attitude so rapidly: uniformed police officers were fast on his tail: it appears that the officers in question saw the entire road rage incident and acted quickly to apprehend the suspect.
Article continues below advertisement

The incident in question, according to the @10newsfirst TikTok account, occurred in Victoria, Australia. According to the clip's caption: "Dashcam footage has captured a moment of instant karma, with a road-raging man getting the shock of a lifetime."
Article continues below advertisement
The text in the caption continued: "The footage, captured at an undetermined location in Victoria, shows a man exiting his vehicle, approaching the vehicle behind in full fight mode, before fleeing in fear as two Police officers emerge to give chase."

Article continues below advertisement
Whoever penned the caption's copy also seemed to get a kick out of the music that accompanied the man's rage: "The metal soundtrack of the filming car? It only adds to things. This is cinema."
Article continues below advertisement

According to Reader's Digest, some of these behaviors include tailgating, exiting one's vehicle to confront a person in an aggressive way, cursing, flipping someone off, or attacking/kicking a person's car, all of these can be seen as potentially threatening and illegal acts that could land you in trouble.
Article continues below advertisement
Aloysuis Fong who founded a website dedicated to shaming awful drivers and reporting dangerous road incidents/behaviors, told Reader's Digest: "Laws here [Australia] are strict with regards to road rage. If you get out of your car in an aggressive manner, curse, give a rude gesture or kick the car you can be held accountable to the police. Once a physical fight happens then you'll be charged."

Article continues below advertisement
Commenters who saw the outlet's video had a variety of different opinions, and jokes, like one person who couldn't get over the fact that the angry man was skipping when he left his car: "I'm sorry, how can you call that road rage when he was skipping"
In fact, there were a number of people who couldn't get over the fact Twinkle Toes was trying to be intimidating: "Was the skipping supposed to be intimidating? Instead he made himself out to be a lil cutie patootie"
"The tiny car, the skipping, the tight pants, the lame threats… so many questions!" someone else wrote.
"It's the skipping in the tights for me," another wrote.