"Cheaper Than Thrifting Now" — Shopper Finds $2 Pants at Old Navy
The woman shopping at Old Navy said finding the pants was her "lucky day." Some people watching the video said they weren't as lucky
Let's keep it real: no matter how much harder it becomes to buy things like a house, a better car, or even groceries, many of us aren't ready to give up on fashion. Instead, plenty of diehard shoppers have only gotten more creative in finding chic clothes without paying high fashion prices.
While thrifting remains a popular choice for budget shopping, those in the thick of thrifting will tell you the prices are getting more extravagant daily.
Article continues below advertisement
Due to this, some, like TikTok user Toy (@whoistoyosi), search through department stores to find unbelievable deals.
During a trip to Old Navy, Toy found a pants deal at the retailer that was too good not to share with her online community. After snagging a pair of pants for $2, Toy decided Old Navy would always hold a special place in her heart.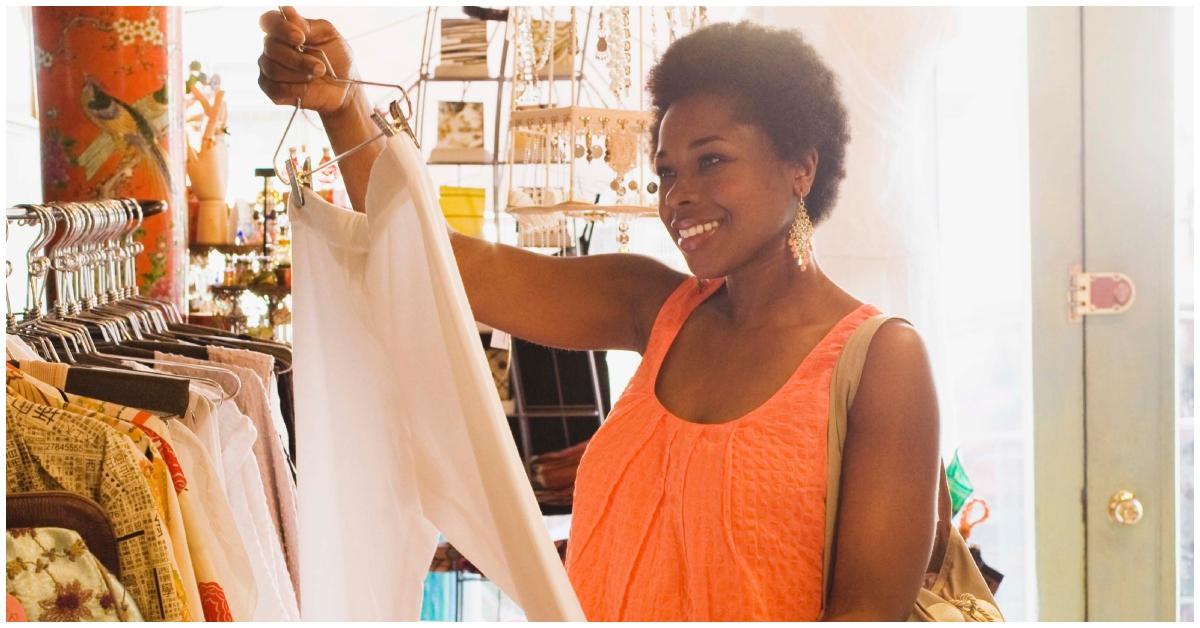 Article continues below advertisement
A shopper couldn't believe she found $2 pants at her local Old Navy.
Those familiar with Old Navy know the department store, established in 1994, enjoys a good deal. If you've never taken advantage of Old Navy's annual flip-flop sale, where you can get as many flip-flops as your heart desires for $1, you might want to stop reading this now since I don't think this friendship will work out.
As for the seasoned, civilized folks, we've been aware of Old Navy's price cuts for quite some time. However, it's always amazing to see someone find out for themselves. This happened when Toy shopped at an Old Navy in New York.
In November 2023, Toy searched for a pair of pants and was stunned to find one for only $1.97. She was in such disbelief that she thought the store's "price check was wrong" and had to confirm it with an employee at the cash register.
Article continues below advertisement
The employee confirmed the pants were $1.97 and asked Toy where she found them, as they were looking to buy them themselves.
Toy then showed off the slacks, a pair of the store's Women's High-Waisted Dynamic Fleece Wide-Leg Pants in a size Large. While checking the price, Toy realized the pants were initially $44, and she saved $43.02 from the sale, a deal she said "you can't even get from the thrift store."
Article continues below advertisement
Toy completed her "lucky day" by paying $1.02 in total for the pants (including $0.05 for the Old Navy bag) with a dollar rewards coupon she already had.
"I was too hyped," Toy said. "This was a good day."
Article continues below advertisement
Unsurprisingly, Toy returned to her local Old Navy to see if her luck was "too good to be true." During her second trip, she wasn't disappointed, as she found a pair of black high-waisted pants priced initially at $44 for $4.97. While Toy didn't have a reward this time around, she still left the store paying less than $7 for a pair of pants!
Article continues below advertisement
Toy's TikTok commenters had mixed emotions about her lucky Old Navy deal.
After seeing Toy's testimony of finding not one but two pairs of comfortable, affordable, and stylish pants, I instantly put "Shop at Old Navy" on my to-do list for the Thanksgiving 2023 weekend. I love that Old Navy has clothes and deals for various body types and doesn't sacrifice staying on trend.
Toy's video also resonated with users who had their own "OMG" moments at Old Navy.
"Yes, girl, I found pants there for $1.49 and paid $0.49 after the dollar credit that I had, too," one user shared with Toy.
Article continues below advertisement
"I bought a pair of jeans for $4 at Old Navy before, I was too hyped," shared another user.
Article continues below advertisement
However, I hope our girl Toy didn't ruin a good thing by sharing her Old Navy deals. Underneath her video, she received several comments from other shoppers concerned that the value would be over once they tried to take advantage of them at their Old Navys. There's also the possibility that thousands of TikTok viewers everywhere have already begun selling the pants out.
"You are entirely too LOUDDDDDDDD," one woman said.
Other users also complained that they tried to buy the same pants as Toy, though they didn't get the same result, noting their pants rang up to "$34.99." Amid the discussions, a former Old Navy employee admitted to adding "cheap prices" just because.
"Nah, I used to work at Old Navy, and when we were making price adjustments, we would just put random cheap prices," the employee said.