Everything You Oughta Know About Dave Coulier and Alanis Morissette's Relationship Timeline
Breaking down the relationship between stars Dave Coulier and Alanis Morissette, who dated in the early '90s.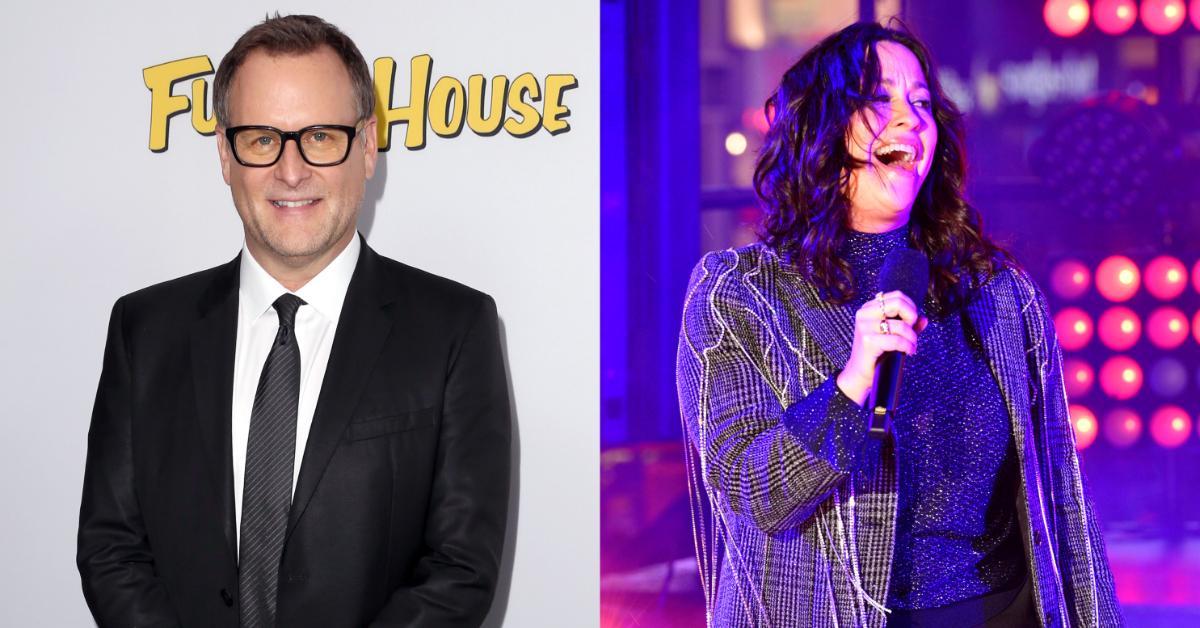 If you're up on your pop culture, odds are that you know of Dave Coulier and Alanis Morissette's relationship. The Full House star and the musician dated in the early '90s before she became a household name, but their time together would become the stuff of legend after rumors abound that he was the guy she was singing about on her "Jagged Little Pill" album.
Article continues below advertisement
With that being said, what are the specific details surrounding the time that Dave and Alanis spent together as a couple? Keep reading for a timeline of their now-famous relationship and what went down between them.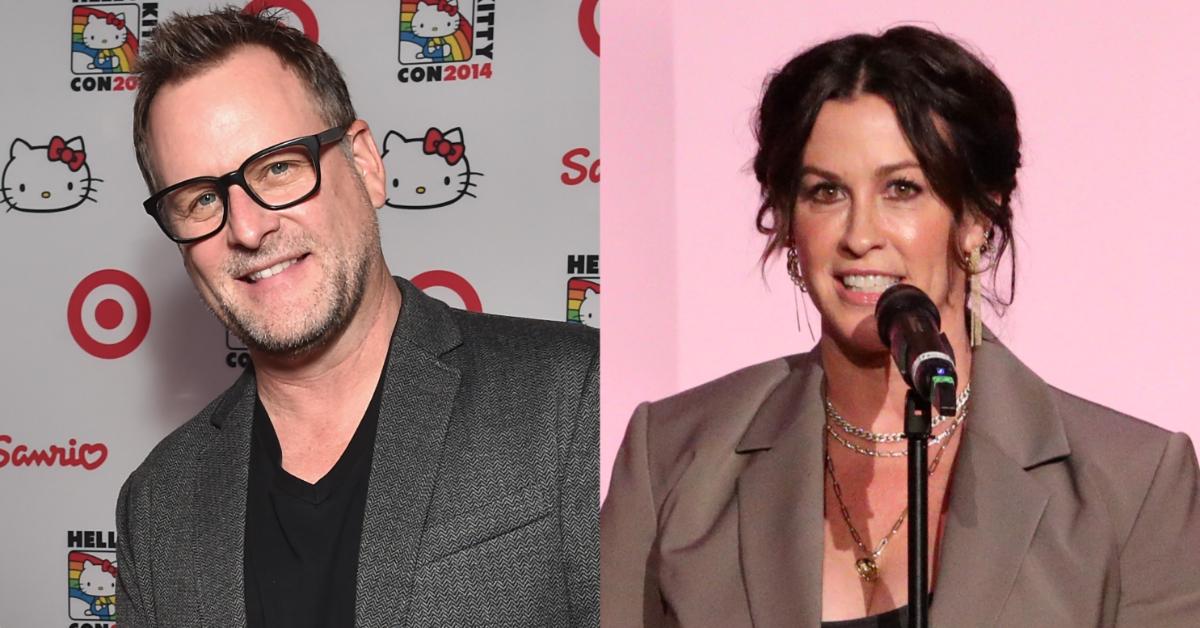 Article continues below advertisement
Dave Coulier and Alanis Morissette began dating in 1992.
Dave and Alanis met in 1992, when she was a pop star in home country in Canada. Specifically, they crossed paths at an all-star hockey game he was participating in; she was there to sing the national anthem.
Before this, Dave had divorced his wife of two years, Jayne Modean, that year.
Dave and Alanis split in 1994.
Despite a sizable age gap (Alanis was born in June 1974; Dave was born in September 1959), the pair dated for two years before calling it quits. Though the exact reasons remain unknown, she would go on to write some pretty scathing breakup anthems, which fans would go on to eventually link to Dave.
Article continues below advertisement
In June 1995, Alanis's "Jagged Little Pill" album was released.
The couple's breakup allegedly spawned the music urban legend to end all music urban legends. Many fans believed that Alanis wrote the song "You Oughta Know" — which is largely considered one of her most famous and successful tracks — about Dave.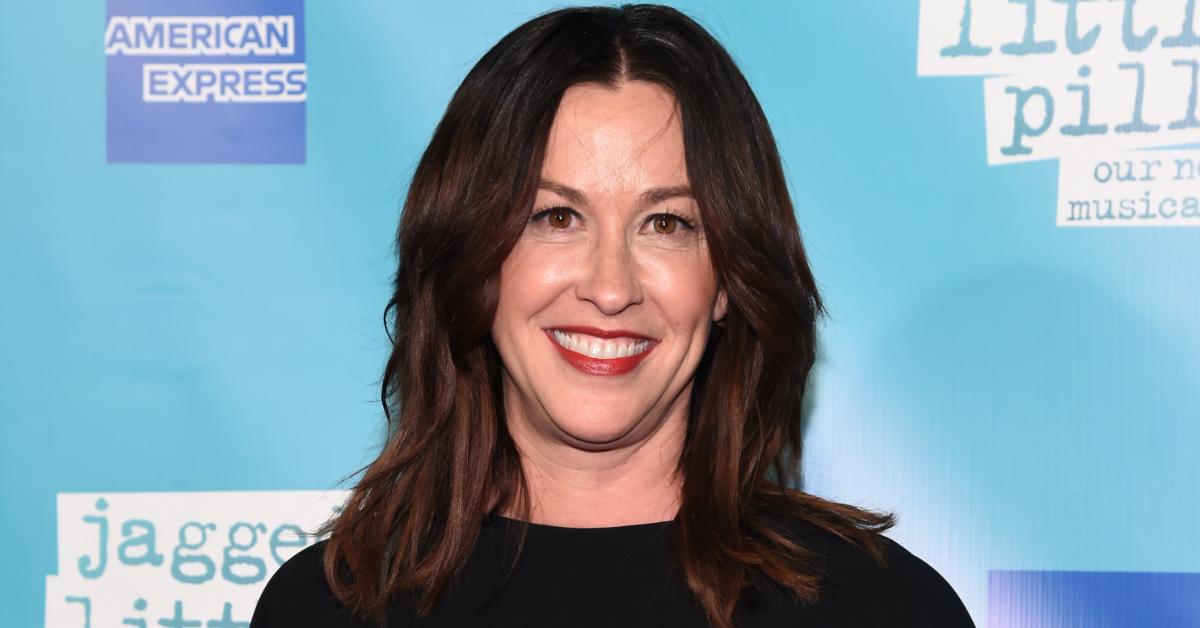 Article continues below advertisement
In 2004, Alanis told Howard Stern she wasn't planning to tell anyone who "You Oughtta Know" was about.
"You wrote that song about Dave Coulier from Full House?" Howard asked Alanis on his show in 2004.
Alanis said she would "never confirm or affirm who it's about" before admitting it's possible she might one day. Meanwhile, Howard's producer Gary Dell'Abate came out to say he heard the rumor from Dave's Full House co-star John Stamos that the song was indeed about Dave.
"There was no one in the studio when I wrote that song, so no one actually knows," Alanis said in response.
Article continues below advertisement
In 2014, Dave addressed the rumors about "You Oughta Know."
While speaking with BuzzFeed in 2014, Dave brought up the rumors surrounding his supposedly inspiring "You Oughta Know."
"I think it's just really funny that's it's become this urban legend, so many years after the fact," he said at the time. "I dated Alanis in 1992. You know, it's just funny to be the supposed subject of that song. First of all, the guy in that song is a real a-hole, so I don't want to be that guy."
He went on to add, "Secondly, I asked Alanis, 'I'm getting calls by the media and they want to know who this guy is.' And she said, 'Well, you know it could be a bunch of people. But you can say whatever you want.' So one time, I was doing a red carpet somewhere and [the press] just wore me down and everybody wanted to know so I said, 'Yeah, all right, I'm the guy. There I said it.' So then it became a snowball effect of, 'OH! So you are the guy!' It's just become this silly urban legend that I just have to laugh at."
Article continues below advertisement
In 2019, Alanis shared her take on the Dave/"You Oughta Know" rumors.
In a 2019 interview on Watch What Happens Live with Andy Cohen, Alanis continued to keep the song's true inspiration a mystery. "No revealing, but I am intrigued at the thought — or at the fact — that more than one person has taken credit for it. I'm thinking, I don't know if you want to take credit for being the person I wrote 'You Oughta Know' about."
(If you've never heard the song ... take Alanis's word for it, because she's entirely correct.)
Article continues below advertisement
In 2022, Dave opened up about Alanis and the song again — including about the first time he heard "You Oughta Know."
Dave went on Jim Norton and Sam Roberts' SiriusXM show July 2022 and talked about when he first heard Alanis's "You Outa Know" in 1995. This was shortly after Full House had wrapped up.
"I'm driving in Detroit and I've got my radio on, and I hear the hook for 'You Oughta Know' come on the radio," he said. "And I'm like, wow, this is a really cool hook. And then I start hearing the voice. I'm like, wow, this girl can sing. And I had no idea, you know, that this was the record. And then I was listening to the lyrics going, 'Ooh, oh no! Oh, I can't be this guy.'"
He then immediately bought the CD and listened to it in his car.
"There was a lot of familiar stuff in there that her and I had talked about," he added. "Like [in 'Right Through You'] 'your shake is like a fish.' I'd go, 'Hey, dead fish me,' and we'd do this dead-fish handshake. And so I started listening to it and I thought, 'Ooh, I think I may have really hurt this woman.' And that was my first thought."
Dave said they have since reconnected and are on good terms.
"I'll tell you the kind of person she is," he said. "When my sister Sharon was dying with cancer, Alanis was living in Toronto. My sister was in Detroit. She actually drove to Detroit with her guitar and sat with my sister playing songs and singing to my sister in the hospital. That's the kind of human being she is. So I've never had anything bad to say about her. She's lovely."