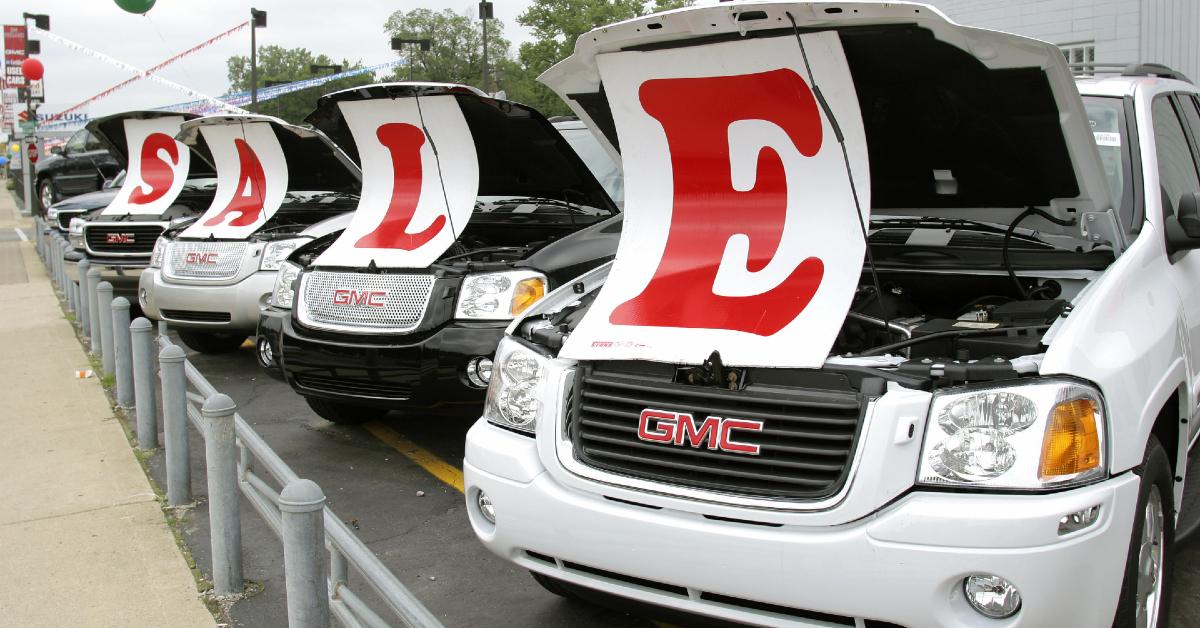 Dealership Employees Brag About "Insane" Monthly Car Payments, Get Roasted Online
A strange TikTok trend has car dealership employees showing off four figure monthly car payments, and it's backfiring on them.
Buying a car through a dealership can often feel like the financial equivalent of being strapped to a wooden chair in a basement somewhere surrounded by a group of intimidating men, while on particularly sadistic-looking individual grabs a pair of pliers and begins to separate your toenails from your feet.
Article continues below advertisement
It's no secret that people hate going to the dealership. The overly-drawn out theatrics of negotiation, salesmen walking to the back room to "talk to their manager," going back to the showroom to discuss said developments with the customer begins to feel like an endurance test meant to whittle down people to accepting a crumby deal on a car that they didn't exactly want in the first place.
And while purchasing a car through a dealership has never been a walk in the park, after the chip shortage culminated in skyrocketing prices for new and used vehicles, tons of in-demand cars were selling for well over MSRP. That sort of turned the inside of every dealership into Joker's ending in Injustice 2.
This left tons of folks paying record-high monthly payments for vehicles via financing, but it appears that sticker shock hasn't just been hitting customers, but folks who work at dealerships themselves.
Article continues below advertisement
A strange car dealership trend that's cropped up on TikTok during a time when America's inflation has hit a 40-year-high and housing costs are so bad that it was easier to buy a home during the great depression than it is today, is to have a car salesman brag about how high their monthly car payment cost is.
Article continues below advertisement
If you're wondering why this is such a bad idea, imagine someone boasting that they're paying $760 a month for a Toyota Pick-Up, or $2100 a month for 2 Nissan trucks, and they work at a dealership you're thinking of buying a car from. Or $1,445 a month for a new GMC Denali.
You could get a monthly payment on a Tesla Model X that costs less than that.
Article continues below advertisement
It probably means one of two things: that the dealership is bringing its same smoke and mirrors routine to the internet as part of a never-break-kayfabe ploy to get folks to pay exorbitant amounts of money for their own monthly payments ("see this is what our own dealers pay!").
Article continues below advertisement
Or these employees are actually paying that much per month for their vehicles and they're making hand-over-fist amounts of cash in commissions to be able to afford those kinds of payments every 30 days or so.
Article continues below advertisement
Either way, folks weren't having these posts on social media and it didn't take long for the car dealerships posting to get absolutely skewered for the rates.
"$500 for a Sentra. Jeez"
"L for the guy with 2100 for 2 Nissan trucks"
"Wouldn't pay a penny for a Nissan"
"To much for the Tacoma bro"
"Nissan should pay you to drive a Sentra"
"Imagine having a car payment… and it being for a Nissan of all things."
Article continues below advertisement
In a Newton Nissan South TikTok post that featured one of these car payment videos, one TikToker actually got whoever was managing the account to respond.

Article continues below advertisement
@Matt13Cle asked, "Bro how all y'all getting waxed that badly and work there" to which NNS responded: "Some of them bought their car somewhere else before they started here."
There were some payments that folks just couldn't get over, namely the Toyota Tacoma and the one man who said he was forking over a whopping $500 a month for a Nissan Sentra. One TikToker wrote: "bros paying more for his Sentra than i am for my new bmw."
Article continues below advertisement

As many commenters pointed out, however, these monthly payments haven't been thoroughly explained. No one delineated what the duration of their car loan was, what their APR was, and if they put any money down or for how long they were expected to make these payments.
Plus, with the chip shortage running rampant, they could possibly finance these cars at exorbitant short-term rates and then "sell them back to" the dealership by having a customer take over the loan and refinance them, ensuring that they're getting to drive a relatively fresh vehicle while selling a used one to a prospective buyer with the engine already broken in. And by broken in, I mean only a few more thousand miles before it craps out on you and you're stuck with a hefty repair bill, depending on the brand you purchased.