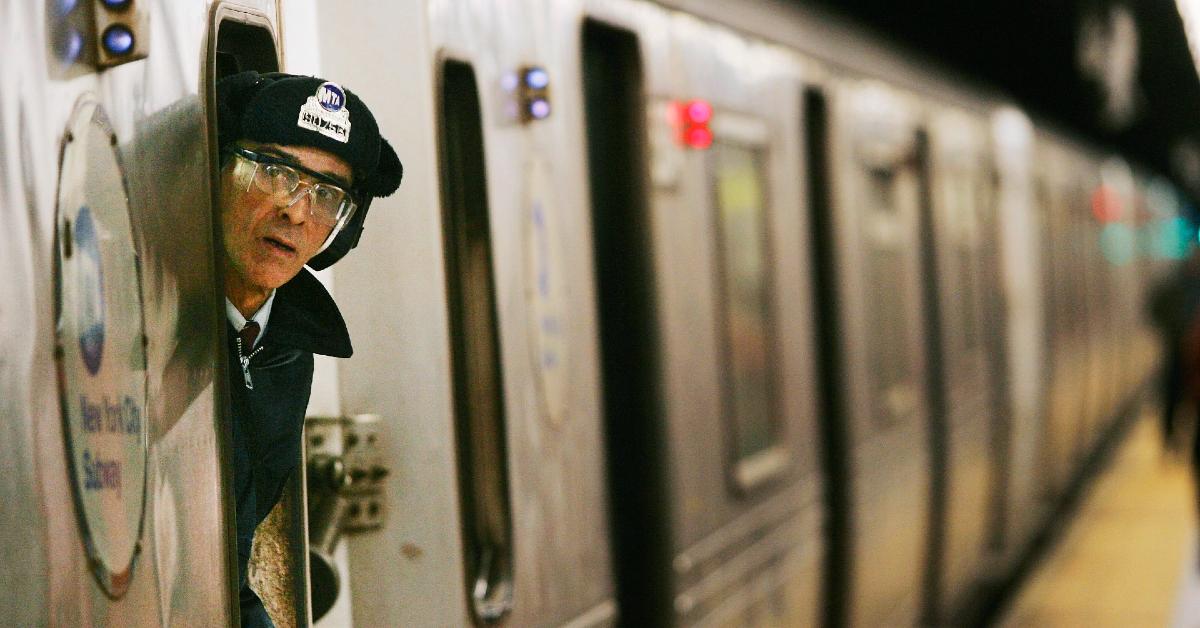 Guy Trained Dog to Open Emergency Subway Doors to Ride Train for Free in Viral TikTok
A TikToker is going viral for recording a clip of a man who appears to be teaching his unleashed dog how to open the one-way emergency doors on a New York City subway platform to avoid paying a fare. The pit bull in question happily obliges his owner's request and then trots away happily as the two men who walk through the door smile at their handiwork.
Article continues below advertisement
On August 15, 2022, The New York Times reported that the MTA was headed for another "budget disaster," and then there's the fact that in 2021, some 78% of MTA riders reported that they experienced delays in their commutes.
Perhaps that's why so many TikTokers are supporting one man's specific training exercise he conducted with his pitbull while on a subway train platform.
Article continues below advertisement
If you've never ridden the subway in NYC, there are a few things keeping folks from boarding the train for free. The first, are turnstiles, which allow you through with a swipe of a card. Sure, you could always jump through them or duck under, but sometimes there are plain clothes police officers waiting to nab fare dodgers, which can result in a $100 fine.
Article continues below advertisement

Or, you could have someone open the emergency exit door for you. Sometimes, these doors sound alarms, but they are opened so frequently by commuters who are pushing strollers/carts/bicycles/wheelchairs/walkers or folks who are just trying to get past others during rush hour, that many are desensitized to the sound of these alarms.
Article continues below advertisement

In a caption for the now-viral clip, @subwaycreaturesofficial, the account that uploaded it writes: "He really taught the dog to open the door."
Someone recording the video behind the camera can be heard saying: "All right so he's teaching his dog how to open the door for him."
Article continues below advertisement

The person behind the camera continues, "He told him to push the button." The dog paces around the door on either side before finally figuring out what his owner is asking him to do. The dog jumps and smacks the handle for the emergency door and the two men behind it smile and walk through.
Article continues below advertisement

"Wow. Wow, that's what's up," the man behind the camera says.
Several TikTokers applauded the man's efforts, while others were smitten with just how happy the pitbull was for being able to accomplish the task they were assigned. And then there were others who criticized the man for not only dodging the fare and making his pup an accomplice to a crime but also that someone who appears to be either a police officer or an MTA employee watching the entire thing transpire before them while sitting idly by.
Article continues below advertisement

"How the dog looked up at him, saw his smile, & trotted away happy."
"impressive but would be scare to see unleashed dog"
"awww he was freaking out a bit at first buy bro said RELAX CALM DOWN PUSH THE BUTTON lol dog was happy"
Article continues below advertisement

"Very smart dog but you also gatta still put a leash on em when kids or somebody that's afraid of dogs"
"Unleashed, fare evading…. Yup that's nyc"
"He was assessing the situation and making sure there isn't another way to get it before opening the door. Aww cuter"
"Most New York thing I've seen In the 18 years of living"
Article continues below advertisement

What do you think? Is the man technically in the clear because the dog opened the emergency exit door for him? Should he be able to skip fares because the MTA charges a lot and has been "hemorrhaging" money for years? Or do you believe it's because of customers who skirt the rules that fares are increasing so much in the first place, forcing those who do pay to bear the burden of operational increases?