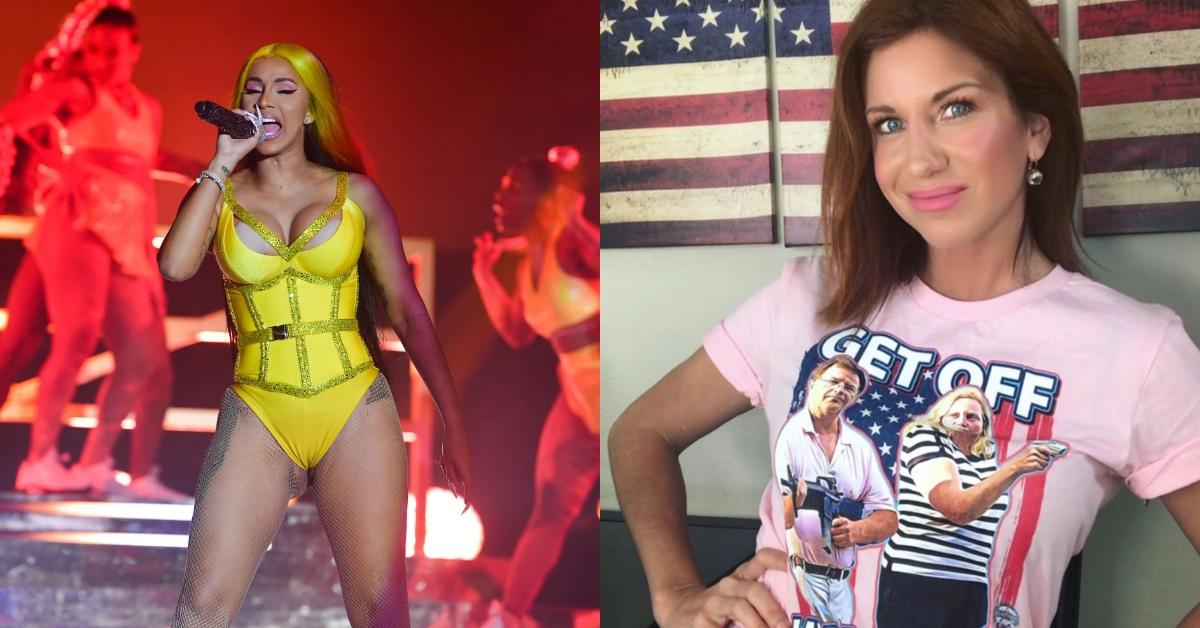 Here's Why Cardi B and Republican Author DeAnna Lorraine Have Twitter Beef
Since Cardi B's career took off back in 2018 with the release of "Bodack Yellow," she's been politically outspoken, from her Bernie Sanders endorsement, speaking out about the 2019 government shutdown, and — most recently — trashing FLOTUS Melania Trump after her speech during the Republican National Convention. This ultimately sparked a fight with Republican author DeAnna Lorraine and the receipts are hilarious.
Article continues below advertisement
The Twitter beef that took place between DeAnna Lorraine and Cardi B was beyond incredible... and as you probably would have imagined, Cardi's responses won by a landslide.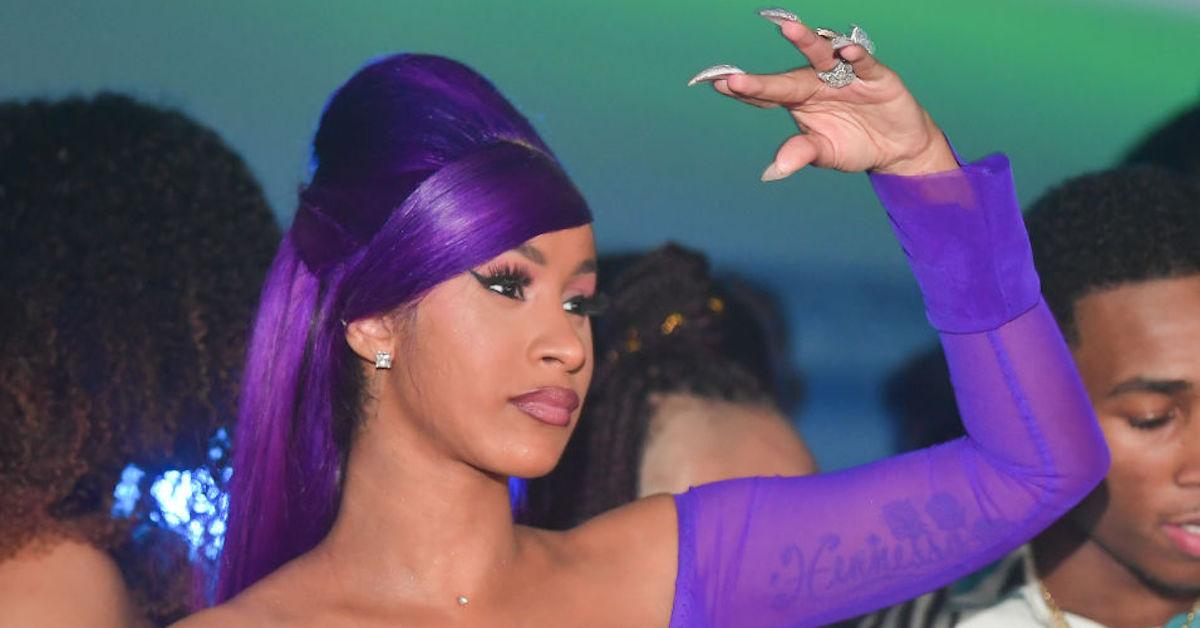 Article continues below advertisement
DeAnna Lorraine trashed Cardi B, and Cardi's comeback was hilarious.
As previously mentioned, Melania took to the microphone at the RNC, according to Hot New Hip Hop, where she praised her husband for his "accomplishments," expressing sympathy for those affected by the pandemic, and discussed the importance of coming together as racial tensions are at an all-time high. It was extremely phony, and obviously, right-wing figures such as Republican author DeAnna Lorraine ate it right up.
DeAnna took to Twitter to praise Melania (and for some reason, to trash Cardi B), saying: "America needs far more women like Melania Trump and far less like Cardi B," and obviously, said singer was not about to take abuse this in silence.
Cardi clapped back and retweeted DeAnna's message, stating: "Didn't she used to sell that Wap?" referring to the fact that Melania was a former model, and sometimes posted nude. The rapper's latest song, "WAP," which stands for "wet a-s p---y."
Article continues below advertisement
Cardi, however, wasn't quite finished digging in to DeAnna just yet. She then proceeded to tweet an old photo of Melania posing naked, and said, "This pic giving me " yea you f----n wit some wet a-s p---y " vibes ...just sayin."
Take a look at the receipts below and try not to die of laughter.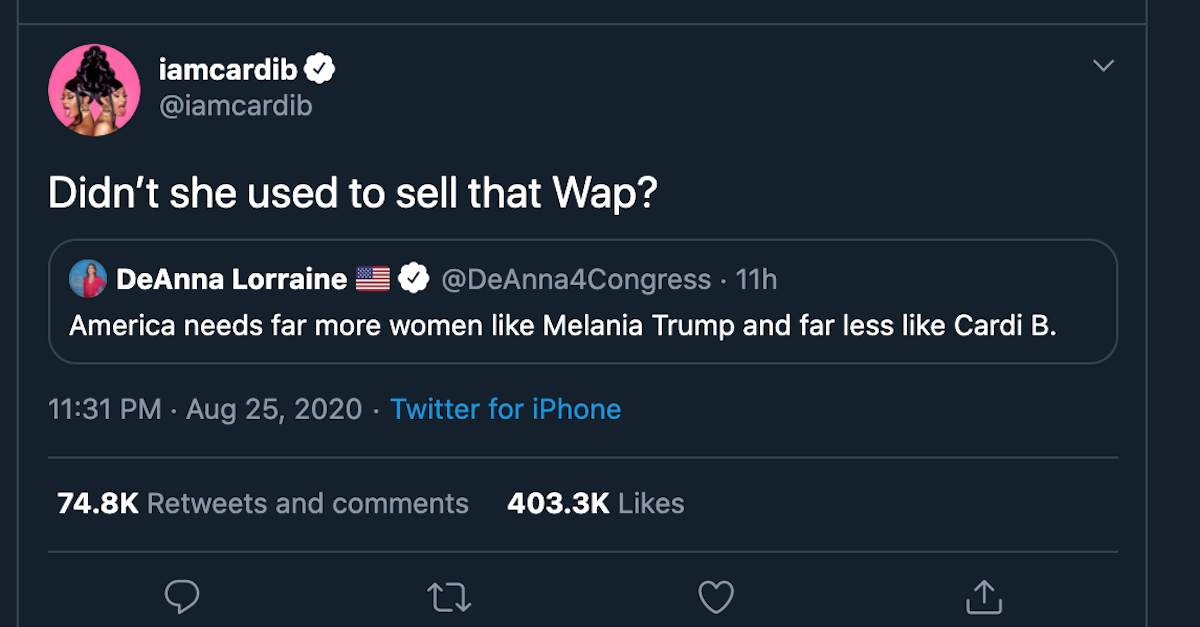 Article continues below advertisement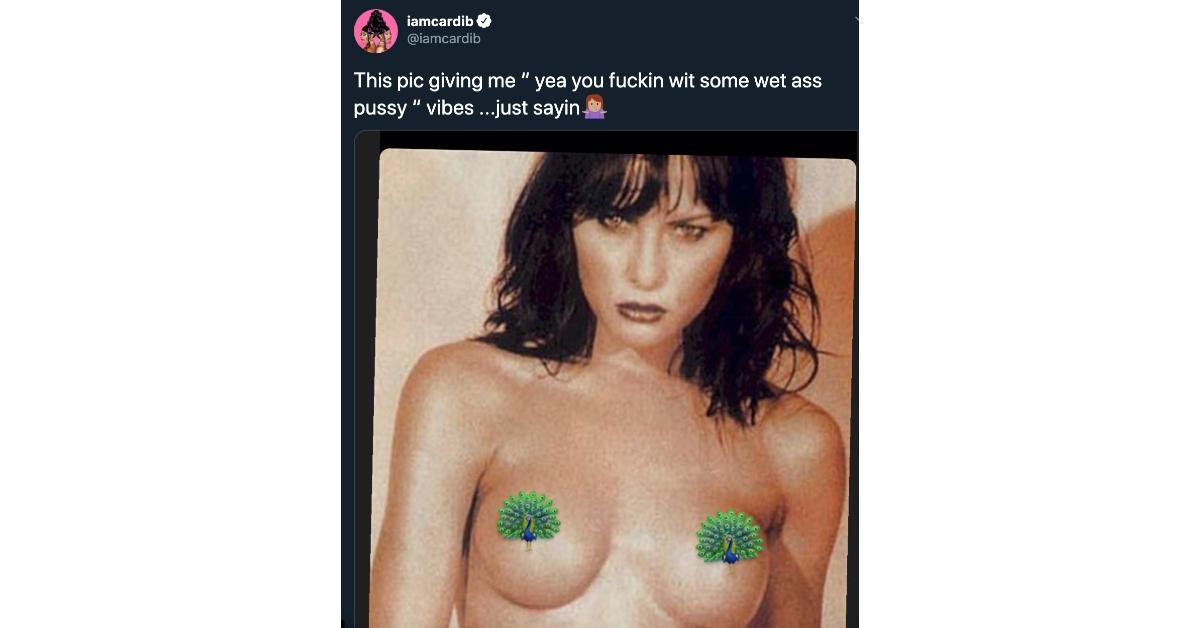 Cardi's response to those who criticize her "inappropriate lyrics" was also amazing.
During an appearance on the "Kyle & Jackie O" radio show, Cardi discussed the criticism she's garnered from her "inappropriate lyrics," targeting her latest release, "WAP," and what she had to say was truly incredible.
Per Daily Mail, she said: "The people that the song bothers are usually conservatives or really religious, fake religious people," she said. "I grew up listening to this type of music, so to other people it might be strange and vulgar, but to me it's almost really normal."
Article continues below advertisement
The rapper then proceeded to state what should be obvious, responding to those who say she isn't a good role model for young girls. She said simply that her music isn't written for kids.
"It's like, no, of course, I don't want my child to listen to this song and everything, but it's like, it's for adults."
Duh.
As per usual, Cardi is the outspoken leftist queen we all need. She always knows what to say — and when to say it — and needless to say, her response to DeAnna's unnecessary tweet deserves an A+.