"You Gonna Be Starving My Friend" — DoorDash Driver Roasted for "Contradictory" Delivery Rules
A DoorDash Delivery driver pointed out the types of orders folks should never accept on the platform, sparking debate.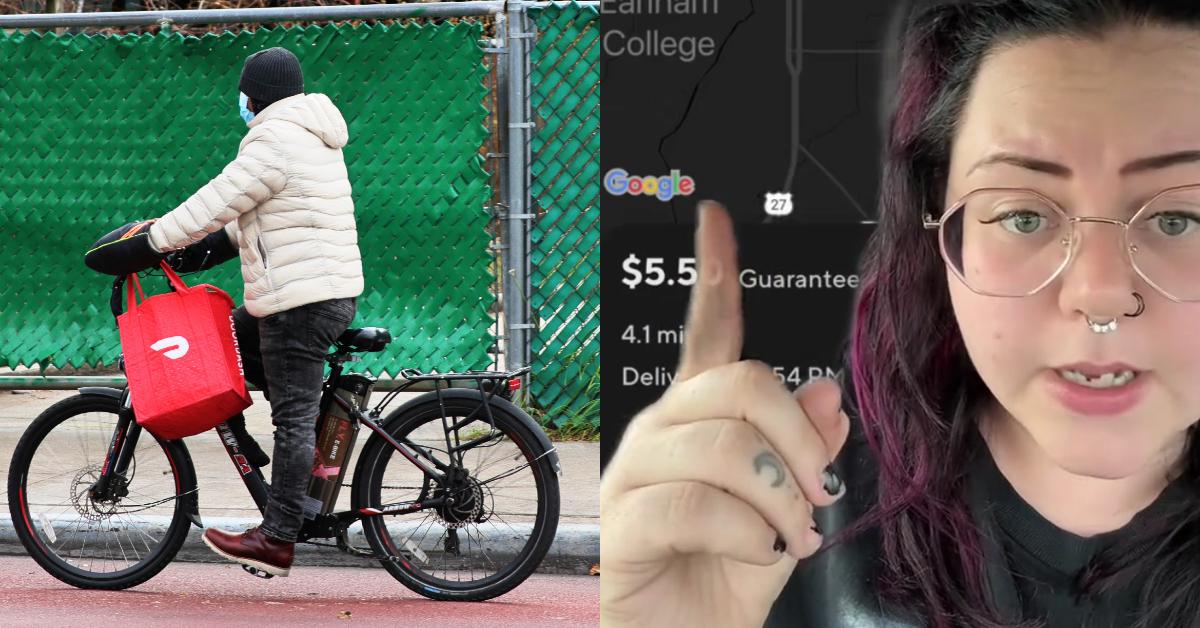 While TikTok is primarily known for being inundated with clips of teens who hit the genetic lottery performing mirthless dance routines with vacant expressions, along with rambling story times relayed while someone puts on their makeup, it's also home to some educational content that may get you thinking to yourself, "hunh, the more you know!"
Article continues below advertisement
Chelsea Jo (@finnandquinn) uploaded a viral clip in which delineates what she believes are DoorDash orders that are not worth a driver's time. While there were some folks who agreed with her assessments of these orders, there were others who said that not all of her suggestions should be taken as DoorDash delivery law.
Article continues below advertisement
"Hi, I'm here to help you if you've ever thought about DoorDashing," the TikTok says in the opening of her video. "So let's talk about why you should decline some of these orders."
She then highlights a screenshot of an order that pays out $5.50 for 4.1 miles of travel and points to the map.
Article continues below advertisement
Her knowledge of the area comes into play, stating that because she knows that the road she's expected to travel on isn't a highway the order will likely "take forever."
She says that the base pay for any order is $2.50 for a delivery fee, and paying someone $3 for 4.1 miles on a local road that will probably take a long time is ultimately not worth picking up and delivering to the customer.
Article continues below advertisement

"Ain't no one taking your s--- decline, decline mother-----," Chelsea says in the video. She goes on to say that as a general rule of thumb, $2 a mile is the golden rule. "Now that might be hard to do in some markets, don't get me wrong."
Article continues below advertisement
She pulls up another example on her page: a $12.50 order that is asking drivers to complete a delivery for a 13.3-mile trip. She acquiesces that while the price for the delivery is much better than the other one she mentioned, it's not good enough for the distance drivers are being asked to travel.
"Absolutely the fruit not, uh-uh, I ain't doing that." She also points out the time that the food needs to be in the customer's hands: "Delivered by 8:41 that gives me a whole mother----- hour 'cause now it's 7:42. That gives me one whole f---- hour because it's gonna take that d--- long."
Article continues below advertisement

She goes on to say that the $12.50 an hour isn't worth the trip, "minus the gas" and "wear and tear" on a driver's vehicle while adding: "No tip, no trip," cautioning delivery drivers from accepting non-gratuity orders. Again, she concedes that while this particular gig does have a tip associated with it, it's still "not enough."
Article continues below advertisement
"You gon' be starving, my friend," she jokingly tells the customer who offered what she deemed an unacceptable amount for that travel distance.
In yet another instance of who-not-to-deliver-to, she shows off an order that's only offering $2.50 to deliver food from 1.7 miles away. She says that regardless of how close the distance from the restaurant to the person's home is, not adding on a tip is unacceptable and should be ignored.
Article continues below advertisement

"I wouldn't throw your food from one building to the next for $2.50. I wouldn't even - I wouldn't chew it up and spit it at you for $2.50. No, you ain't getting s--- it's gonna sit there it's gonna get cold and it's gonna get canceled because ain't nobody gonna take this mother------ order and if you do you're stupid because your acceptance rate does not matter," she says while quacking her hand in front of the camera, mimicking the bill of a duck.
Article continues below advertisement
One commenter who saw her video seemed to suggest that her ire towards meal recipients was misplaced as they aren't privy to the distances that dashers are required to travel in order to complete their deliveries: "Customers don't know where you're driving from or how many miles you're driving," they wrote.
Someone else didn't seem to appreciate the woman's video, suggesting that if delivering for DoorDash has made her so angry and bitter, she may consider taking up another line of work instead: "Find a new job or shut up and deal with"
Article continues below advertisement

Someone else said that her mentality is probably what prevents her from receiving bigger orders, as having a high acceptance rate helps DoorDash delivery drivers earn more money in the long run: "and this is why you stay broke lol gotta earn them bigger dash orders declining smalls ones bc your greedy isn't gonna get you better tips lol"
Article continues below advertisement
And then there was someone else who couldn't seem to understand why $2.50 for delivering a meal 1.7 miles wasn't good enough as it seems in line with her $2/per mile rule.

However there were other folks who appeared to sympathize with Chelsea's gripes when it comes to non-tipping customers, like this one person who penned: "And then the no tippers be the ones like "go thru this gate, on the opposite side of the house, open screen door and leave on table" lmfao"