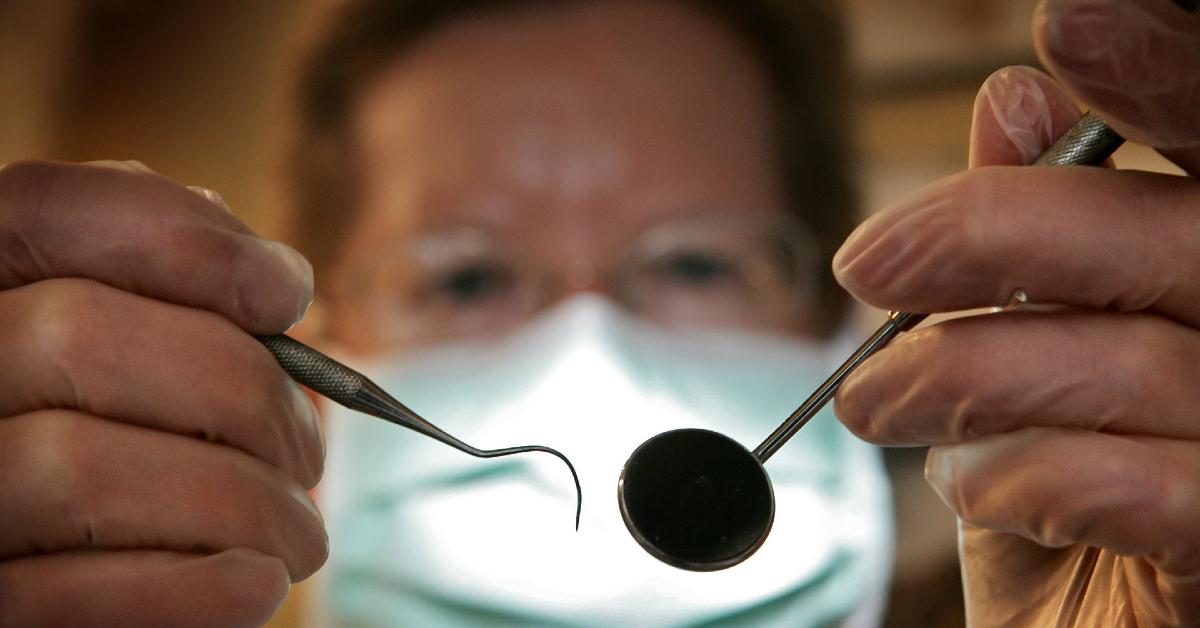 Mexican Dentist Watches Tutorial Video Before Fixing Patient's Tooth in Viral TikTok
Imagine you travel overseas to get some work done and while you're on the operating table, you see your doctor cue up a YouTube tutorial video on how to properly do your procedure before deciding to dig in and give it a go.
You probably wouldn't be overwhelmed with confidence that you picked the right doctor, would you?
Article continues below advertisement
And while this seems like something out of an early 2000s comedy starring Ben Stiller, because for some reason he's the perfect guy to place in these kinds of situations, it actually happened and was documented on TikTok by user @bummercreek.
He begins the video with a text overlay that reads: "I came to the dentist in Mexico and they started watching a tutorial before they fixed my tooth"
The clip begins with him sitting in the patient's chair, then it cuts to him with an apparatus in his mouth that keeps his cheeks open, giving the dentist unfettered access to his teeth.
Article continues below advertisement
He sits there staring into the camera before the short clip ends. Judging from some of the comments from other users on the platform, they too haven't had the best of experiences in dealing with getting dental work done in Mexico.
Article continues below advertisement

One TikToker wrote: "Lol. My dentist here in the states one time was like 'you've had work done in Mexico huh?'"
Another penned, "my dad got his wisdom teeth taken out in Mexico and they stopped mid-procedure for the elote man"
"Never again will I get dental work in [Mexico] they did my root canal on the wrong tooth," @neme590 wrote
Article continues below advertisement

Apparently, this isn't the first time a dentist has checked how to properly perform a procedure by utilizing YouTube tutorial videos. "me in Costa Rica when the doctor was googling my symptoms on his big tv"
Article continues below advertisement

However, it appears that @bummercreek may've been cracking a joke, because the TikToker seemed to agree with another commenter who wrote, "They're showing you what they're about to do, they do that at my dentist."
@bummercreek simply replied to the comment by stating: "Correct."
Article continues below advertisement

And there were other users who said that they had a positive experience getting work done on their teeth in Mexico: "I got my root canal two days ago. The dentist put Karol G to listen to during the procedure. I've had zero pain since. He was super chill too"
Article continues below advertisement

Medical tourism is a big global business. There are throngs of American citizens who leave the country to undergo procedures overseas for a fraction of the cost.
Depending on the type of work you're getting done and which doctor you're working with, this actually might be a great option for some folks, if you do your research that is.
Article continues below advertisement

For example, if you're interested in getting hair transplant surgery done, purportedly one of the best places in the world to get this done is in Istanbul, Turkey, with some locations receiving tons of praise from various outlets across the globe.
However, getting any kind of work done in a foreign country is scary for several reasons. The first being the fact that it's not your native country and that unfamiliarity in itself can be a major source of anxiety.
Article continues below advertisement

Secondly, you'll probably feel more comfortable doing research on a medical treatment facility in a country that you live in as you'll presumably have more resources at your disposal in finding out whether or not the positive reviews surrounding the place are legitimate. And if it's a local facility, you can go and check it out first before making a decision.