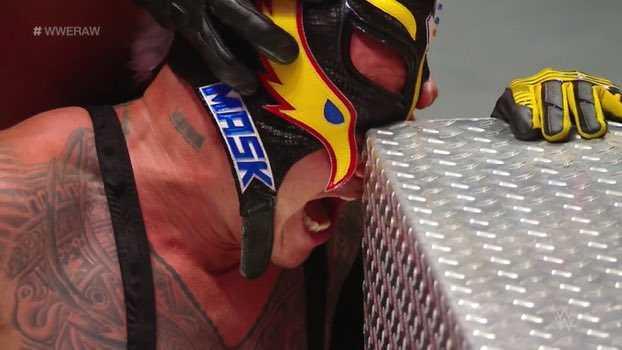 Here's How the WWE Pulled off Rey Mysterio's "Lost Eye" Bit at 'Extreme Rules'
The WWE goes to extreme lengths to maintain kayfabe, even regularly breaking the fourth wall and involving "behind-the-scenes" employees in its storylines.
But before all of that, the organization did a darn good job of convincing us their superstars were truly hurt in a match, even going as far as to "blade" themselves so they'd bleed. But this latest Extreme Rules match makes that look tame in comparison because fans are asking — did Rey Mysterio really lose his eye?
Article continues below advertisement
So, did Rey Mysterio really lose his eye?
While the PPV had some solid matches, the one that everyone's talking about is the "Eye for an Eye" contest between Rey Mysterio and Seth Rollins. The rule was simple: in order to win: you had to take out your opponent's eyeball. Seriously.
The match had a lot of blowback on social media, with people complaining that it looked less like a pro-wrestling match and more like one dude trying to murder another guy.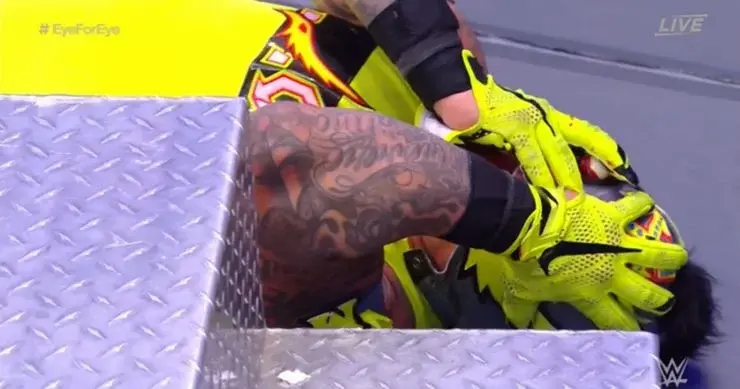 Article continues below advertisement
A variety of different weapons were used by the men to try and take out each other's eyeballs, with Seth even chasing Rey around with a spike at one point trying to dig it out. In the end, Seth "plucked" Rey's eyeball out and puked after the fact, because it was so disgusting.
However, if you're worried about Rey losing his eye: rest assured. It was a total gag. No, the WWE's not going to let one of their talents lose an eyeball for a wrestling match.
Article continues below advertisement
WWE 'Extreme Rules' results, who came out on top?
The pay-per-view was being billed by the WWE as "The Horror Show at Extreme Rules" and its main event featured Bray Wyatt and Braun Strowman duking it out at The Fiend's swamp. Bray came out on top in their match, but the headliner was criticized for being too "boring" by some fans.
Drew McIntyre's bout against Dolph Ziggler had some great back-and-forth action as well, but it was pretty evident that the WWE wasn't going to let Drew lose that one.
Article continues below advertisement
Even though viewers could "sense" a Drew win from a mile away, it was still a tremendous showing from both performers and one of the highlights of the pay-per-view. The Asuka vs. Sasha Banks match was also equally entertaining, but the questionable finish had a lot of folks at home wondering just what the heck happened.
"Technically" Sasha won the championship, but the circumstances leading up to her getting the 1-2-3 are very fishy.
Asuka accidentally spits green mist in the referee's face, conveniently incapacitating him. Bayley then comes and smashes Asuka right in the back with a tag team belt, and then dons her own referee shirt to make the three count. Bayley and Sasha Banks then force the bell to ring and walk up the ramp, gloating as they hold the belts. But did they win? We'll have to see on RAW if Asuka has really lost the title or not.
Article continues below advertisement
MVP has declared himself the "new" United States Champion because Apollo Crews couldn't fight him after suffering an attack from MVP's cohort Bobby Lashley.
Bayley managed to defeat Nikki Cross, however, she needed help from Sasha Banks to do it (the two are as thick as thieves these days). That puts Bayley's reign as SmackDown women's champion at 280 consecutive days.
Article continues below advertisement
The Tag Team match between Shinsuke Nakamura and Cesaro against New Day was a barn burning slobberknocker of testosterone-fueled excitement that saw the former team become new champions.
And Kevin Owens won his match against Murphy in a short, but emphatic fashion, landing one of the prettiest moonsaults a guy of his size has ever pulled off.
Article continues below advertisement