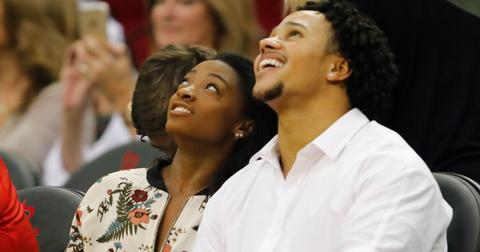 Simone Biles and Her BF May Have Parted Ways, and We're Seriously Shook
By Lizzy Rosenberg

Updated
Most longtime Simone Biles fans are well aware that the 23-year-old Olympic gymnast has been #taken for the last few years. The man in question, Stacey Ervin Jr., is an accomplished stuntman, a well-respected fitness trainer, and a loving dog dad to Simone's french bulldog, Lilo. Let's face it: he and Simone were seriously adorable together.
Article continues below advertisement
Those who shipped their heart-melting relationship, however, are starting to believe that Simone Biles broke up with her boyfriend, and while nothing is confirmed as of publication, it goes without saying we're totally heartbroken.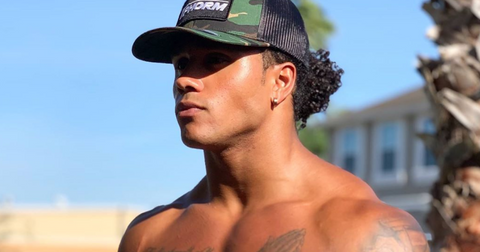 Article continues below advertisement
The caption of Simone's latest thirst trap may imply she's single.
On Thursday, May 7, Simone took to Instagram to post an absolutely gorgeous thirst trap, and while the lifelong gymnast is no stranger to posting model-level photos of herself to the social media site, the caption kind of implied that she may be — well — newly single, and officially ready to mingle.
Along with the Instagram photo, which showcases Simone flaunting her amazing bikini bod, the caption reads: "I got sinning on my mind." Many believe it could imply that she's ready to meet someone new, and although this alone doesn't necessarily mean she's single, the proof that the two may have parted ways doesn't stop right there.
Article continues below advertisement
Simone deleted her Insta photos with Stacey and unfollowed him... but he still follows her.
Simone's latest Insta post doesn't necessarily mean she's single, so we did a deeper dive, and noticed that the Olympian deleted most of her photos with Stacey from her feed. Simone had previously documented most of her relationship with Stacey, whether they were on vacation or simply hanging out. After posting photos of a romantic trip to the beach at the end of 2019, some even thought they were going to tie the knot soon, but it seems like that might not be the case anymore.
Article continues below advertisement
Likewise, Simone no longer follows Stacey on Instagram. Obviously, as the two had dated for several years, they had followed each other for quite a while, but that's no longer the case. Stacey, however, still follows Simone, and still has photos of them together on his feed. It's undeniably strange and we have no idea what could have happened to those two... we're hoping for the best, but things definitely aren't looking good.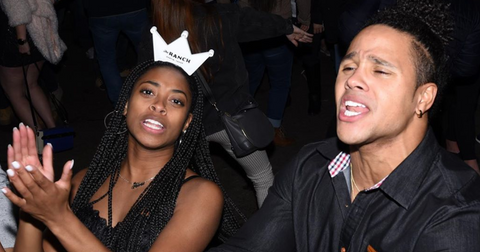 Article continues below advertisement
What will happen with their dog, Lilo?
It's believed that Simone and Stacey lived separately, but we know definitively the two were co-parenting an adorable French bulldog named Lilo. We can't help but wonder what will happen regarding the pup custody — if Stacey and Simone broke up, will Stacey get Lilo on weekends and holidays? Maybe they'll switch off for Thanksgiving? Lilo's living situation is completely up in the air right now.
Understandably, we're ugly crying at this old photo of the three of them from Father's Day... hopefully, this will all blow over before Father's Day 2020.
Article continues below advertisement
As previously mentioned, nothing regarding Simone and Stacey's alleged breakup is confirmed, but either way, we hope Simone and Stacey do what's best for them.