Starting on Jan. 9, American TV viewers can start watching A Discovery of Witches Season 2 … knowing full well that they have A Discovery of Witches Season 3 to look forward to!
Article continues below advertisement
The supernatural romance TV show's second season premiered today on AMC+, AMC Premiere, Sundance Now, and Shudder. And until the end of the season in March, Season 2 episodes will be released on a weekly basis on U.S. screens just one day after they air on U.K. television.
Season 2 of 'A Discovery of Witches' has Diana and Matthew "baring their darkest secrets."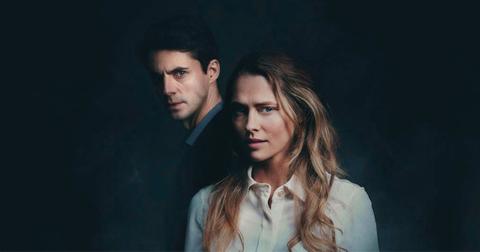 "In Elizabethan London, Diana and Matthew's romance faces a barrage of new threats," AMC adds. "Diana's unleashed magic takes a dark and frightening turn, while Matthew struggles to re-inhabit the dangerous life he led over four centuries ago. They must overcome deep personal fears and jealousies, baring their darkest secrets to one another if they are to stay alive, stay together, and find a way back to present day."
Article continues below advertisement
"The 10-part second season finds Diana (Teresa Palmer) and Matthew (Matthew Goode) hiding in time in the fascinating and treacherous world of Elizabethan London," AMC explains. "They must find a powerful witch teacher to help Diana control her magic, all while searching for the elusive Book of Life."
The network continues: "While Diana and Matthew hide out in Elizabethan London, back in present day, Diana's beloved aunts, Sarah (Alex Kingston) and Em (Valarie Pettiford), must take shelter with notorious witch hunter Ysabeau de Clermont (Lindsay Duncan) at her ancestral home, Sept-Tours. Meanwhile, in Oxford, Marcus (Edward Bluemel) and Miriam (Aiysha Hart) take on Matthew's mantle to protect daemons Nathaniel (Daniel Ezra) and Sophie (Aisling Loftus), whose pregnancy is advancing."
Article continues below advertisement
And don't forget about Gerbert (Trevor Eve), Knox (Owen Teale), Satu (Malin Buska), and Domenico (Gregg Chillin): That group is "determined to hunt down every clue they can to Diana's and Matthew's disappearance, and the secrets their allies are keeping from them," AMC says.
Article continues below advertisement
Season 3 of 'A Discovery of Witches' is en route — and it's likely the last season.
Even before the U.S. premiere of A Discovery of Witches — which is based on Deborah Harkness' All Souls trilogy of fantasy novels — the show was renewed for both Season 2 and Season 3. And the third season — which hit a brief production snag in October 2020 after a crew member tested positive for COVID-19 — might just be the last go-round of the TV series. Season 3, after all, is based on the last book of Deborah's All Souls series.
"As far as the trilogy is concerned, the next [third] season is the last," star Matthew Goode told Digital Spy recently.
However, as Teresa Palmer mentioned, Deborah wrote a fourth book in this so-called "trilogy," a Marcus-centric book titled Time's Convert.
"There is a fourth book that is Marcus' book," the actress told the site. "But we don't know. Maybe that would be developed into another season, but for right now, this is the end of the road."