DJ Mandy Has Amassed an Enormous TikTok Following for Being a Terrible DJ on Purpose
Who is DJ Mandy on TikTok? Here's what we know about this hilarious new TikToker who gained popularity by being an intentionally bad DJ.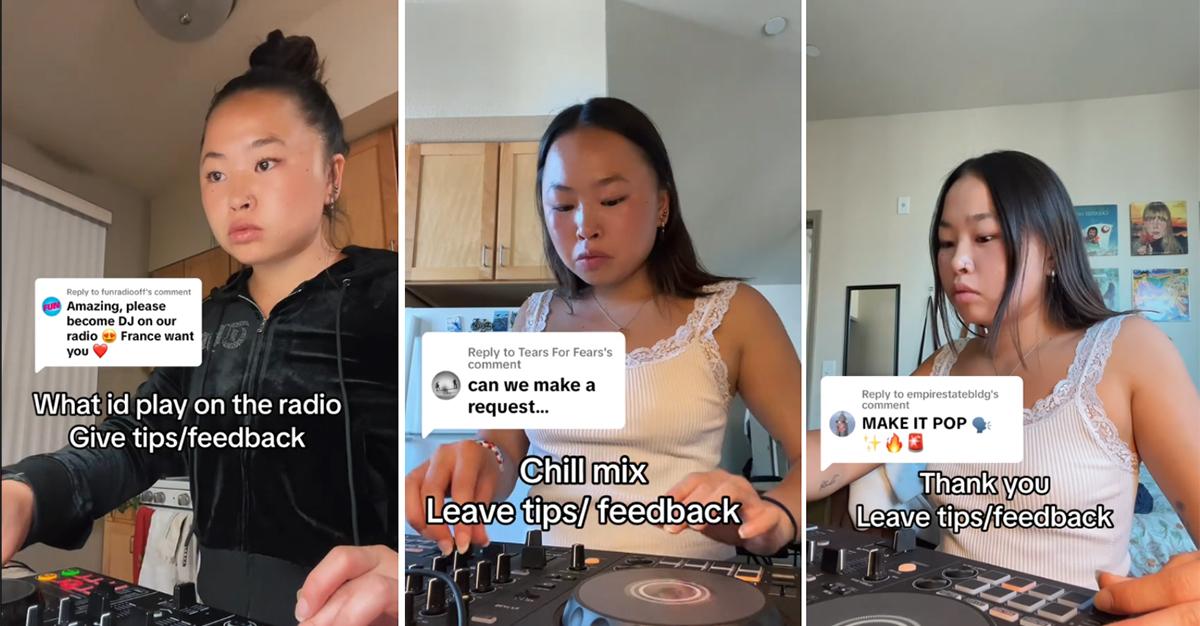 The Gist:
DJ Mandy has garnered a massive following on TikTok a short time.
Her videos consist of her DJing poorly on purpose.
She regularly gets millions of views and thousands of likes on her TikToks.
Article continues below advertisement
Remember that prank that DJs used to pull on people at raves or at clubs? They're playing their set and they start approaching the bass drop. The crowd is eagerly anticipating that decisive and rhythmic thump to get the place literally hopping. Then just as the music reaches its peak and the bass is about to blast through the venue, BOOM. The track is purposefully interrupted by "True" by Spandau Ballet. It was a trick that DJs used to pull all the time, which has often gotten mixed reception from audiences.
Article continues below advertisement
The prank itself is innocent enough, even if it does have its dissenters. But if you're of the camp who can't stand this prank at the club, then don't worry. This particular DJ does something way worse. What's more, she does it on purpose.
Get to know DJ Mandy on TikTok, the hilarious new "DJ" who as of this writing, is currently open for booking.
Who is DJ Mandy? This new TikToker is bad on purpose.
DJ Mandy, otherwise known as Amanda on TikTok (@amandashultz_) doesn't have much variety on her TikTok, which appears to have been created in mid-August 2023. However, she uses her platform to showcase her own DJ skills. We can safely say that there's no other DJ quite like Mandy, mostly because her DJ sets are bad. Really, really bad. However, that seems to be the whole point.
Article continues below advertisement
DJ Mandy has achieved some sizeable popularity for purposefully being a terrible DJ. Her videos typically feature her randomly messing around with a soundboard while showcasing her horrible sets. Her sets typically have her start off with one song only to interject with a completely different song at the worst possible times with no sense of flow, direction, or transition. Sometimes, she even throws in random noises like a fire alarm just to keep listeners on their toes.
Article continues below advertisement
As of this writing, her TikTok bio claims that she's open for booking. She's jokingly available for weddings and funerals.
Article continues below advertisement
For the most part, folks are super in on the joke. On practically all of her videos, the comments sections are flooded with praise and support from people who appreciate her humor and play into the idea that she's a masterful DJ.
"Don't let the haters get you down, queen," the official Bose TikTok supposedly wrote. "They simply don't understand the vision."
"This is what I call talent," another person commented.
In each of her videos, DJ Mandy always asks for tips and feedback.
Occasionally, DJ Mandy will even respond to the haters as she continues to show off the intentionally jarring transitions in her sets.
Whether you love her or hate her, DJ Mandy is living her best as she delivers the eclectic sounds and nonsensical beats that only she can provide.