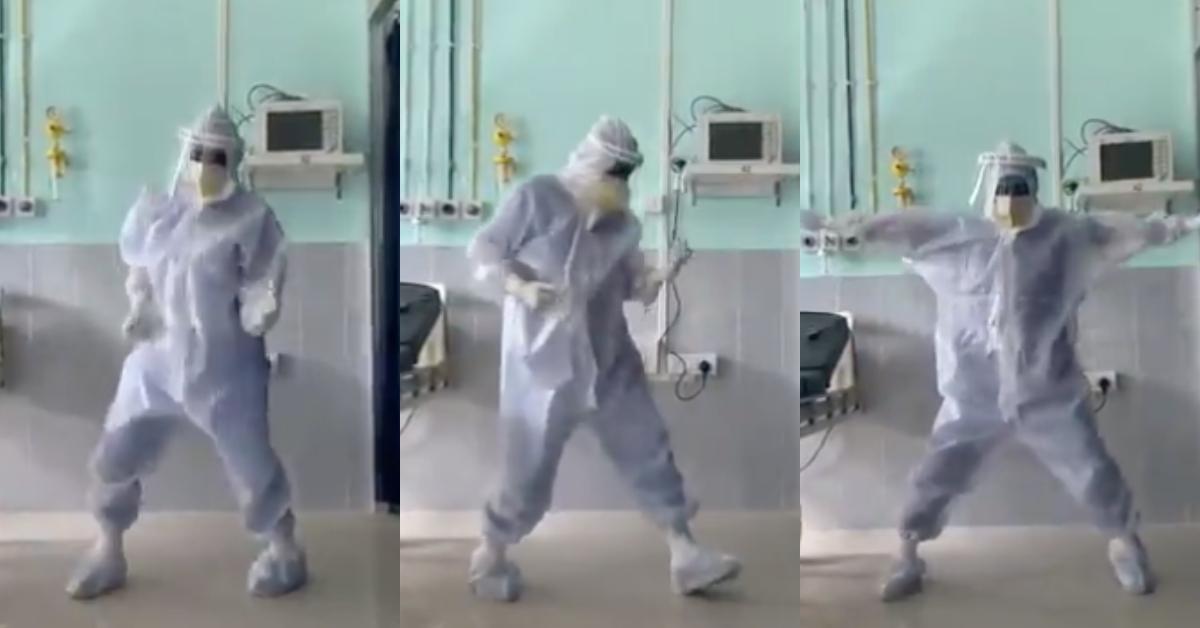 Doctor in India Dances for COVID-19 Patients in Heartwarming Viral Video
Doctors around the world have put their lives on the line for months to serve on the front lines of the COVID-19 pandemic. They've seen the horrible effects of this virus up close and have seen its devastation firsthand. And still, many of them are calm voices of reason, beacons of light and positivity, and sources of hope.
Article continues below advertisement
Dr. Arup Senapati is one such doctor. The ENT surgeon has been on a mission to lift the spirits of COVID-19 patients at his hospital by, well, dancing for them. It's working, and when Dr. Senapati's colleague shared a video of him dancing, it went totally viral because we could all use a dancing doctor in our lives right about now.
Article continues below advertisement
Dr. Syed Faizan Ahmad was the one to share Dr. Senapati's dancing with the world, and the video now has over a million views. In it, Dr. Senapati, in full PPE gear, dances joyfully and plays some pretty rad air guitar.
Needless to say, people love it. "It is so encouraging and inspiring to see Dr. Arup Senapati in this video," Kavitha Kalvakuntla, a politician in India, wrote on Twitter. "COVID-19 pandemic has indeed been very challenging but every single gesture that binds people together is truly the motivation to keep working harder and defeat the virus."
Article continues below advertisement
"Can't thank you enough for bringing a smile while in full PPE," another person wrote. "You must have been dying of the heat, but put patients first. The idea that you care enough to do all-around medicine, body, mind, and soul, makes you a step above anyone who becomes lost on one only."
While there were some detractors who questioned why Dr. Senapati was dancing and having a good time when he "should" have been working to help patients, most people understand that it's just as important to keep spirits high and to find joy in settings like a hospital as it is to treat patients medically.
Article continues below advertisement
Many people on Twitter tagged the original performer of the song, Bollywood actor Hrithik Roshan, to get his attention. Hrithik reposted the video to his nearly 30 million followers and wrote, "Tell Dr. Arup I'm gonna learn his steps and dance as good as him someday in Assam. Terrific spirit."
Article continues below advertisement
Dr. Senapati responded to Hrithik's tweet to let him know that he is his "hero" and his "inspiration." He thanked him for retweeting his video as well. When you so simply and clearly spread so much joy, as Dr. Senapati has, people, even famous Bollywood actors, are going to appreciate it.
Article continues below advertisement
The pandemic has brought such tragedy and sadness, and it can be hard to remain optimistic. I imagine it's especially hard if you are a front line worker like Dr. Arup Senapati, a doctor who has to treat people suffering from the virus every single day.
It's amazing that he still has that kind of positivity and radiant joy to send out into the world. Dr. Arup Senapati is not only helping his patients but he's helping all of us get through this incredibly challenging time.