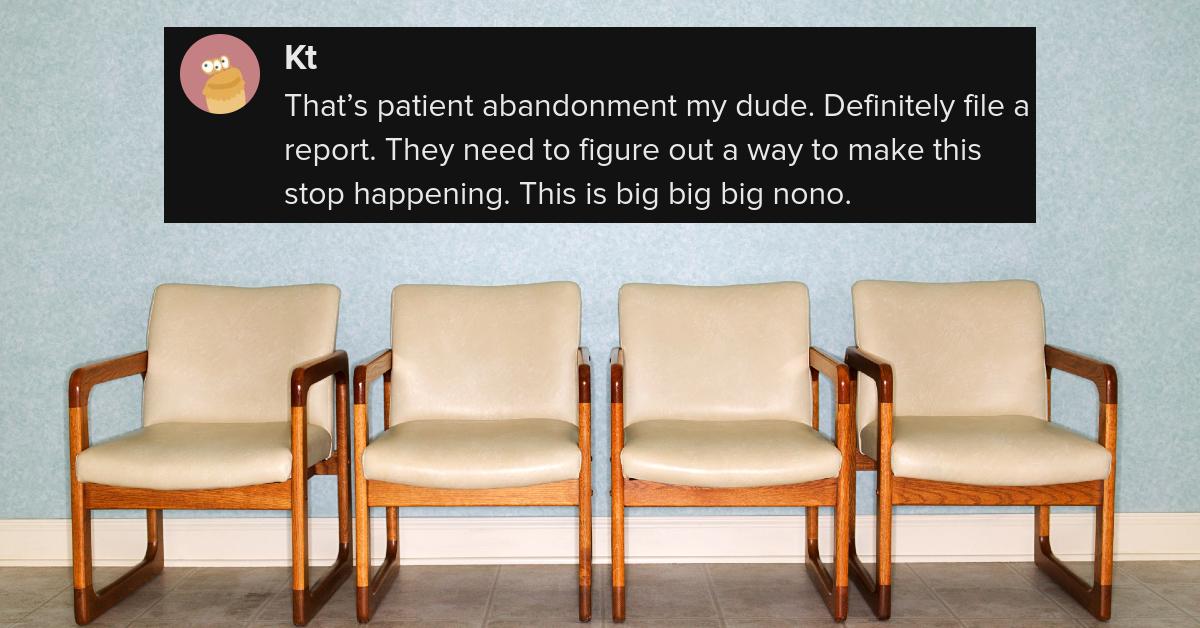 Healthcare Workers Forget Patient and Close Down Office for the Night With Her Inside
When you're working in healthcare there are some general guidelines you should probably follow. The first: try not to kill the patients. That's probably the biggest one and there are a variety of ways to go about doing that based on whatever ailments they're suffering from.
Article continues below advertisement
Another rule is probably trying to remember that the patients exist, i.e. not forgetting about them especially if you work in a facility that isn't staffed 24/7 and closes down for the night.
And it probably helps if you don't break this aforementioned rule if the patient in question is a healthcare worker.
Which is exactly what the case was with TikToker Alley Hoffmeyer (@alleyhoffmeyer). As a healthcare worker, she said she was shocked to see the type of treatment she received from a doctor's office during a recent visit.
Article continues below advertisement
She tells the story of her waiting room saga in a series of photos with text overlays on TikTok. The first image shows her giving a thumbs up to the camera with a caption that reads: "waiting to get called back"
Article continues below advertisement

Then she snaps a picture of her leg resting on an ottoman. A knee brace is attached to her right leg, and the text reads: "running an hour behind, nbd it happens"
Another picture of her waiting with her hands folded in her lap, a text overlay reads: "finally seen after 1 1/2 hours. was told someone will be in with discharge instructions and set up my mri"
Article continues below advertisement

Not before long it appeared she was playing the waiting game yet again as she uploaded clips of her messing around with filters that give her a beard and glasses. She writes, "getting bored, it's been 45 mins since they said they would be back in"
Article continues below advertisement

The end of the doctor's offices hours reveal the severity of the waiting situation she was placed in: "okay its 5:30 they closed at 4:30, maybe ill go check to see whats taking so long"
Article continues below advertisement

And after she tried to find somebody to see what the hold up was, she realized that staff members at the healthcare facility completely forgot she existed.
"No one in sight, let me check around," she writes over a video of her looking through empty hallwways. "No one at checkout either," the text reads as she searches through rooms devoid of people, in some areas, the lights are shut off.
Article continues below advertisement

That's when she stares into the camera with her mask pulled down in order to drive home the shock at realizing she has been basically abandoned by employees of the healthcare facility.
Article continues below advertisement

"Lights are off, looks like everyone left and they forgot about me :)" She provides even further video that shows a completely empty seating area barren halls.
The final picture is an image of her with her hand over her mouth with an overlay that says, "this should NEVER happen to a patient."
Article continues below advertisement

In a follow-up video she said that she received a call from the doctor's office "patient experience" department which gave her the ability to file a patient grievance. However, after reading through several comments from other TikTokers on the platform, Alley said that the majority of folks essentially said that all this means is that the issue is going to get swept under the rug, which she doesn't want to happen.
Article continues below advertisement
She went on to say that she wants to ensure that there are "consequences" the doctor's office/staff face for their lack of providing her with proper treatment and care so that it never happens again.