Doe Deere Steps Down From Lime Crime to Foster Diversity
Why did the entrepreneur decide to sell her company? Here's what you need to know about the Doe Deere controversy and the future of her brand.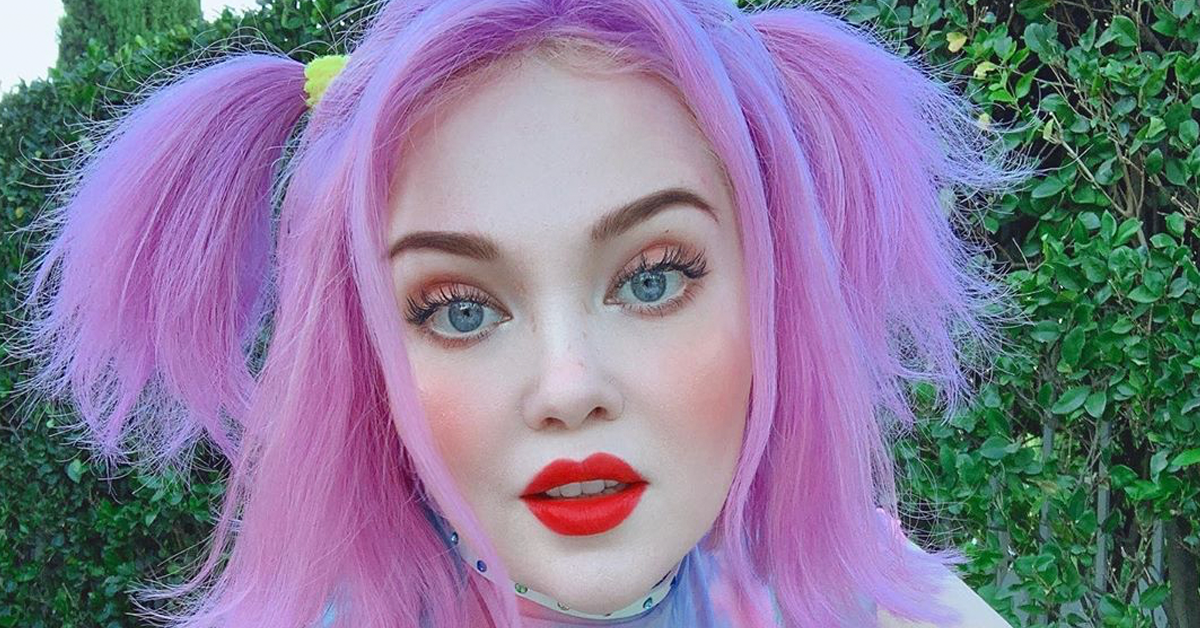 Lime Crime is known for its bold and colorful trends, but it's hard to ignore the brand's deeply problematic history. From accusations of cultural appropriation to rumors of potentially toxic ingredients, there have been so many scandals that consumers have started blogs and online petitions to boycott the company. In fact, by 2015, it was labeled the most hated beauty brand on the Internet.
Article continues below advertisement
But after years of drama and jaw-dropping revelations, founder and owner Doe Deere (Xenia Vorotova) sold the company in 2018. She continued to serve on the board of directors with her husband, Mark, and explained: "We'll provide key insight and guidance to the team to ensure we remain mindfully committed to our brand's mission, and you — our loyal fans. I will also still happily contribute to product development and even pitch in social media sometimes."
Consumers definitely noticed a positive shift in the brand since then, but as of July 2020, Doe and Mark are no longer a part of the company. What inspired Doe to leave? And will she still profit from the company's sales? Here's what we know.
Article continues below advertisement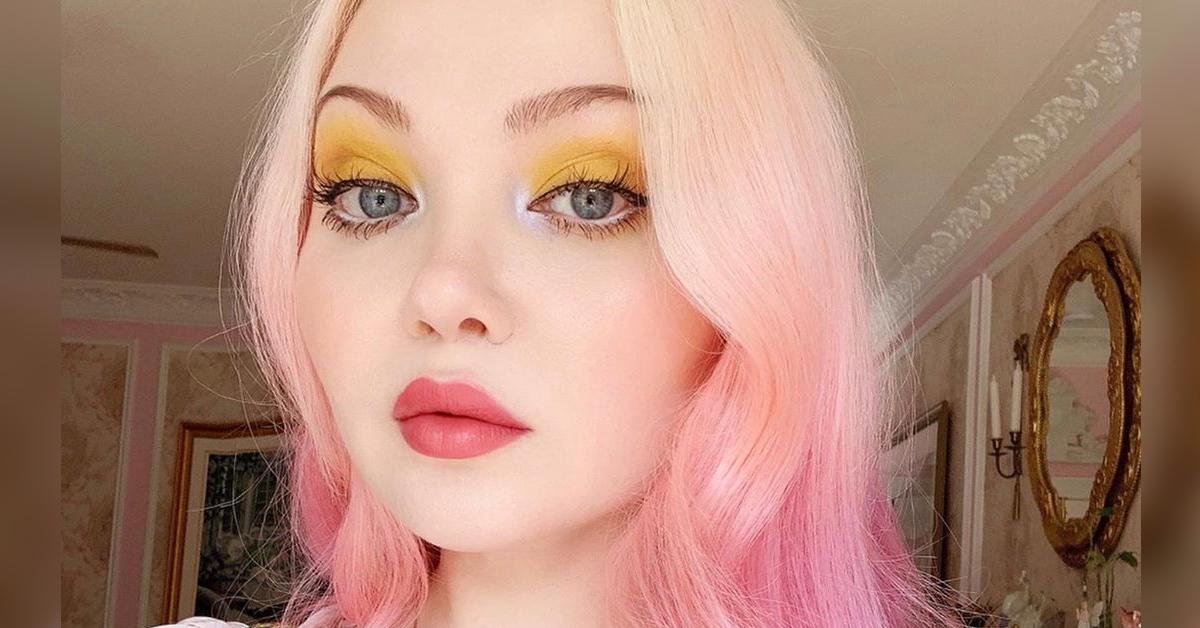 Doe Deere's company was plagued by controversy since it was founded.
Over the course of a decade, Lime Crime has been involved in at least 10 scandals. Doe kicked things off by dressing up as Adolf Hitler for Halloween in 2006 (before she started the brand), and after that photo surfaced, things went downhill from there.
The company was accused of cultural appropriation, repackaging wholesale products, using toxic ingredients, using animal ingredients (while claiming to be vegan), and threatening beauty bloggers over bad reviews (just to name a few).
Article continues below advertisement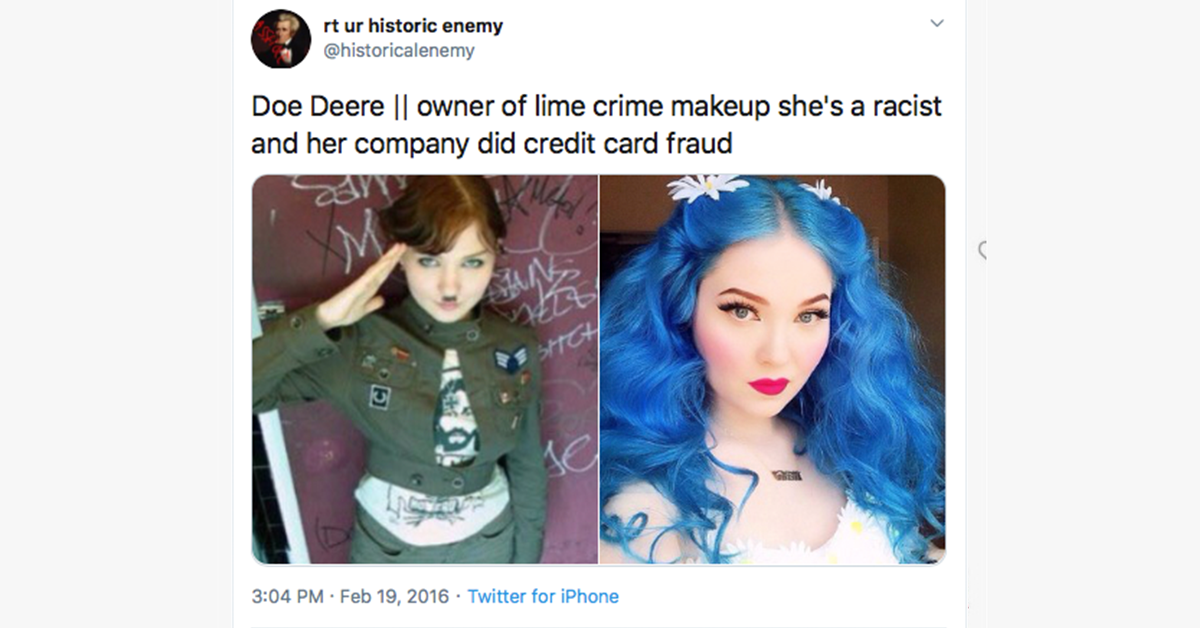 Perhaps the biggest scandal was in 2012, when Doe received major backlash for Lime Crime's Chinadoll palette. It featured a white model in heavy makeup and Japanese-style clothing. And even though Doe offered an apology, it definitely didn't feel like a genuine one.
Article continues below advertisement
She wrote: "It came from a good place in my heart and it saddens me to see anyone get offended by it. If you found it offensive on any level, for that I am really sorry. But Chinadoll will live. I'm not going to kill her just because it makes some people uncomfortable — that would require sacrificing my artistic integrity and sending a radical message I don't believe in to the community."
Article continues below advertisement
She also shared on her blog that she found the notion of cultural appropriation "silly," saying that "what matters is intent."
She said: "I think it encourages acceptance, enriches our existence, and makes us more tolerant toward other humans all over the world. Borrowing from cultures — and letting borrow! — is vital to ending racism, bigotry and misanthropy."
Another big scandal that led to uproar was when the company failed to notify their customers and take action after their website got hacked. It led to multiple customers getting their credit card information stolen, so understandably, when the company finally addressed the issue on their Instagram page (which has since been deleted), fans were furious.
Article continues below advertisement
Many have pointed out that they handled the issue poorly because they didn't address the flaws in their security system when users first reached out. When people mentioned this issue in the comments, however, Lime Crime reportedly deleted all the negative responses.
Article continues below advertisement
One person said: "It's cute how you didn't bother doing anything about this until it became public. There were people who reported this to you back in November and you didn't bother until it became bad PR."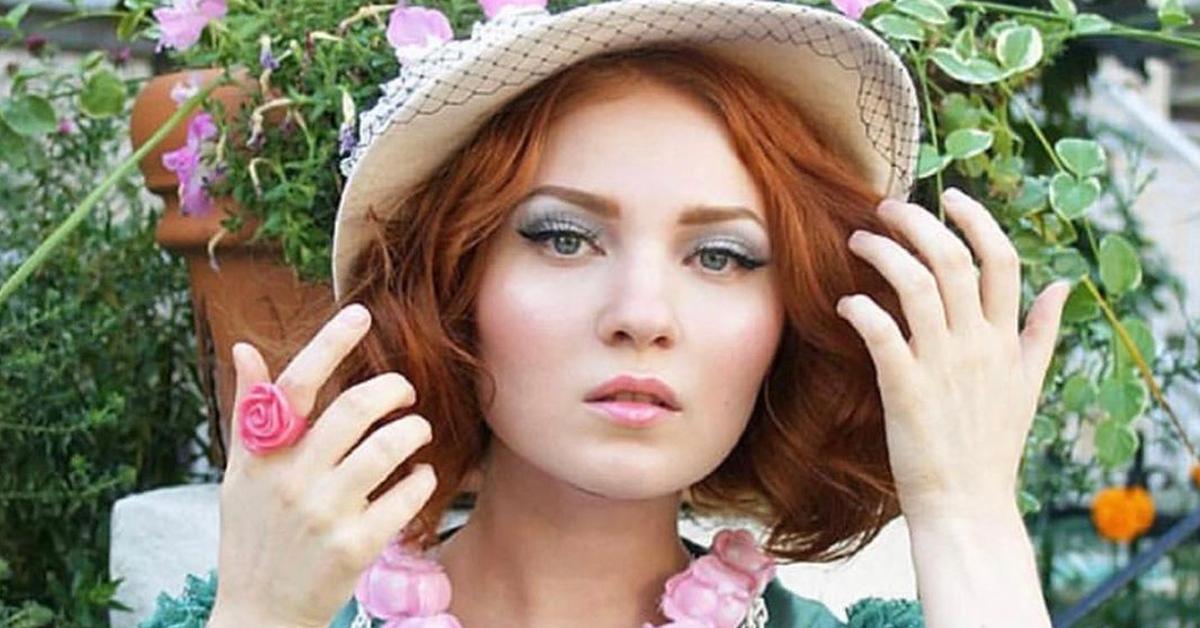 Article continues below advertisement
Doe sold the company in 2018.
It was announced in June of 2018 that Lime Crime was under new ownership. Tengram Capital Partners acquired the brand and Stacey Panagakis became the new CEO.
Richard Gersten, a partner at Tengram, said: "In an era of beauty brand proliferation, Lime Crime's authenticity and innovation stands above the rest. Lime Crime is a tremendous fit in our strong portfolio of beauty brands, and we look forward to leveraging our experience to help the Lime Crime team achieve its growth prospects."
Article continues below advertisement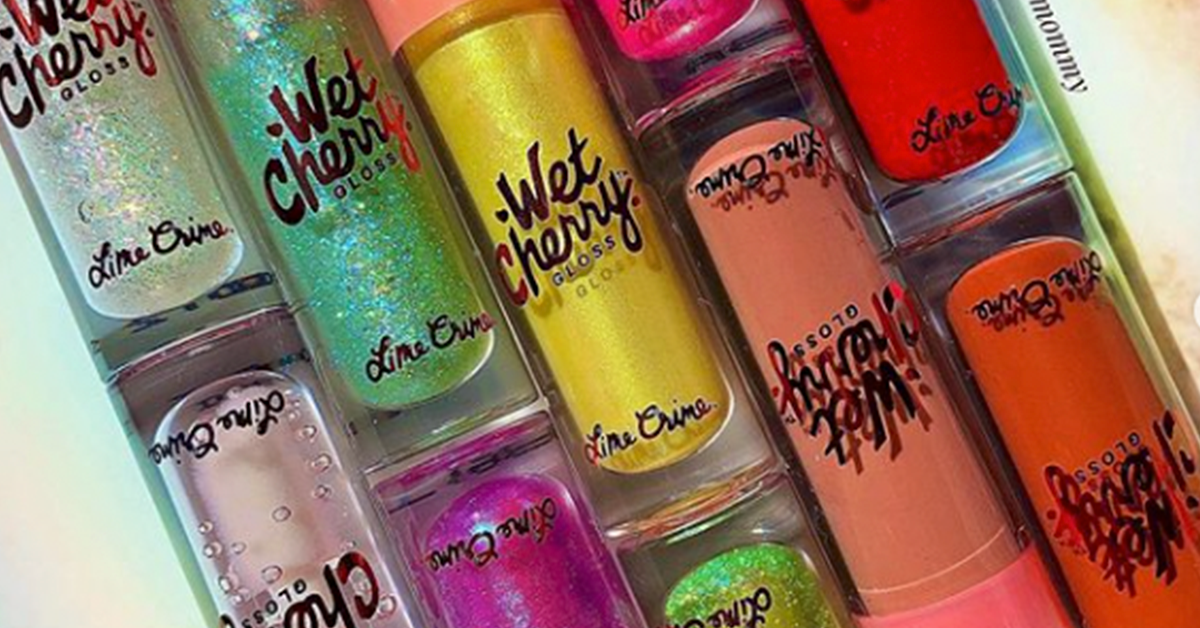 Meanwhile, Doe and her husband stayed involved as members of the board of directors. And according to Doe, they haven't profited from Lime Crime's sales since then.
Article continues below advertisement
Doe Deere and her husband are no longer a part of Lime Crime.
In light of George Floyd's death and the recent protests, Doe shared a lengthy statement on Instagram to announce that she's leaving the brand.
She explained: "Recent events have left us heartbroken, assessing our own blind spots, and yearning to take action. We are proud of the company's commitment to building an ethnically diverse team and improving our business practices."
Article continues below advertisement
"As part of these company-wide changes, we've made the decision to give up our seats to be filled by BIPOC candidates. We believe this is a small, but meaningful step in making Lime Crime more reflective of our customers, our community, and of the change we so desperately want to see in the world."
The announcement was met with mixed reactions. While some accused her of using the Black Lives Matter movement for her own personal gain, others applauded her for trying to foster more diversity and inclusion. One user said: "This is great Doe Deere! Thanks for taking action and making meaningful change."
Doe Deere is now focusing on her new lifestyle brand.
The brand is called Poppy Angeloff, and their pieces are described as "whimsical, fun & slightly peculiar." As of now, she sells teacups, necklaces, and rings. The site reads: "We want you to feel nothing short of amazing in our creations. That's why our jewelry radiates positive energy from the start."
You can visit the website at poppyangeloff.com and check out their Instagram page to see their products.