Jim Gaffigan Is the King of Clean Comedy but Even He Broke in 2020
Comedy is all about making people laugh and one easy way to do that is to drop a perfectly executed swear word. But, does Jim Gaffigan swear?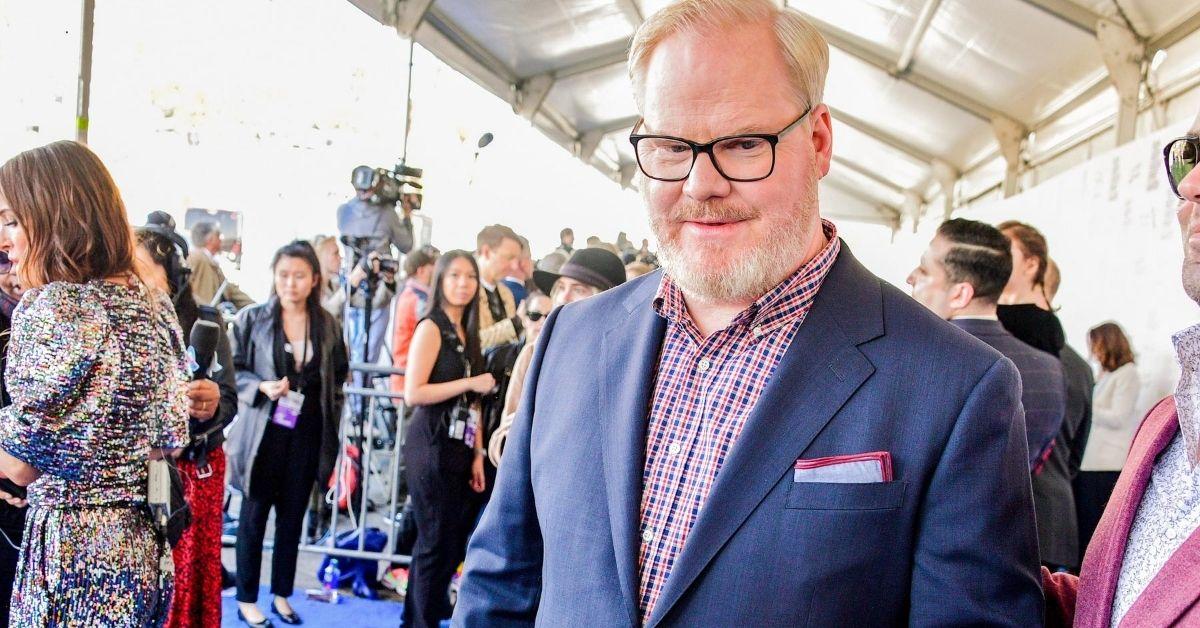 There are a lot of people who stand out as great comedians, and each gives us something a little different. There the honest humor of Dave Chappelle, Trevor Noah who breaks down complicated issues with facts and humor, and there's Amy Schumer who kind of just says things society thinks she's not supposed to. Each of them uses swear words to boost the story telling or the joke, but not all stand-up comedians do this. Does Jim Gaffigan swear? Nope, which is why it's so shocking when he does.
Article continues below advertisement
Here's why Jim Gaffigan (typically) doesn't swear.
Jim Gaffigan moved from Illinois where he was born and Indiana where he grew up to New York in the '90s to pursue his love of stand-up comedy. He tried several different styles from impressions to angry, and eventually landed on observational comedy, where he found a lot of his success. He finds humor in the everyday things, and he comes across as the everyday guy that we all want as a friend.
One of his most famous routines is all centered on a Hot Pocket — the frozen pizza snack that he turned into comedy gold. That set got so famous, many of us can't hear the words "Hot Pocket" without saying it in the same signature lazy way Jim does in the set.
Article continues below advertisement
He uses this "inside voice" in his set that is his way of poking fun at himself or his jokes, and it is one of the reasons he's so loved. This style developed over the years, and in an interview with Duluth News-Tribune, Jim said that he started the inner dialogue as a way to fend off hecklers.
Article continues below advertisement
Jim has done several different styles since the '90s, and early in his career he tried adding swear words to his comedy routines. For his album Doing My Time, his label had asked that he change some of the language to include swear words. Largely in the past he had kept a clean set with no swear words, but the label company had hopes in doing so, they would be able to bring in more teenagers to his comedy.
Article continues below advertisement
Their efforts didn't work and Jim went back to doing what he does best: Everyday humor with a strong lean to dad jokes. For the most part, Jim keeps profanity out of his routines, and he feels in not having to lean on that type of humor to land a joke, his comedy is better for it.
In a talk with The Wall Street Journal about him doing "clean comedy" which means clean from swear words, he said that while it's a good thing, sometimes he feels that it might mean something else for others who hear it.
Article continues below advertisement
"'Clean' and 'family-friendly' are supposedly these positive attributes. But I sometimes feel like it's an asterisk next to my success … Maybe I'm being sensitive," he said in 2013. Adding, "I just want to be known as funny. I mean, when you hear about a family-friendly restaurant, you know it's going to be horrible."
Article continues below advertisement
Following the Republican National Convention in 2020, Jim broke his "clean" streak.
When someone never swears, it's shocking to hear (or read) them say it for the first time. Which is why many couldn't believe that the comedian tweeted quite a few swears.
The exchange began on the last night of the RNC, when Jim succinectly wrote, "RIP Truth." He was immediately confronted with conservatives who told him to stay out of politics, which prompted him to write, "excuse me while I treat myself to confronting some a--hole trolls...."
Jim tweeted, "Remember everything Trump accuses the Democrats of he's guilt [sic] of. Dont let the socialist name calling distract you from the fact he is a fascist who has no belief in law."
Article continues below advertisement
By and large, Jim stays away from politics and he surprised many fans with this statement, along with many more he made throughout the night, calling the president a liar, a fascist, and a con man. But when one fan, named Karen, wrote back, "You probably just lost a lot of followers for this one. Stick to comedy," he responded, "Hey f--k you karen."