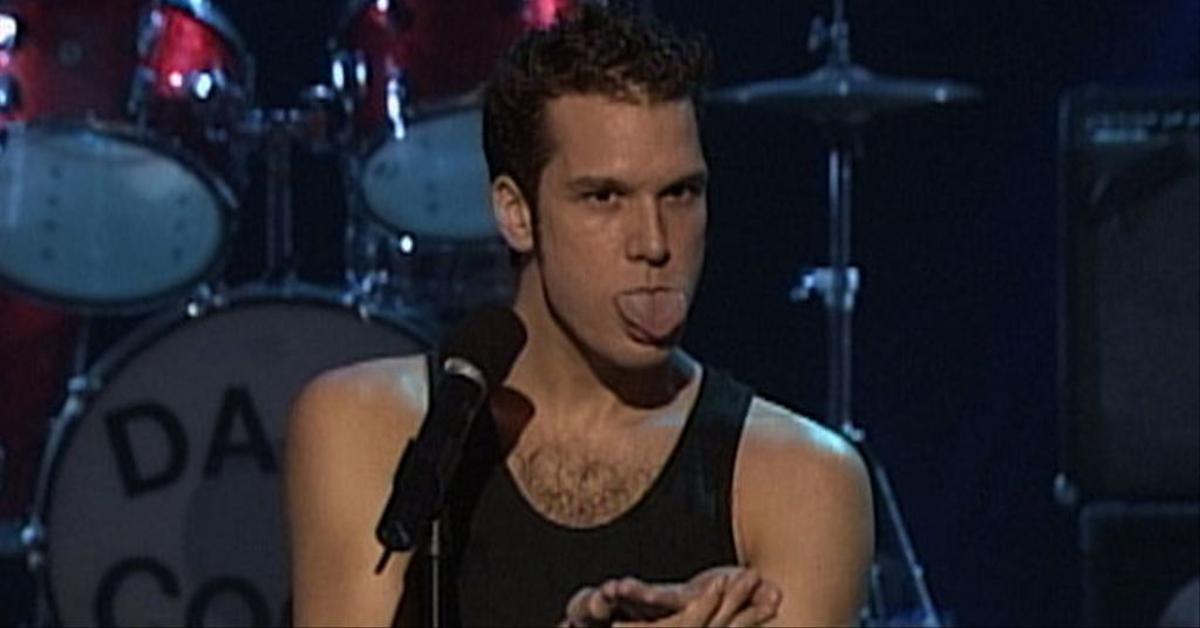 Surprise! Dane Cook Has a New Comedy Special Coming Out
I remember first watching Dane Cook's half-hour Comedy Central special when I was 14 years old and was taken aback by how much confidence and enthusiasm he exuded on stage. The energy he was giving off reminded me of a young Jim Carrey, who was a clear influence on the up-and-coming comedian.
Article continues below advertisement
A huge reason why Dane was so successful was how much enthusiasm he brought to the stage. He had this young wonderment and happiness to be performing in front of a crowd that was undeniable — you could feel it pouring out of your TV set.
However, now, it's almost as if Dane's career in comedy is non-existent, which has a lot of people asking:
What happened to Dane Cook?
After that fateful Comedy Central special, Dane's rise to fame was meteoric. Here was a young, good-looking comedian who had energy for days; he was a breakout star. Everyone was not only watching Dane Cook and selling out his shows across the country, but they were buying his CDs in droves.
Article continues below advertisement
His 2003 comedy album, Harmful if Swallowed sold more than 1.2 million units, making it certified platinum. His 2005 Retaliation went double platinum and charted at No. 5 on the Billboard charts. He was the first comic in 27 years to do so, after Steve Martin's A Wild and Crazy Guy, which is no small feat.
He was also the second comedian, after Andrew Dice Clay, to sell out Madison Square Garden with his special, Rough Around the Edges. By that time, Dane's demeanor had changed.
Article continues below advertisement
He wasn't hopping around the stage, filled with ambition, and sweating his butt off to get you to laugh, he seemed a lot more comfortable and delivered his jokes much differently. It was around that time, something became evident that many comics and fans of comedy already knew: Dane didn't really tell jokes. The man relied heavily on his delivery.
Article continues below advertisement
His previous bits did have some set-up and the features of a great stand-up story. He's got some great crowd interaction, he has a personal story that subverts people's expectations, I mean it's a funny premise to work at a job your brother got you, only for him to be an even bigger jerk of a boss than someone you weren't related to.
But the crux of the bit is his passion for acting out the horrible cacophony of ordering in the drive-thru, which is his greatest comedic weapon.
People noted that Dane's comic style attracted a lot of younger audience members — I'd describe him as the first "YouTube" comic. There are a lot of "funny" YouTubers that get clicks for being loud, obnoxious, and overly excitable and silly. I'd argue that Dane is nowhere near as grating as someone like Jake Paul, but it is interesting to note that he's one of the first comedians to use their own website and MySpace pages to build a fan base.
Article continues below advertisement

Dane Cook was accused of stealing jokes from Louis C.K.
Plagiarism is a big deal in the comedy world and a lot of comics have had their careers tanked as a result of it — just ask Carlos Mencia. It could be argued that lots of comics "borrow" from others, in fact, some of the most beloved and celebrated ones, like Robin Williams have been found guilty of it. Dane Cook, at the height of his career, which included a slew of critical and commercial movie flops and tons of exposure, started coming under more and more scrutiny.
Article continues below advertisement
That's when viewers began to notice that there were some Louis C.K. bits Dane got "inspiration" from. People have even gone so far as to create some side-by-side compilations of Dane's "theft" of C.K.'s material. Louis once quipped that he wasn't going to do anything about Dane's plagiarism, "I'm not going to court over a bit called 'Itchy a--hole' he said."
Article continues below advertisement
What's interesting to me is that even Louis had admitted in his story that Dane provided some great ideas for their interaction, but that his "ego" made him shoot Dane's ideas down. It wasn't until later that Louis realized Dane's suggestions for their scene were actually funnier than some of the ideas he had.
Article continues below advertisement
Even prior to the joke-stealing accusations, Dane became sort of a comic anathema. If you were a "real" fan of comedy, you couldn't like his jokes. You couldn't laugh at them or think that he was talented.
And the truth was, compared to other master joke-writers and storytellers, he wasn't. However what Dane Cook did have, at his best, was an unbridled enthusiasm that was a bit contagious. And it appealed to a lot of people, it still does today: the man has 2.7 million followers on Twitter.
Dane Cook's Colorado shooting joke, and T.J. Miller beef.
In 2012, Dane made a joke about the Aurora, Colo. shooting in 2012 during a screening of The Dark Knight. Dane quipped that there was probably someone watching the film and not enjoying it and saying to themselves, "Ugh, somebody shoot me."
Article continues below advertisement
Dane later apologized for the joke, especially after getting flak for making light of such devastating news. T.J. Miller, who went on to get criticisms of his own, wrote a blisteringly brutal review of Dane's 2012 performance, calling it "misogynistic" and a poor attempt of purposefully bombing to work out his own issues on stage.
Article continues below advertisement
Dane didn't take too kindly to T.J.'s words and the two have maintained a beef for years. In fact, Dane even referenced the "bomb review" of T.J.'s in a 2018 tweet, when T.J. got in trouble for calling in a fake bomb threat.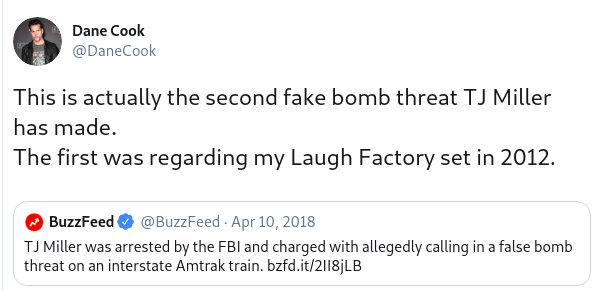 Article continues below advertisement
It seems that Dane is always in someone's crosshairs. In 2017, he came under fire for dating his girlfriend Kelsi Taylor, who is 26 years younger than him. He and Kelsi are still together, and she appears to be very supportive of his continued comedy career.
Article continues below advertisement
12 years after his last comedy special, Dane Cook is working on another!
In August of 2021, Dane took to social media to announce that he is "finally, finally, finally!" recording his next comedy special. Taping will take place in October at Boston's Wang Theatre at Boch Center. Dane has also been on tour and doing stand-up shows all over the country for months, proving that he hasn't really gone anywhere; he's just maybe not as in-your-face with his performances as you remember him being years ago.
While Dane Cook isn't particularly my cup of tea, I do think that the hatred the man receives is unjust. Sure, it's infuriating to see someone making a living off a "talent" you think is garbage while you struggle to attain the dream life you always imagined for yourself, but does that make Dane Cook a bad person?
No. Annoying, yes. But bad and worthy of so much hate? I don't think so.