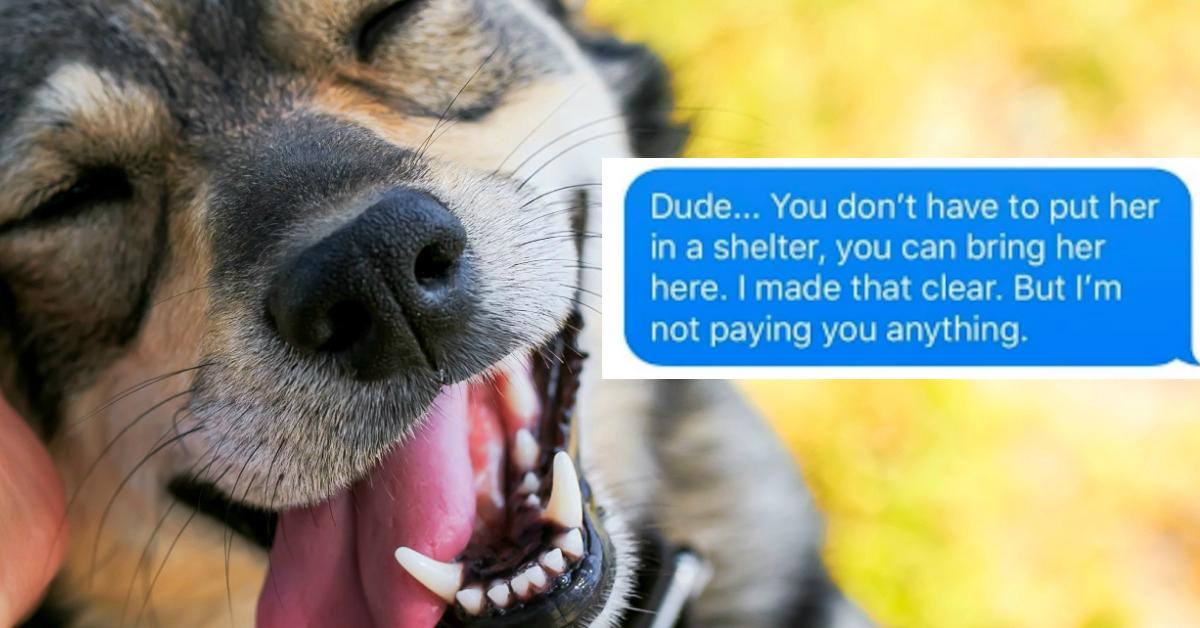 Woman Tries to Swindle $450 "Adoption Fee" After Giving Away Her Dog
A woman told a friend she was giving her dog to a shelter, and when the friend offered to take the pup in, she came back with a hefty "adoption fee."
People are raging over this dog owner who tried offloading their pup on a pal for the low, low price of $450.
Article continues below advertisement
If you're a pet parent, chances are your pets won't copy your mannerisms but they sure as day can suffer from your mistakes. Some mistakes are palatable, like going a little too long without visiting the groomer or forgetting their favorite toy at the dog park. But being a conniving and heartless pet owner who tries to guilt others into paying to save her dog's life when she only cares about the bottom line, now THAT'S an ugly individual.
Those who like seeing such people get their just desserts rejoice in the subreddit Choosing Beggars. It exposes folks who manipulate people to shame them into doing favors or giving up some cash. And what do those who lend a helping hand receive in return? Well, nothing. Because when dealing with entitled folk, straight-up ruthless swindling is seen as an easy way to make a quick buck, I guess. Take this lovely lady for example, who was trying to rid herself of her sick dog all while demanding compensation and threatening to put the dog in a shelter.
Article continues below advertisement
This conversation is supposed to between two 'friends', loose term here if ever there was one. After the initial ask, the acquaintance made it clear that she otherwise had no interest in taking in another pet since she already had two dogs of her own. She would simply be looking to save this older dog from an untimely end.
Article continues below advertisement
Suddenly, this 'favor' warps into a transaction when the owner asks for compensation.
Did this just happen? Is this woman seriously trying to sell her friend a dog she never wanted in the first place?
Article continues below advertisement
Luckily the other party in this scenario wasn't so unassuming after all. She proceeded to call this fool out on her pitiful attempt at swindling, reminding her that the only compensation should be the knowledge that her beloved dog is in good hands and enjoying whatever time it has left in a caring, happy environment. Here's hoping this poor doggy is no longer under this bad owner's roof and is safe somewhere where love is genuine and free.
Article continues below advertisement
On the opposite side of the same coin in the purse of Choosing Beggars, comes this other story about a woman who tried to steal a dog that was up for sale.
Reddit user Dead_as_a_doorknob posted this unbelievable tale of an attempted dognapping.
Article continues below advertisement
Turns out the way she tried going about it blew up in her face, badly. Try reading about the nerve of the woman below and see if your blood doesn't boil.
Article continues below advertisement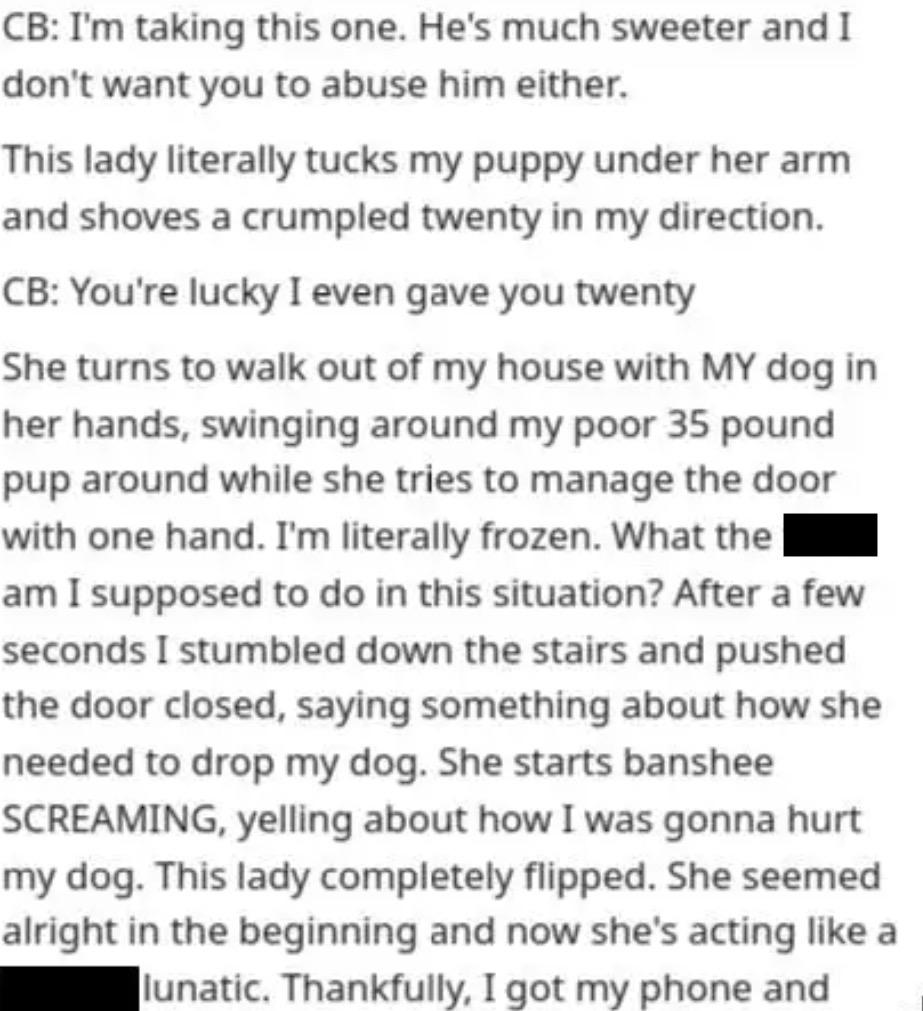 The poster of the story thought fast and was able to call the police before the woman walked off with the puppy. Fortunately, she lost her cool and left the dog behind as she ran way.
If you're worried about her not getting her comeuppance, rest assured her stupidity extended towards her ability, or inability, rather, to properly cover her tracks.
Article continues below advertisement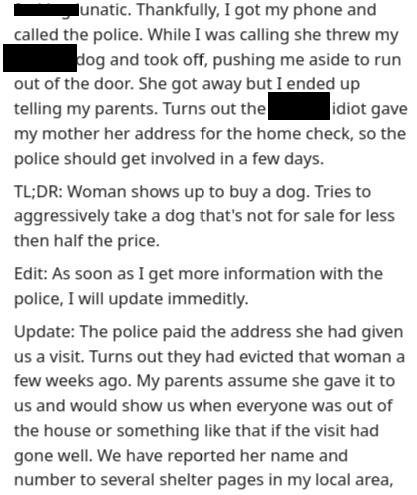 It turns out she was just a disgruntled woman had been evicted and was trying to get back at the property owners any way she could. Which includes puppy-napping. Now that's a dastardly individual.