Woman Claims Kennel Returned Her Dog Wrapped In Masking Tape
A woman is calling out a kennel for how it returned her beloved husky after it died under their care.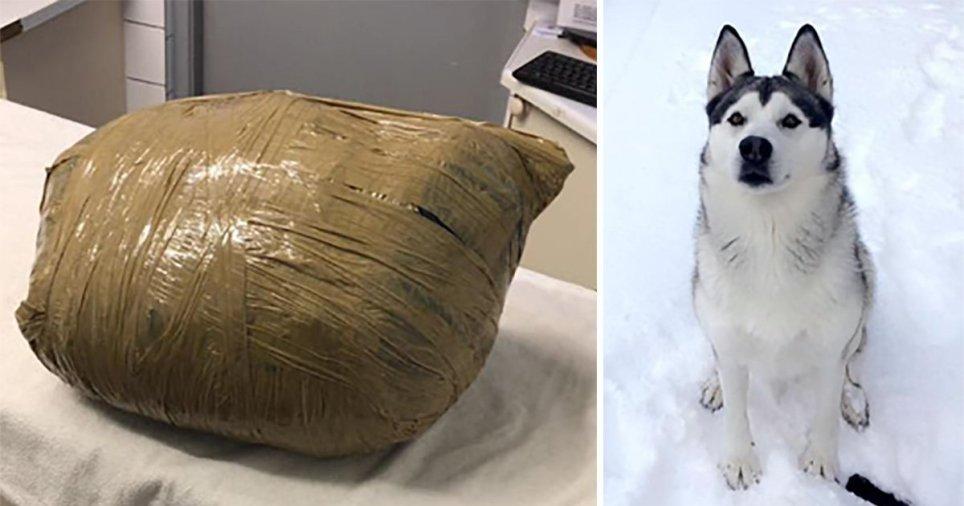 Kirsten Kinch from Dublin, Ireland, took to Facebook this week claiming that her dog Nova passed away at a kennel while she and her family were on vacation. While these things sadly happen from time to time, Kinch went on to claim that the kennel wrapped her dog's body "in a black bag which was covered in masking tape."
Article continues below advertisement
Kinch explained her side of events in a Facebook post that has since acquired over 3,000 shares and thousands of comments.
Article continues below advertisement
Kinch alleges in the post that she left Nova at P&E Kennels for three days back in December while the family visited Iceland. She also goes on to say that the kennel keeps removing her negative reviews, which is why she chose to post it publicly. Kinch explains in the review...
"On the 27th of December 2018 I brought my husky Nova to P&E boarding kennels to be boarded for 3 days while my entire family went to Iceland, this was the first time I had left her with anyone that wasn't a family member and I made the staff aware of the fact I was quite nervous leaving her. Nova had an ongoing issue with colitis and this was being managed with steroids for the last few months very successfully, she had also been checked by my vet prior to boarding and we had discussed taking her off the steroids as she was responding so well."
Kinch explains that while Nova had a previous condition, she had explained this to the kennel.
"I gave multiple written and verbal instructions on how the steroid was to be given separately to her food and that she needs to get this twice a day, P&E also advertise that they cater for medication and dogs that need extra care once they are informed in advance."
She goes on to describe the day she learned Nova had passed away.
"I was due to collect Nova on the 31st of December, I went straight from the airport to P&E to do this. I rang the kennels four times while we sat outside in the car waiting to be let in to pick her up. Clive answered On the fourth try and asked which dog I was here to collect I said I was here for Nova and I was then told to come around to the back gate."
Article continues below advertisement
"As we walked in the gate, myself and my mom where told that Nova had passed away and they had found her this morning in her kennel with blood coming from her."
"We where completely shocked and beyond devastated to hear this and at first I thought it was some horrible joke considering we had left a healthy dog in to be cared for 3 days earlier."
Kinch explains how Nova's body had been handled.
"I was then brought in to see my gorgeous dog who had been wrapped in what I can only describe as a ball in a black bag which was covered in masking tape, there was clearly so little care and empathy in the way she had been handled and dealt with since finding her. There are no words to describe how upsetting and traumatic it was to carry her to the car and take her home in what seemed a completely inhuman way."
Article continues below advertisement
"I questioned the kennels immediately on if she had received her medication and I was told she had, we drove straight to the vet with Nova where I then had to carry her into the clinic wrapped the way she had been given to me. The vet was horrified and couldn't believe there was a 25kg husky wrapped in this black bag, we confirmed via microchip that it was Nova and myself and the vet made a decision to send Nova for a postmortem in UCD due to the circumstances."
Kinch alleges that she has not received any reply to emails or messages from the kennel.
Her post ends: "Nova was a once in a lifetime kind of dog for me and my family and has left a hole that will always be impossible to fill, she is loved and missed every single day and I hope writing this can stop a similar situation in the future. Clearly this kennels are not fit to provide the Level of care they advertise."
Article continues below advertisement
Paddy Cullen from P&E boarding kennels told Metro that his family had received death threats since Kinch wrote her post. He said that Nova died on the third day of boarding.
"We went down to let out the dogs first thing in the morning but when we got there," he claimed. "The dog was dead. There was a big pile of blood from her behind."
Cullen explained that he believed Nova had the parvo virus, which presents many of the same symptoms as colitis, but which is contagious and can kill within 72 hours if dogs are untreated.
"I rang the vet and was told to wrap up the dog so as not to infect the other dogs."
Cullen admitted that while it may have seemed heartless, he was attempting to stop the virus spreading to other animals.
Article continues below advertisement
"We were concerned about the spread of parvo virus. We were told to seal the bag so nothing could escape. It was such a big dog that we couldn't put the body in the freezer and we were expecting the family back from holiday in a few hours."
Cullen explains what has happened since the post was made public.
"Since the lady put it on Facebook, we have had nothing but hate mail and death threats and people saying they will burn down our house."
"I am very sorry that her dog passed and it happened to pass while she was here with us."
Cullen denies that Kinch had attempted to contact him since the incident.