This Is Why Sleeping in a Cold Room Improves Your Health
Dad's anger over people in the house adjusting the thermostat might be justified: science says that sleeping in a cold room is better for your health.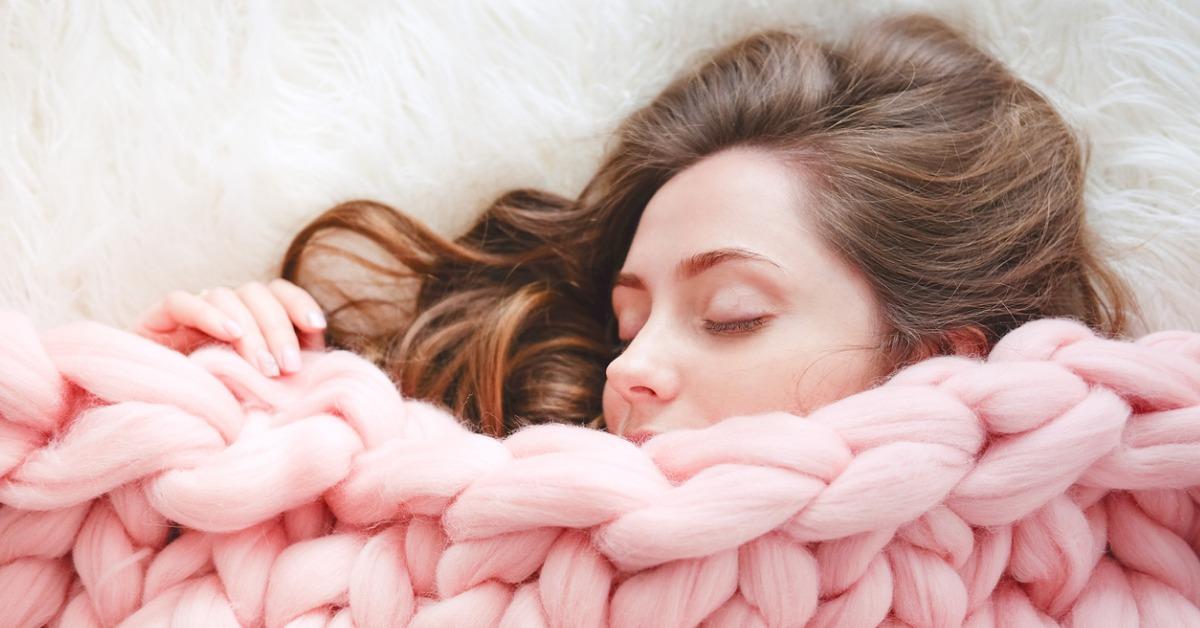 If you like keeping your bedroom colder than the rest of your house just so you could snuggle under a blanket when you go to sleep, then it's probably for a good reason.
Even during the winter, I find it difficult to sleep in a room that's just a bit too warm. When summer time comes, I'd much rather blast the air conditioning so I could sleep under a blanket instead of just going without a cover.
Article continues below advertisement
I suspected this was due largely in part to my inherent weirdness as a human being, but it actually goes a bit deeper than that: I've got science on my side to defend my "unusual" sleeping habits.
Dr. Christopher Winter, Charlottesville Neurology & Sleep Medicine's medical director said in an interview with HuffPost that the temperatures of the rooms we sleep in play a huge factor in the quality of the rest that we give ourselves.
When it comes to the "magic" temperature, everyone pretty much agrees that 69-70 degrees Fahrenheit is about as comfortable as it can be. Not too hot, not too cold and if it's windy you just need to put a light hoodie on, maybe.
But when it comes to your bedroom, it needs to be a bit colder than that to ensure you're hitting an optimal resting temperature.
So get ready to disappoint Dad, because you're gonna want to adjust that thermostat.
Article continues below advertisement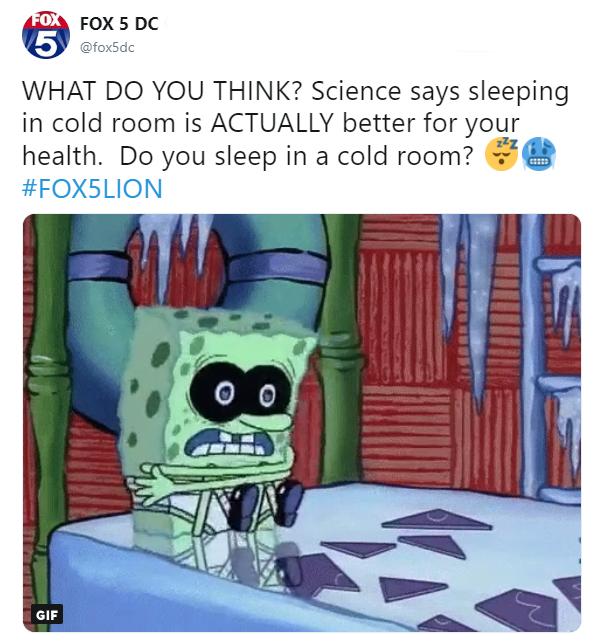 According to Dr. Winter (I know, his name is perfect), keeping your bedroom between 60-67 degrees Fahrenheit is the optimal temperature for human bodies at rest. 75 and above or 54 or below will result in an uncomfortable sleep that'll ultimately affect your health in the long term.
Interrupted, inconsistent sleep can lead to a variety of health problems, and sleeping in a room that falls into the "bad temperature" categories is a surefire way to make you toss and turn under the covers.
Article continues below advertisement
So why is temperature so important while we sleep? Why do we prefer it a bit colder? That's because our own internal body temperature changes in any given 24-hour period. We get our best sleep when our body temperature itself drops.
Think of a car driving on the highway. It's engine's turning, it's sucking in air, fuel's pumping in and out. That naturally results in a higher temperature, right?

Article continues below advertisement
But when that car is stationery, the temperature in the engine and all of the other car's components drops as well. Our bodies' temperature usually peaks in the afternoon, and it drops to its lowest point at around 5am, when many of us are hitting the beginning of the end of our REM sleep cycles (depending on when you go to bed).
It's a big reason why getting out of bed seems so impossible in the morning: our body is literally colder and we yearn for that snuggliness we've settled into.
The benefits of keeping the room cold extend beyond just having uninterrupted sleep, however. Laying down in a colder room also helps you to fall into a deep sleep more quickly. Which could mean that less time spent sleeping in a chilly room could be more beneficial than trying to rest in a room that's warmer.
Article continues below advertisement

Your body will also produce more melatonin if you're sleeping in a colder room and theoretically getting more sleep. So that'll help keep you younger. Researches also discovered that sleeping in colder rooms burns more calories, and increases the amount of "brown fat" in the body. Brown fat allows you to burn calories and not store them.
Article continues below advertisement
Natasha Turner said in HuffPost article that sleeping in a 66-degree room can also help to decrease the amount of cortisol that the body produces. Cortisol is responsible for releasing stress in your body, so if you're waking up in the middle of the night because you can't sleep and start stress eating, that could be the reason.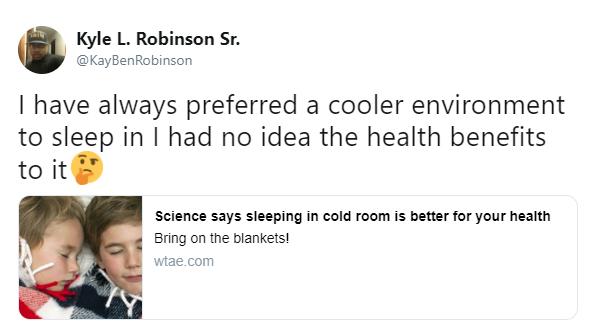 So if you're sleeping in a warm room like some kind of lizard and it's working for you, that's great. But if you're having difficulty falling asleep for whatever reason or don't feel well rested no matter what you do, then you're probably going to want to adjust that thermostat.