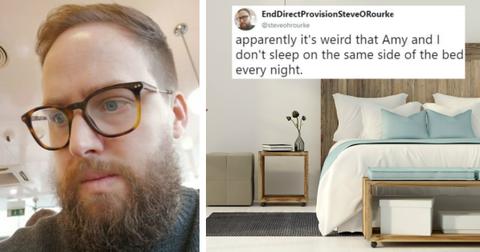 This Couple Switches Which Side of the Bed They Sleep on and People Are Horrified
By Mustafa Gatollari
Steve is a man with a unique conundrum: he's being told the way he and his wife sleep in bed is wrong, and he can't find a single person who can logically explain why.
Human beings are peculiar creatures. We get into heated debates about which time-wasting mediums are superior and which fitness and diet regimens yield the best results, not for actual physical usefulness but, in many cases, for Instagram likes.
At our cores, we're mostly creatures of habit, at the end of the day. And we almost always revert back to the choices and decisions we're familiar with, even if they don't necessarily make us happy.
Maybe we stay in a relationship or a job because it's convenient, maybe we never really stray far from our comfort zone because it takes too much "mental capacity" to confront the unknown.
Maybe we never switch our side of the bed with our spouse or significant other because it'll force us to view our relationships from an entirely different angle, which might be just too much for us to handle.
Steve, however, doesn't have that issue.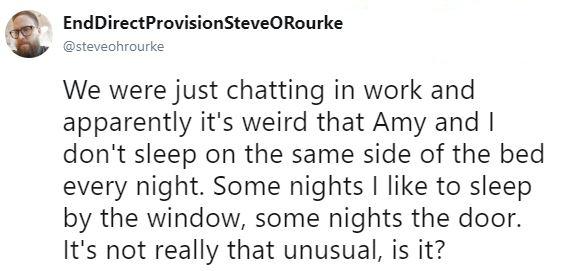 When he brought up the fact he and his better half don't have "set" sides of the bed they sleep on, people began freaking out hardcore.


Although I've "alternated" the side of the bed that I sleep on with my wife (so she could be closer to the baby at first for late night breastfeeding) we generally stick to the same side. I recognize this is "normal" behavior, but, like many other people Steve pressed for an explanation, I really can't explain why.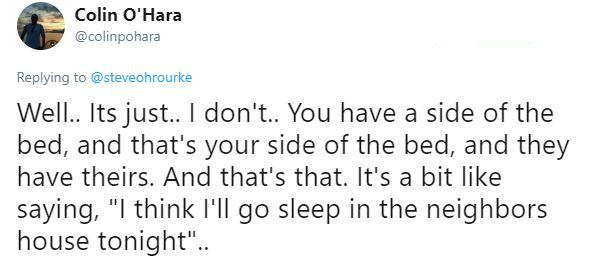 He ultimately made things even worse when he tried to reason that people don't have a favorite "spot" on the couch or at the dinner table. And the pitchfork-wielding people following the thread were like, "whaaaaaaa?"


Some people tried to make Steve feel a little better about his "weird" side-sharing practices by saying everyone is so gobsmacked because they're jealous .
Others weren't so ready and willing to let this new bit of information go.


People couldn't fathom why this man didn't have a "spot" preference anywhere. He doesn't care where he sits at the table, he doesn't care where he sleeps. He doesn't care where he's positioned when he sits down on the couch. What next — he doesn't try to get the same seats at the movie theater? Unreal.


The conversation then moved on to the logistics of switching back and forth all the time, and if you thought our man Steve was getting reamed before... well, it only got worse for him.


People just couldn't comprehend that he would move his stuff on his side of the room to the other side instead of just picking an ordained spot and sticking with it. For many, it seemed like a ton of "work," even if, when you think about it for more than two seconds, it's really not.
The question of what they do with the pillows came up and, again, Steve provided an answer that left people with even more questions.


Some thought the constant back-and-forth moving of pillows sounded "exhausting," while others still couldn't get over the whole lack of a bed side thing.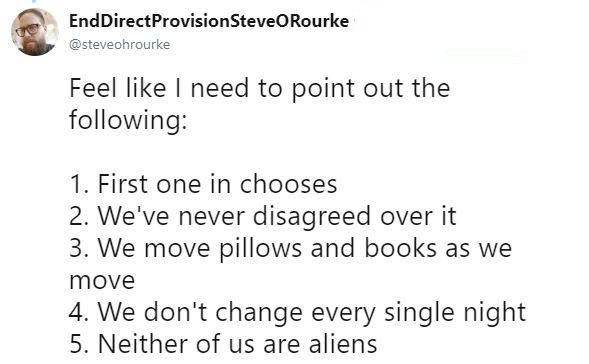 It was a pretty incredible thread. Tons of people asking Steve the same questions, more or less, which he finally addressed in the above tweet.
What do you think? Are Steve and Amy weird? Or are we just so ingrained in thinking that we need an ordained "side" of the bed that we are biased?