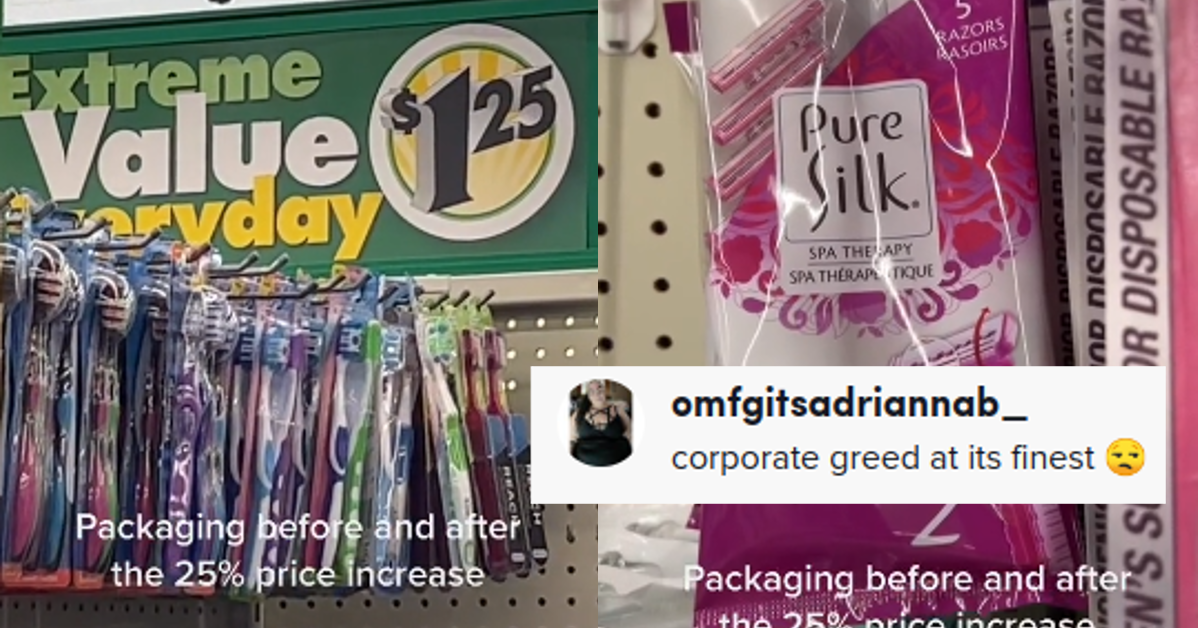 TikToker Blasts Dollar Tree for Increasing Prices but Giving Customers Less Product
Article continues below advertisement
Traditionally, Dollar Tree's goods all cost a buck or less, with the exception of a few items. However, even the Tree has fallen on hard times and has had to jack up the cost of its products to $1.25. However, as evidenced in a now-viral TikTok, it appears that customers are not only paying more per item at the popular dollar chain, but they're also getting less as well.
TikToker @babyscribblez posted a clip that shows the before-inflation/after-inflation sizes of many self-care and hygiene products at Dollar Tree. For example, in the past razors came in packs of 5, and you'd be able to get cotton swabs by the 300.
Article continues below advertisement
Customers are now paying .25 more for a razor less and 100 fewer swabs, a massive portion decrease for each of these items.
It's important to note that the global response to the COVID-19 pandemic also played a massive part in the rising inflation rates in the United States.
Article continues below advertisement

Even prior to the increased cost of gas, many businesses began charging more for their products, something that Dollar Tree announced it would be doing in 2021.
Article continues below advertisement

The retailer stated that inflation alone wasn't the culprit behind its price hike, but a slew of other factors, however, they did name that by raising the prices of small box value items, it would have more "flexibility" due to market volatility. The move ultimately proved to be fruitful for the company according to MarketWatch.
Article continues below advertisement

"Dollar Tree's stock has gained 34% to date in 2021. The S&P 500 index SPX, -0.35% has gained nearly 25% on the year," the outlet stated.
"The company said the higher price point is a permanent move, and not the result of 'short-term or transitory market conditions.' Moreover, the $1.25 price point allows the company to offer a wider range of merchandise, including items that had been discontinued at the $1 level."
Article continues below advertisement

Prior to the price increase, Dollar Tree has offered a wide variety of items at just $1 apiece for 35 years.
The TikToker who outed the "value discrepancy" mentioned that Dollar Tree customers were supposed to get more bang for their buck as a result of the price increase, but that apparently isn't the case.
Article continues below advertisement

Commenters on the video agreed with OP, with some stating that they can find similar items at Walmart for cheaper than what Dollar Tree sells them for now. Others mentioned that there doesn't seem to be any reason to shop there since there's a marked dip in quality and value, but a surge in pricing.
Article continues below advertisement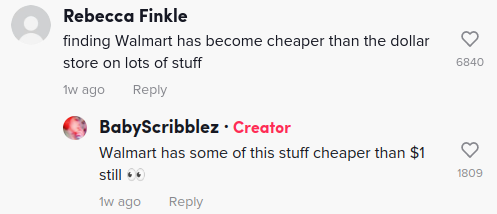 Others said that entire sections of the store are unshoppable now, like folks who were looking for affordable crafts: "The whole craft section is actually trash now. I went in for stickers and all that had was wall decals."