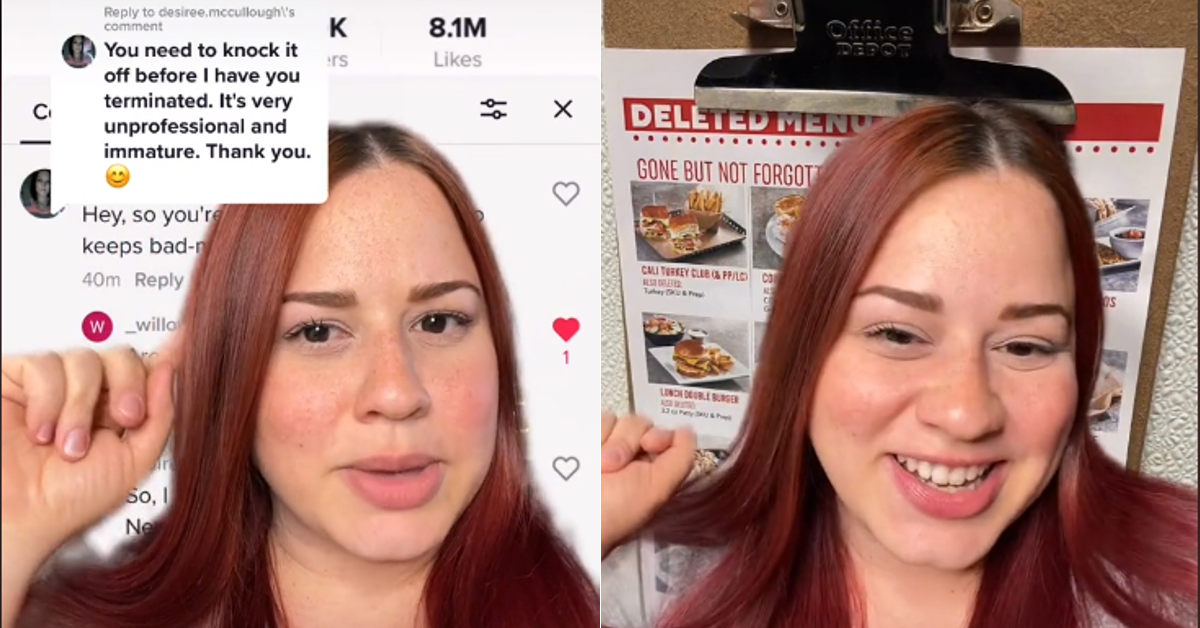 TikToker Exposes Fake Chili's Manager Who Defended the Chain in Viral Clip
There are some people who will lie about anything and everything on the internet. If there's a geopolitical debate, somehow hundreds of scholars and longtime experts on a specific topic with purported inside information will pop up in the comments section. If there's a beef between two celebrities, folks who know them personally magically appear out of the woodwork.
Article continues below advertisement
It's almost as if nothing has changed since middle school, where we all sat incredulously around the lunch table and listened to that one kid who swore up and down that they are related to the doctor who removed Marilyn Manson's rib so he could perform fellatio on himself all over again.
Except now we're dealing with bots and folks who are hired with specific agendas in mind.
Article continues below advertisement
User @alexservestea, in a series of videos ended up exposing an individual who seemingly took issue with the fact that she was talking about the restaurant chain in a negative light.
Alex used to work at Chili's and was eventually fired from the restaurant for her social media activity that questioned food/customer service policies.
Article continues below advertisement
One day, Alex noticed a comment from TikToker @desiree.mccullough who suggested that Alex stop making videos about Chili's and its treatment of employees or she may end up getting fired.
Article continues below advertisement
"Hey, so you're the Chili's employee who keeps bad-mouthing the company. So, I am a Chili's manager, based in New Jersey. And I watch a lot of your videos where you try so hard to keep the company in a negative light. You need to knock it off before I have you terminated. It's very unprofessional and immature. Thank you," the commenter wrote.
Article continues below advertisement
Alex responded to the comment, stating: "I don't know what world you live in. You clearly live in a very delusional one, because you're standing up for Chili's right now, and it's very embarrassing for you."
It didn't take long for Alex and other TikTok followers to locate the alleged Chili's managers social media profiles.
Article continues below advertisement

After commenting on @desiree.mccullough's Instagram accounts, it turns out the person who said they were a Chili's manager ended up deleting their profiles and Alex discovered that whoever was behind the original termination threat posts deleted their comments and their account.
Article continues below advertisement

Furthermore, she discovered that Desiree no longer lives in New Jersey and that someone was impersonating her all to just defend Chili's from Alex's negative social media posts about the brand. "So, it turns out that Desiree does not work for Chili's, according to her TikTok and Instagram, and doesn't live in New Jersey anymore. She moved a few years ago to another state."
Article continues below advertisement

Alex ultimately apologized to Desiree for having her identity appropriated. So who is the person who came after her for going after Chili's? Alex suspects it's a serial harasser she's had to deal with who took issue with her posts.
The internet is a strange, strange place.