The New 'Doom Patrol' Villain Loves Time Travel and Roller Disco
Season 2 of 'Doom Patrol' introduces a bizarre villain: Doctor Tyme. He wears a clock face helmet, travels through time, and loves roller disco.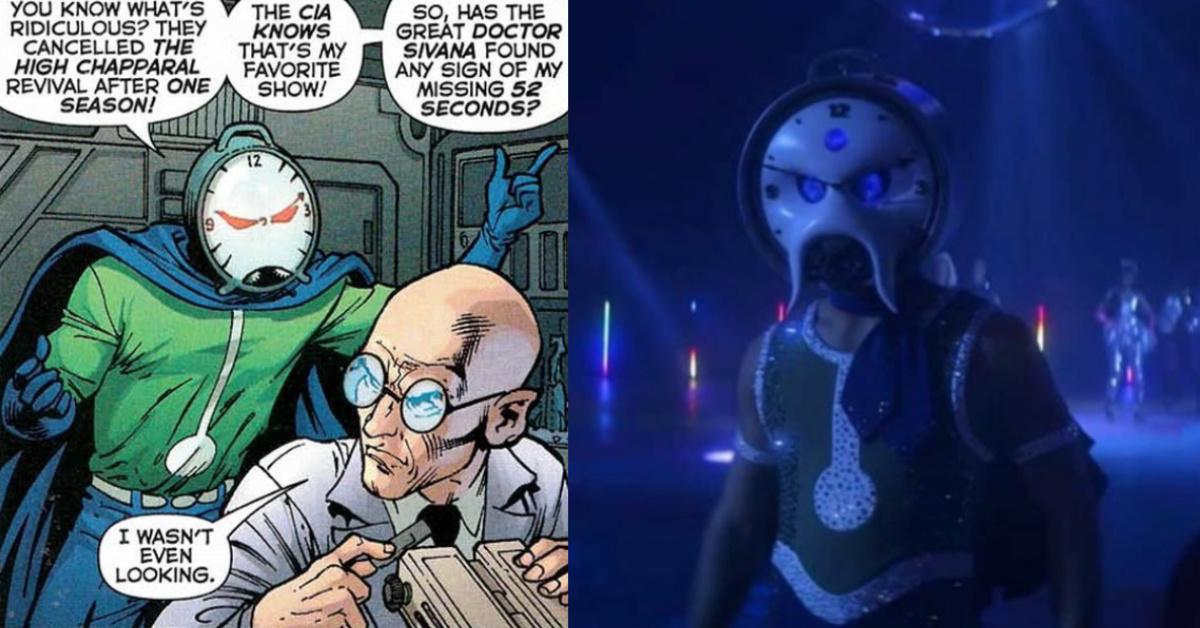 In case you missed the news, Season 2 of Doom Patrol has officially arrived. The second season premiered on June 25, 2020 on HBO Max and on DC Universe, so you've got options when it comes to catching up with the adventures Negative Man, Robotman, Elasti-Woman, Crazy Jane, and Cyborg.
Article continues below advertisement
In Season 1 of the show, Mr. Nobody (played by Alan Tudyk) is the big baddie, using his reality-altering abilities and his power to travel through multiple dimensions to kidnap The Chief — while also using his ability to break the fourth wall to narrate the whole show. Now that we've moved on to Season 2, there's a new bad guy. Here's what you need to know about Dr. Tyme, the Doom Patrol Season 2 villain.
Article continues below advertisement
Meet Doctor Tyme, the 'Doom Patrol' Season 2 villain.
If you've watched Season 1 of Doom Patrol (or even just the trailer for the series), you know that the show is pretty eccentric and zany — it doesn't appear to take itself as seriously as most of the comic book-universe properties out there today. It's a weird, funny show with bizarre plot points and — let's be honest — kind of ridiculous characters. Dr. Tyme is no different.
We first meet Doctor Tyme in Season 2, Episode 2 of Doom Patrol (entitled "Tyme Patrol"). He has a clock for his actual face. Because of course he does — this is Doom Patrol, after all. That's not even the most bizarre thing about him, though. Doctor Tyme is also obsessed with roller disco! And that clock face is actually a helmet...which contains a mineral called continuinium that allows him to time travel.
Or Tyme travel, as it were.
Article continues below advertisement
If you've ever read the original Doom Patrol comics, then you might be somewhat familiar with Doctor Tyme (aka Percival Sutter). In the comics, he's a brilliant scientist who specializes in temporal manipulation. He doesn't really delve into big-time crimes, though — he focuses mostly on petty theft.
Article continues below advertisement
In the comics, the Doom Patrol bases their headquarters on Oolong Island, where Doctor Tyme had been working as a member of the Science Squad to develop superweapons. He fears that the Doom Patrol will discover his secret identity and assumes that he's their arch-nemesis. In actuality, the Doom Patrol doesn't pay much attention to him and they easily defeat him.
While Doctor Tyme intentionally sets out to find the Doom Patrol in the comics, they happen across him kind of by accident in the show. They also let him know that they intend to steal his helmet (and the continuinium inside it). Perhaps Doctor Tyme really will become the Doom Patrol's main foe this time around! We'll have to stay tuned to find out.
The first three episodes of Doom Patrol Season 2 are now available to stream on both HBO Max and DC Universe. You can also watch all of Season 1 on both platforms (and the first three episodes of that season are on HBO Max for free!).
Even if the show is pretty bizarre (and trust it, it is), it's also a pretty refreshing take on the comic book genre.