You Know the 'Tiger King' — Now Meet the 'Tiger Shark King'
Discovery Channel's Shark Week is a time-honored tradition that's upon us once again, and 2020's version offers new and exciting additions to the lineup. As the 32nd installment of Shark Week, it's safe to say that fans are still into more action-packed footage, close encounters, and new intel on these powerful creatures of the sea.
This year features 24 specials including famous faces from Will Smith to Mike Tyson and Shaquille O'Neal, and a show narrated by Snoop Dogg himself.
Article continues below advertisement
There's also a lot of buzz around Tiger Shark King. The title is a play on the Netflix sensation Tiger King released earlier this year, but with an entirely different premise. As the Discovery Channel describes it, "a deep-sea camera captured footage of a huge tiger shark suffering an assault by a large, unseen beast."
The show investigates this uber-mysterious creature, led by marine biologist Dr. Austin Gallagher.
Article continues below advertisement
Meet shark expert, Dr. Austin Gallagher.
In terms of shark aficionados, Dr. Gallagher is one of the tops, with a heavy focus on shark behavior, ecology, and physiology.
He's a marine biologist, National Geographic Explorer, as well as CEO and chief scientist of the non-profit Beneath the Waves — a science-based organization focused on cutting-edge conservation research on sharks and oceans.
Beneath the Waves got its start back in 2013 with a strong focus on restoring our oceans by 2050 and protecting threatened species.
Article continues below advertisement
He's also dedicated to sharing his knowledge and training the next generation of shark enthusiasts. Dr. Gallagher holds an adjunct professor position at Northeastern University, is an honorary professor at University of Exeter in the U.K., and a Fulbright Distinguished Chair in Environmental Science at Carleton University in Canada. His latest project is one of his largest yet, as he shares on his website.
"The largest program I am leading is an evaluation of shark sanctuaries in the Bahamas — this includes tracking and monitoring reef and tiger sharks throughout the Caribbean, as well as deep sea explorations to map biodiversity and new species. This work is designed to strengthen and expand marine protected areas worldwide."
Article continues below advertisement
The 'Tiger Shark King' dives straight into the unknown.
Airing on Aug. 14, Tiger Shark King invites viewers into the waters of the Caribbean, 600 ft. below in a trench off the Bahamas known as the Tongue of the Ocean.
"There's so much to be learned there," Dr. Gallagher says in the show's intro. "It's 150 miles long, and 20 miles wide. Pitch black. You have these underwater canyons, you have these underwater sea mounts that come up. Literally unchartered waters."
Article continues below advertisement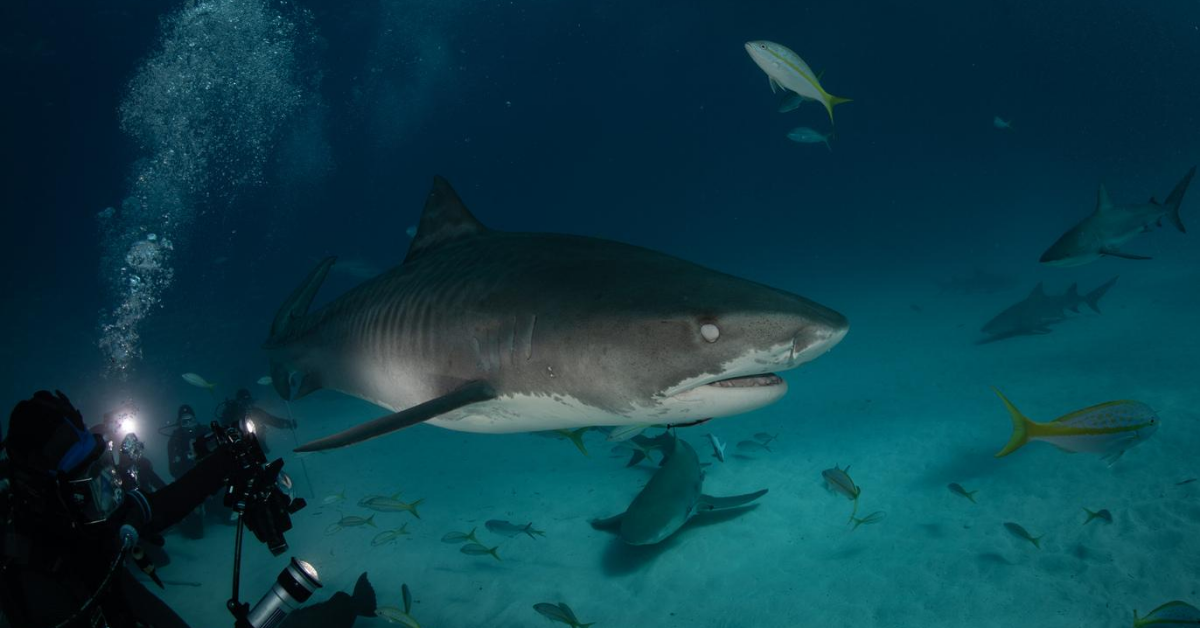 There, Dr. Gallagher hunts for what attacked an enormous tiger shark, be it "an unknown species of mega-shark to even a cannibalistic tiger shark."
"To our knowledge it's never been seen before. There are big animals that live down there, and we're going to have to lure them out."
The premise may sound like it channels Bigfoot vibes, but without spoilers, we'll just say the findings are fascinating (and real).
Don't miss the Tiger Shark King, and the whole Shark Week line up!