With the horrendous effects of the COVID-19 pandemic, you're most likely looking to support a relevant cause. Whether you decide to donate money to those in need, volunteer, or if you're simply giving your DoorDash delivery person extra tip money, every little bit of effort counts. Now, you can also order a Dr. Fauci bobblehead doll, and aside from commemorating America's beloved doctor, the proceeds actually go to a worthwhile cause.
Whether you decide to decorate your dashboard with America's "voice of reason," or if you decide to showcase Dr. Fauci in your living room window, each bobblehead purchased will go toward helping those on the frontlines right now.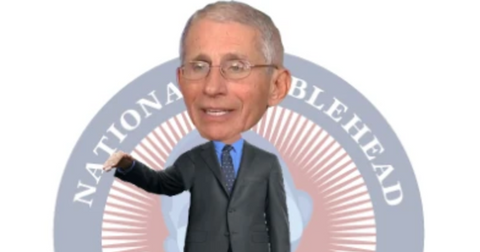 Here's why you should probably order a Dr. Fauci bobblehead doll:
While knick-knacks like these generally tend to go to waste, there's no doubt in my mind these Dr. Fauci bobblehead dolls will serve you well. Aside from being a constant reminder to stay inside, sanitize, and social distance, purchasing the doll, which was created by the National Bobblehead Hall of Fame and Museum in Milwaukee, will also make you feel good. For every doll purchased, $5 will be donated to the American Hospital Association for the 100 Million Mask Challenge, per Bobblehead Hall.
If you aren't familiar with the 100 million mask challenge, here's the rundown — hospitals across the country are in short supply of personal protective equipment (PPE) right now, and the organization takes donations to fund said supplies. Although many have volunteered to sew surgical masks, they're always looking for donates to build their supply.
25% of proceeds (aka $5) from each $25 bobblehead will go to the cause, but if you don't have a proper spot for the 7-inch souvenir, definitely consider donating to the organization separately. But really, check out what people are saying below — if you don't snag one for yourself, you might be the only person without one.
Who is Dr. Fauci?
Dr. Fauci has been a top disease medical expert for many years now, and is currently the director of the National Institute of Allergy and Infectious Diseases. according to CNN, he's gained tremendous notoriety during the coronavirus pandemic for speaking out about the disease, reiterating America's essential course of action (aka to "flatten the curve" by sanitizing and social distancing) while delivering the facts to media channels across the country.
That's why the National Bobblehead Hall of Fame and Museum co-founder, Phil Sklar chose to commemorate Dr. Fauci.
"He isn't trying to spin things. He isn't trying to make people happy and tell him what they want to hear. He's actually telling them, you know, how he sees it as an expert. And I think that's really what we need him this time," Phil said, according to Market Watch.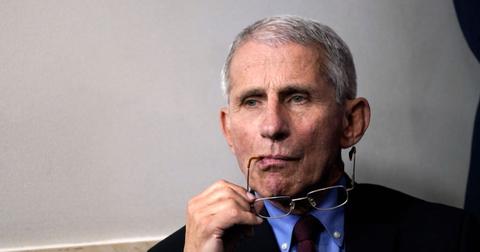 There are so many reasons why you should buckle down and order Dr. Fauci's bobblehead — aside from gently reminding you to wash your hands properly and to honor the beloved doctor, each doll also donates to the 100 million mask challenge. Needless to say, though, we're definitely pre-ordering a few for ourselves — for $25 it's totally worth your while... and you'll be thrilled when you get it in the mail sometime this summer.