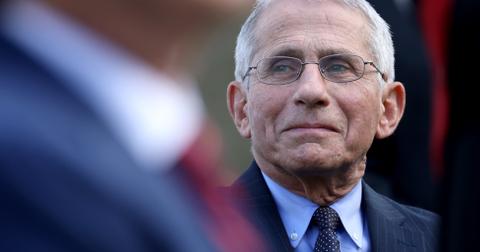 Why Is Dr. Anthony Fauci Getting Death Threats?
By Katie Garrity

Updated
During this trying time in the world amid the COVID-19 outbreak, so many people have been looking for solid leadership and guidance. There are many unknowns that can breed anxiety. Thankfully, there have been scientific experts like Dr. Anthony Fauci, the director of the National Institute of Allergy and Infectious Diseases.
Dr. Fauci has emerged as a leading voice during this crisis and never holds back when delivering realistic expectations and predictions for what is yet to come for the world in regard to this pandemic.
While many have rallied behind Dr. Fauci and appreciated all the hard work and tough love he's given the country, there are others who do not appreciate him or his contradictory statements to what President Donald Trump has stated at many press briefings, especially during an election year. Some are so angry with Dr. Fauci that he has been getting death threats.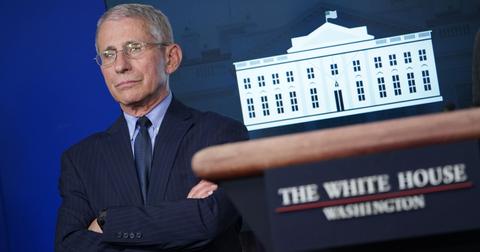 Dr. Fauci received enhanced security detail after the death threats grew.
The New York Times reported that Dr. Anthony Fauci will receive enhanced personal security after receiving threats following his repeated pleas for Americans to help slow the spread of the deadly pandemic, officials said on April 1.
Dr. Fauci has been the Trump administration's most outspoken advocate of social distancing rules that have closed schools, forced several nonessential businesses to close, kept people inside their homes and inevitably hit the United States economy quite hard.
CNN reported that the Department of Health and Human Services Inspector General, the agency's law enforcement arm, asked the US Marshals Service for assistance following threats to Fauci. The Marshals then deputized HHS officers to act as personal security for the doctor.
Conspiracy theorists seem to likely be behind Dr. Fauci's death threats.
While Dr. Fauci has been by the side of the president since the COVID-19 crisis first began, during a March 20 press briefing, some far-right Trump supporters were not too happy with him.
The New York Times reported, "At a White House briefing on the coronavirus on March 20, President Trump called the State Department the "Deep State Department." Behind him, Dr. Anthony S. Fauci, the director of the National Institute of Allergy and Infectious Diseases, dropped his head and rubbed his forehead.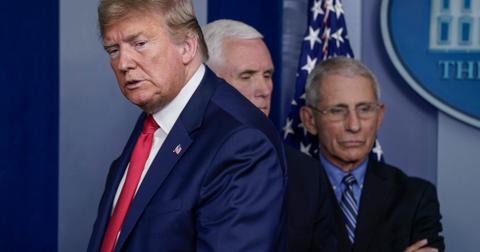 Some thought Dr. Fauci was slighting the president, leading to a vitriolic online reaction. On Twitter and Facebook, a post that falsely claimed he was part of a secret cabal who opposed Mr. Trump was soon shared thousands of times, reaching roughly 1.5 million people."
Once the image of Dr. Fauci dropping his head went viral, right-wing supporters of Donald Trump cited it as evidence that Dr. Fauci sought to undermine and make fun of the president.
Dr. Fauci doesn't seem too concerned with the threats.
The doctor responded to reports that he has been given a personal security detail due to receiving threats and told CBS's Gayle King that despite the pressure he is facing when it comes down to it, it's just part of his job.
He told Gayle, "You know, it's my job. This is the life I've chosen, and I'm doing it... I mean, obviously, there's a lot of pressure. I would be foolish to deny that. It's a job to do, and we've just got to do it."